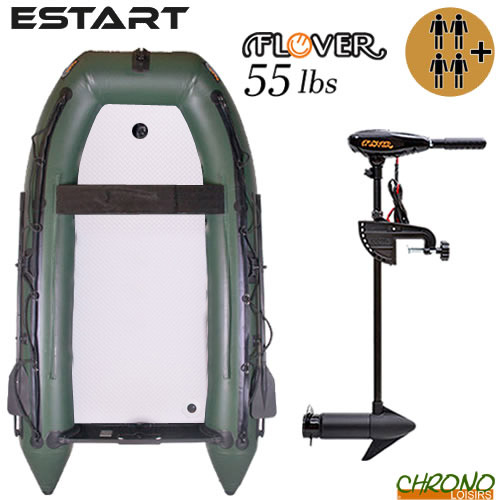 Inspired by current trends and the needs of modern carp anglers, Carp Design is a rising brand which aims to bring a new vision of carp fishing tackle.
Carp Design Estart 320 TG 55lbs Pack
236
€
90

Carp Design Estart 320 TG 55lbs Pack
Carp Design Estart 320 TG 55lbs Pack
Carp Design Estart 320 Army Green Wood Floor Boat
The Estart 320 is a pneumatic boat designed according to rigorous specifications, meeting specific expectations in terms of safety and use.
Made from a 0.9mm PVC based on 1000D polyester Army Green color, it has three independent inflatable tubes with high pressure valves.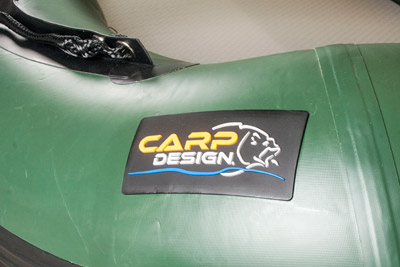 Like all models in the Estart range, its shape has been reworked to optimize its load volume, the goal being once again to make it as close as possible to the needs and expectations of carp anglers!
Indeed, the diameter of the tubes has been reduced, the transom has been retracted to the maximum, its width has been increased to reach 170cm and the shape of the bow (front) has been rounded to not lose space compared to certain models of the market who possess a pointed bow.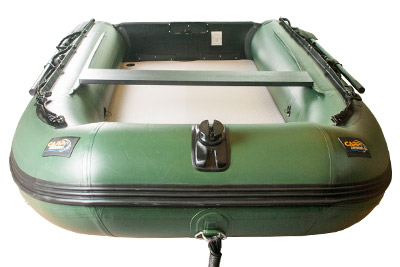 This model is a good compromise for carp anglers looking for a boat capable of carrying large volumes of equipment. The Estart 320 can be used to carry 2 carp anglers and their equipment, either in the river or in large lake thanks to its tubes of 38cm in diameter.
The presence of a transom allows it to be easily motorized but also easily attach a support for echo sounder. Its inflatable keel will allow it to easily go out if you are brought to use a heat engine, thus favoring the stability and the water resistance of the boat at high speed.
It has a removable sliding bench that will be very useful when navigating with a motor or simply that you move with the oar to adjust to your physiognomy.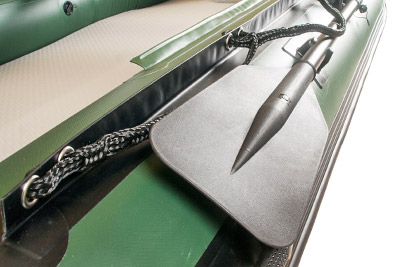 Marine Plywood floor
Black aluminum oars for more discretion
Adjustable bench in marine wood (removable)
PVC 0.9mm based on 1000D polyester
Color: Army Green
Number of airtubes: 3 + 1
Inflatable keel
Diameter of the rolls: 38cm
Inside dimensions: 240cm (length) x 100cm (width)
Reinforced backboard
ISO6185 standard
Boat not registrable by maritime affairs
Comes complete with carrying bag and inflator
Repair kit provided
External dimensions : 320cm (length) x 170cm (width) - Weight : 68kg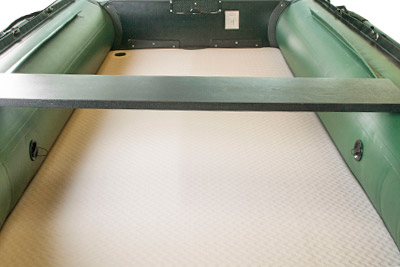 High presure Air Floor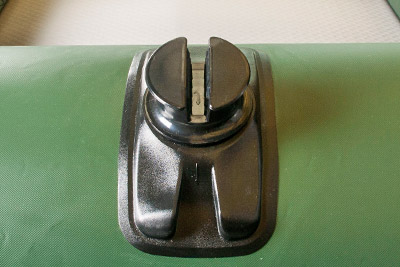 Cleat for anchorage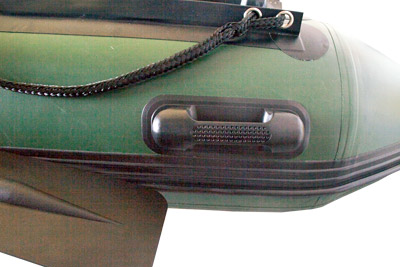 Handles for transport and Life line

Inflatable keel



Reinforcing tape under the boat's floats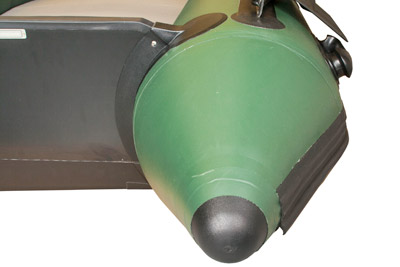 Diameter of the rolls : 38cm
Carp Design Flover TG Electric Motor 55lbs
Lightweight, powerful and efficient! These are the 3 words that could best describe this series.
With its experience in the field of inflatable boats, Carp Design offers this year a new range of electric motors, specially designed to meet the expectations of carp anglers.
Thanks to the latest electronics technology, Flover TGs work longer than other engines with a battery of equivalent capacity.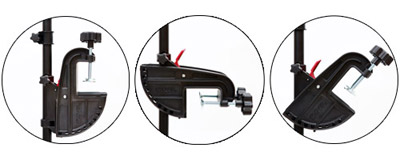 Its control box is equipped with a 9 diode ramp that indicates the battery charge level to avoid unpleasant surprises while on the water. For convenience, the control stick is telescopic (14cm extendable) for comfort when navigating.
The Flover TG has a trigger located close to the engine mount that allows you to tilt the engine with a single pressure (10 positions), while a screw ring on the arm will allow you to adjust the immersion depth of the engines propeller.
They work with a 12V battery (battery not supplied) and are available in 3 different powers (33lbs, 40lbs and 55lbs) in order to meet all the needs and adapt best to each type of boat.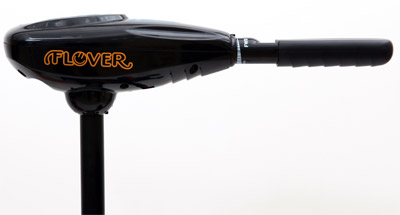 The power cables are equipped with rings that will make it easy to connect to the fast lugs of your battery (battery not included). For optimal use, we recommend using a marine battery (slow discharge of minimum 100AH) and especially to equip you with a life jacket.
The tests carried out on this 55lbs version allowed us to measure the following autonomies with a battery* of 100AH ​​discharged up to 85% :
Speed 1 : 5h21
Speed 2 : 4h10
Speed 3 : 3h07
Speed 4 : 2h40
Speed 5 : 1h47
* Slow discharge marine battery loaded at 100%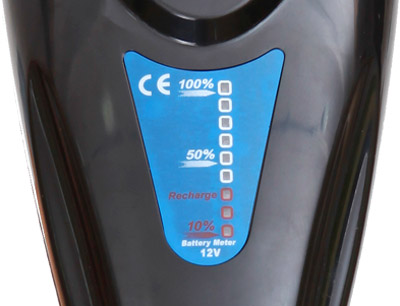 Technical characteristics :
Voltage: 12V
Depth adjustment: hose clamp
Max power: 55lbs / 22.7kg
Propeller type: 2 blades
Number of forward speed: 5
Number of rear speed: 3
Equivalence of power with a heat engine: 0.88HP
Battery recommended: 100HA slow discharge
Sealing index: IP65
Max weight of the boat: 1500kg
Power: 660W
Amperage: 50A / 55A
Shaft type: aluminum
Length of the shaft: 85cm
Weight: 9kg
2 years warranty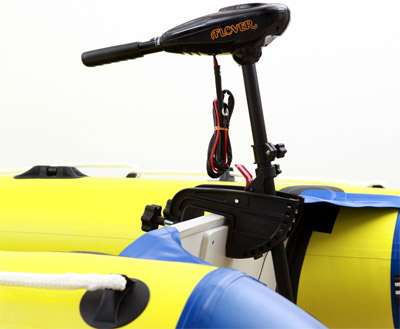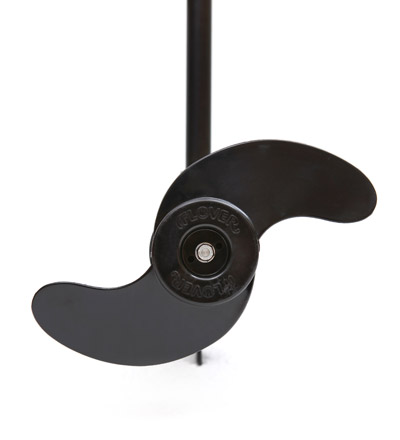 | Quantity | Ref | Name | + |
| --- | --- | --- | --- |
| 1 x | 219270 | Moteur Electrique Carp Design Flover TG 55lbs | |
| 1 x | 450116 | Bateau Carp Design Estart 320 Army Green Plancher Air | |
Customers who bought this item also bought :