Who are we?
Chronocarpe.com is a SAS Chrono Loisirs site since 2005.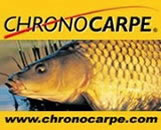 Good knowledge of the environment of carp fishing, preferred supplier relationships and ongoing commitment to best satisfy its customers, very quickly allowed Chronocarpe to position itself as one of the European market leaders for fishing carp.

Based in France in Lavelanet (Ariège - Occitanie), all the logistics, administration, marketing and IT are managed by our teams (25 people) on our site over 2500m² of offices and warehouses.

Present on the internet and with a paper catalog the early years, Chronocarpe has quickly oriented "pure player" (100% web) with an ongoing commitment to innovation to improve the user experience on sites.

Several versions of the website were developed with particular attention when the security of financial transactions, the content of the product information sheets and especially to prices and quality service.

The opening of "applications" for mobile and tablets (Apple and Android) in 2014 helped to reach a large audience very nomadic and always eager for new technology.

This approach was welcomed by the trophies of the Midi-Pyrennes Digital Economy (2006 winner category e-commerce) and a rapid increase in the number of customers and orders. An encouragement to continue with the hiring of qualified staff to ensure customer service and expansion of the warehouse storage to expand the range of products while ensuring shipping within 24 hours.

Bought in January 2017 Chronocarpe remains in the same spirit and economic model to satisfy the carp anglers : the choice, prices, stock!

This version of the website (opened April 2019) responds to all technological standards to ensure a single use, fluid and intuitive as on a desktop computer than a smartphone. In addition, the site is concçu to comply with regulations regarding privacy and the protection of users and customers privacy (RGPG 2018).
Last modification on 07/02/2020