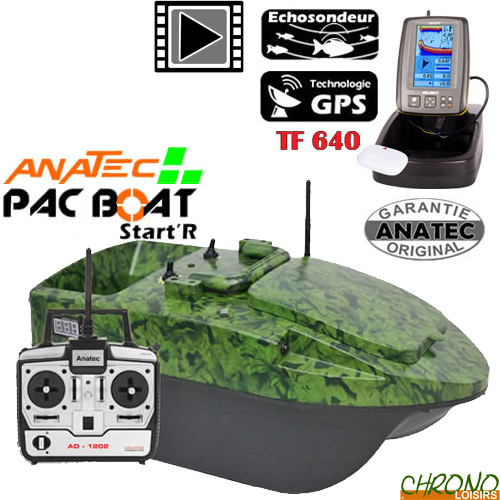 The Anatec brand is specialized in the manufacture of radio controlled starter boats for more than 20 years. Anatec is considered by the biggest names of "Specimen Hunting", as the indispensable ally of carp anglers. The French press considers the Anatec bait boats as the most efficient, reliable and robust on the market.
Anatec Pac Boat Start'r IVY Camo TF640
249
€
00
Anatec Pac Boat Start'r IVY Camo TF640
Anatec Pac Boat Start'r IVY Camo TF640 + Gift
Anatec Pac Boat Start'r IVY Camo
Featuring a reduced size and with an amazing ease of use, the PACBOAT is an improved version of PACBOAT.
Thanks to a higher bridge, the water line was increased which improves buoyancy. At the same time , the capacity of the boot tray is changed from 1 to 1.5kg.
Compared to his brothers ( and MONOCOQUE CATAMARAN ), CAP BOAT benefits from minimum dimensions and limited weight for ease of transport and use.
It is designed to meet the growing demand of some users , for whom the boat initiator remains essential , but who do not wish for much would you need a model that could hinder a more 'mobile' approach to their fishing.
Some electronics GRAUPNER brand have been replaced by standard components. ( Variable speed drive and servomotor ).
The AD1202 remote enjoys the 2.4GHz, allowing transmission up to 250m to avoid any loss of control.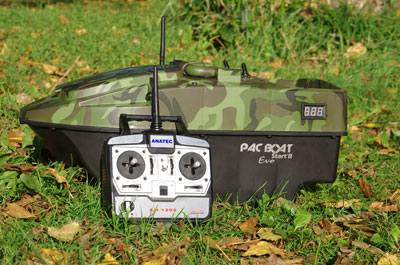 The minimalist design of the CAP BOAT goes to the essential, no useless gadgets, soft lines and begin precisely its fishing spots is the essential feature of this boat that beginners in this field will have no trouble taking in hand.
It has a digital voltage controller to instantly check the battery voltage.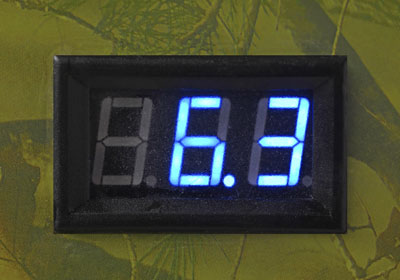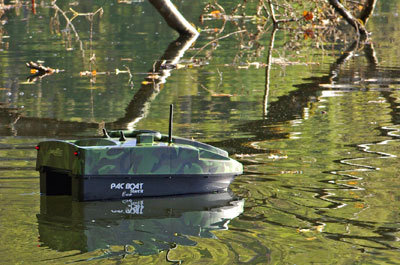 The CAP BOAT is powered by a propeller engine powered by 2 lead batteries 6V 4.5 Ah . The use of the boat autonomy is about 80 minutes and its maximum speed of 1.6 meters / second .
It is headed by a steering mechanism.
Located in the rear position , the PACBOAT boot tray has a 1.5 kg capacity . This tray allows the transport of the baits and of the line.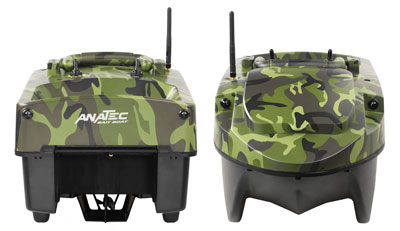 Supplied with :
2 Batteries 6V/5Ah
1 Anti rust spray grease
Charger supplied
Dimensions : 59 X 28 X 25 cm - Weight : 4.5 Kg (including batteries )
Available in camo.
Toslon TF640 Colour + GPS + Compas + Sonar
Navigation Sonar system TF640 was specially designed for all kinds of bait boats. It was combined with high Position accuracy GPS, digital wireless sonar and electronic compass.
The GPS system let you guiding the boat to any waypoint you saved. The advanced sonar feature show you actual bottom condition and fish, and the electronic compass indicate the instant boat heading direction on screen which make it possible to operate the boat under bad condition, such as night, heave fog, etc.
This sounder is equiped with a newbrand GPS antenna wich comes directly into the baitboat meaning the antenna is protected from any external damage, for a safer use.
GPS Position Accuracy: 1m(filed test); RC Distance:300m; 500 Waypoint; Digital Wireless Sonar with 80ft depth range; Sonar frequency 455kHz; 4.3" TFT with resolution 480*272Pixels; 65,536 color;
GPS and COMPASS
GPS data display show: Distance to target, Distance to Home,Speed of boat,Time to Board,Satellite
Number,Heading,Bear, Course Memory,Time of day,Main Battery.
Compass indicator of the instant boat heading direction on screen (a red "+" on screen indicate the target)
Indicator of the position and distance to target waypoint and HOME
Boat arriving alarm
Signal lost alarming
Indication of satellite condition by color bar: red(0~satellites); Yellow(3~6); Blue(?6)
Show the current position as latitude/longitude in decimal degrees
20 RF channels allow different users operation at same region without interference
Detailed waypoint information including icon, name, date, etc
Zoom in/Out route display
Sonar :
Adopt brand new digital wireless sonar system
Real time sonar windows display the latest sonar returns
Color Line separates fish and structure from the bottom, and defines bottom hardness.
Display target depth reading above each fish symbol as a guide for quick and precise lure presentations.
Sonar alarm: fish / shallow / low battery(boat battery and display battery)
| Quantity | Ref | Name | + |
| --- | --- | --- | --- |
| 1 x | 213314 | Kit Echosondeur Toslon TF640 Couleur + GPS + Compas avec sonde | |
| 1 x | 213393 | Bateau Amorceur Anatec Pac Boat Start'r IVY Camo | |
Customers who bought this item also bought :