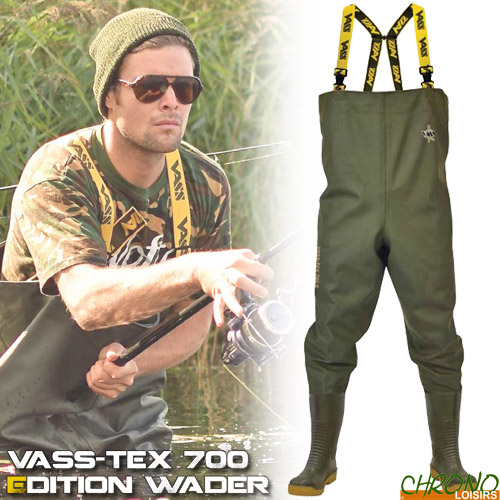 N°1 in England for many years, the Vass company manufactures and designs waders and rain gear of high quality. Due to the performance and technical characteristics of its products, the leading carp specialists in Europe quickly understood the benefits of moving towards this brand.
Vass Vass-Tex 700 Edition Waders

Vass Vass-Tex 700 Edition Waders
Vass-Tex 700 Edition Wader
The highest quality PVC wader is available in its class !
Material Heavy-duty Vass-Tex 700 with dual stretch flexibility for comfort and reliability.
This Vass wader range uses the high quality Vass-Tex 700. Smooth PVC exterior with a soft reverse polyester (light stretch for comfort, but also acts as a shock absorber on the seams).
The body is fused with our new ultra-strong 'Vass Boot' boot for comfort, reliability and reinforced strength properties.
Benefiting from the usual Vass manufacturing and materials standard, the Vass-Tex 700E Nova also includes features such as counter-welded seams, elastics & stitched joint loops, easy repair material (see our Repair Guide), and the internal chest tightening cord in the wader for safety and comfort.
Unrivaled quality at a great price.
Material Heavy-duty Vass-Tex 700
Smooth PVC exterior with a soft reverse polyester
counter-welded seams
elastics & stitched joint loops
internal chest tightening cord in the wader for safety and comfort
Customers who bought this item also bought :