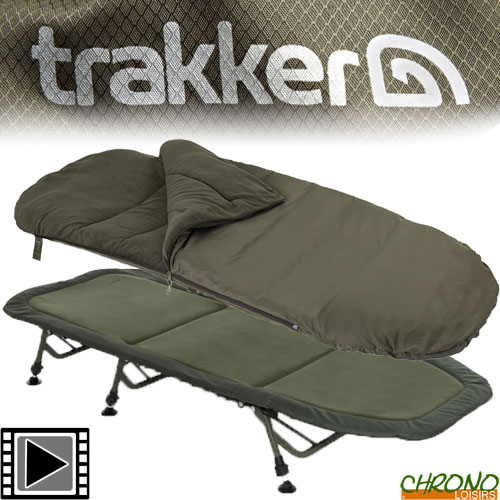 The goal of Trakker is simple: to offer a range of innovative products in design, elegant and robust. The products are designed with the best materials to offer you maximum life. You will surely find cheaper in other brands but lower qualities. Trakker means high-end products that will satisfy the most demanding of you.
Trakker RLX Flat Big Snooze Comfort Pack
28
€
44
Trakker RLX Flat Big Snooze Comfort Pack
Trakker RLX Flat Big Snooze Comfort Pack
Trakker RLX Flat 6 Bed
Super-lightweight, flat beds with six legs available in three sizes. These robust beds will fold up with five-season bags and pillows due to their dual-hinge mechanism.
Features :
Super-lightweight flat bed with sleeping bag storage option
Completely level bed profile for a perfect night's sleep
Incredibly light; weight reduced further by removal of handwheel
Super-quick to use; simply unclip and unfold
Will fold down comfortably with a winter sleeping bag stored inside
Freestanding in closed position
Ergonomically-designed mattress for optimum comfort
Six-leg design with individually adjustable legs for maximum stability
Material : Aluminium/Steel frame
Transport size : 76cm x 88cm
Dimensions : 214cm x 78cm x 27/37cm – Weight : 7.5kg

Totally flat matress for a perfect sleep.

Can be folded with a 5 seasons sleeping bag.
Trakker Big Snooze + 3 Seasons Sleeping Bag
We want the fish and your buzzers to be the reason for lack of sleep. Not your bed and sleeping bag. Just because you're on the bank it doesn't mean you have to compromise comfort whilst sleeping.
Features :
Re-engineered version of Trakker's best-selling bag
Ultra-light and warm sleeping bag
Highly-breathable ripstop material
Warm fleece inner
Highly breathable, ripstop construction
Quick-release zips on two sides, with webbing to prevent snagging
Secure elasticated bedchair head and foot fixings
Bedchair fixing strap to reduce movement
Lined with a warm carpy green fleece
Supplied with stuff sack
Materials: Polyester (outer); Fleece (inner)
Dimensions : 215cm x 91cm - Weight : 3.2kg
| Quantity | Ref | Name | + |
| --- | --- | --- | --- |
| 1 x | 216877 | Bed Chair Trakker RLX Flat 6 pieds | |
| 1 x | 216294 | Duvet Trakker Big Snooze + 3 Saisons | |
Customers who bought this item also bought :