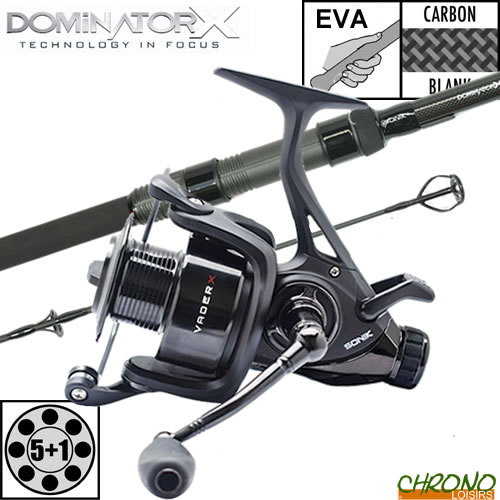 We are proud to offer Sonik products that have quickly gained a solid reputation for reliable performance and excellent value for money! Recognized worldwide, Sonik is one of the best references on the carp fishing market!
Sonik DominatorX 10' 3lbs VarderX 6000FS Set
23
€
19
Sonik DominatorX 10' 3lbs VarderX 6000FS Set
Sonik DominatorX 10' 3lbs VarderX 6000FS Set
Sonik DominatorX 10' 3lbs
New for 2018, the class leading DominatorX carp rod range incorporates a high modulus 1K woven carbon fibre blank and multi-directional tip section carbon lay-up for unparalleled accuracy and performance.
A smooth progressive casting action is matched to a slim lightweight blank that is bang up to date for the latest carp ishing tactics. Whether it's launching leads and PVA bags to the horizon or battling hard fighting fish at close range, the DominatorX rods keep you in control.
The butt and lower tip section features full 1k woven carbon with a sleek Fuji DPS-18 reel seat, stealth black anodised collars, slim shrink wrap handle and laser etched butt cap.
SPECIFICATION
High modulus carbon fibre blank with 1k wrap
Multi-directional tip section carbon lay-up for
increased accuracy
Lightweight low-profile double leg black SIC guides and anti-frap tip
40mm ringing pattern
Fuji 18mm DPS Black reel seat
Understated cosmetics
Line friendly custom contoured Sonik clip
Slim Japanese shrink wrap butt grip
Black anodised collars and butt cap laser etched with 'S' logo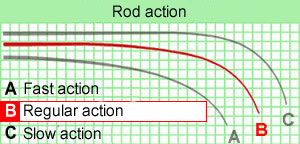 Informations techniques

Longueur

Brins

Puissance

Anneaux

10' (300cm)

2

3lbs

SIC
Sonik VaderX 6000FS Reel
The new VaderX FS packs contemporary power into a classic design, giving you style and substance that will look good on any setup.
Providing reliable, powerful performance and genuine value for money, the VaderX FS comes with two CNC machined aluminium spare spools.
A micro adjust front drag and a highly effective 5:5:1 gear ratio gives you a fast retrieve whilst the stainless steel main shaft won't let you down, no matter how heavy duty your session gets.
Big carp? Small beer to this highly effective, affordable reel that's tailored for performance and crafted for light, balanced presentation, handling and action. The 6000 size VaderX comes in at just 455g, meaning that you can fish comfortably all day long without being bothered by the weight of your reel.
An independent free spool rear drag comes into its own in those lively fights with big fish, or when a larger specimen gives a sudden, strong take and then shoots off on a run. The spare spools supplied make it quick and easy to swap out your line to meet changing conditions or handle a species you weren't expecting to find in front of you this session.
The micro adjust of the front drag allows for expert sensitivity, which is backed up by the power and reliability of the rest of this performance-focused reel, which offers the perfect choice for all your coarse and carp angling. Classic style with contemporary substance; everything that every angler is looking for in their core tackle choices.
Micro adjust front drag
Independent free spool rear drag
High strength lightweight graphite body/rotor
5+1 Stainless Ball Bearings
Supplied with two CNC machined anodised aluminium spools
Instant anti-reverse
Stainless steel main shaft
CNC machined solid aluminium handle
Oversized line friendly line clip
Chunky hollow bail arm wire
Gear Ratio 5.5:1
Technical Informations

Bearings

Ratio

Retrieve

Capacity

Add. Spool

Weight

5+1

5.5:1

NC

-

1

NC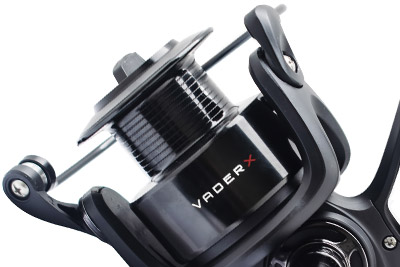 Supplied with two CNC machined anodised aluminium spools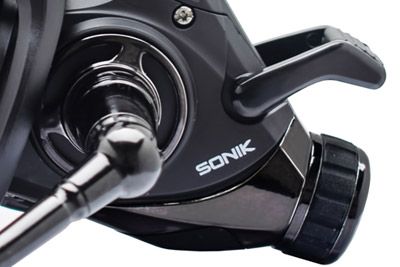 High strength lightweight graphite body/rotor
| Quantity | Ref | Name | + |
| --- | --- | --- | --- |
| 1 x | 251372 | Canne Sonik DominatorX 10' 3lbs | |
| 1 x | 202560 | Moulinet Sonik Débrayable VaderX 6000FS | |
Customers who bought this item also bought :