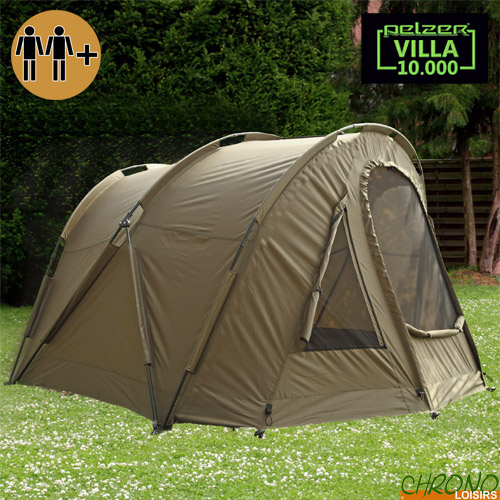 The Pelzer brand makes it a point of honor to offer robust, reliable and functional products, so that each session brings you even more pleasure and success! We are proud to offer you Pelzer products exclusively on the French market! And to all European carpanglers !
Pelzer Executive New Villa 2 man
30
€
00
Pelzer Executive New Villa 2 man
Pelzer Executive New Villa 2 Man Biwy

Brandnew PELZER New Villa, deluxe tent for two persons. In this perfect construction takees advantage of many years of Markus experience.
The inner tent offers much room for two, but also there is space for a third bedchair. In cause of steep walls and a headroom up to 180cm, there will never be a feeling of uncomfortable narrowness.
Through this results highest stabilty and best all-weather capability. Certainly the Pelzer New Villa biwy can be positioned without winterskin (outer tent).
When the outer tent is fitted, you become a big awning with up to 140cm depth that allows the sheltered assembly of two carp chairs and a dry storing of your equipment.
The robust PVC groundsheet can be split into two parts, whereby the usage site can be selected for the complete Villa, only outer or only inner tent.
Features :
Dimensions inner tent : 300 x 300 x 180 cm
Transport Dimensions : 115 x 26 x 26 cm
Seamsealed with double-stitched
Hydrostatic Head 10000 mm
Inclusive 12 extra-strong tent-pegs and carrybag
Two-part tear-proof PE groundsheet with velcro
Weight : 15kg
Customers who bought this item also bought :