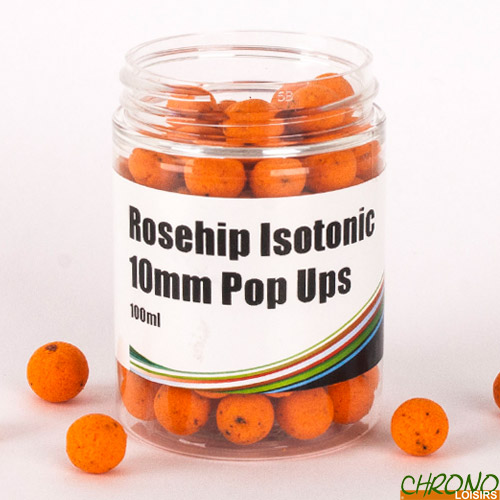 Mistral Baits has an experience of more than 30 years in the world of fishing. Made in England with top quality products, Mistral offers products that have proven themselves on all European waters ... including the famous Rosehip range.
Mistral Baits Rosehip Pop Ups Isotonic 10mm 100ml

Mistral Baits Rosehip Pop Ups Isotonic 10mm 100ml
Mistral Baits Rosehip Isotonic Pop Ups 10mm 100ml
One of our best known baits, Rosehip Isotonic has a carp catching pedigree recognised around the world.
You might be surprised how many famous anglers' rucksacks contain an odd bag or pot of Rosehip baits for when the going gets tough ! A distinctive but subtle fruit flavour offers lingering attraction that has proven as effective in cold water as warm – there is simply nowhere that Rosehip won't catch.
Rolled on a fast conversion nutritional base mix Rosehip boilies provide maximum leakage of valuable attractors to trigger an instant feeding response but get better and better as more are applied in the long term.
The list of carp Rosehip Isotonic has caught puts other baits to shame, performing year after year on waters as varied as busy ticket waters to low stock density big fish venues.
With the popularity of Rosehip both in the UK & Europe, the range is all encompassing, offering you every variation in feed and hook baits to get the best out of your time on the bank, from mini boilies to extra hard 25mm hook baits, dips and sprays.
Rosehip has quietly become the bait of choice for many when the temperatures tumble, continuing to produce carp even in the harshest winter conditions. When the going becomes extreme Rosehip continues to catch !
Customers who bought this item also bought :