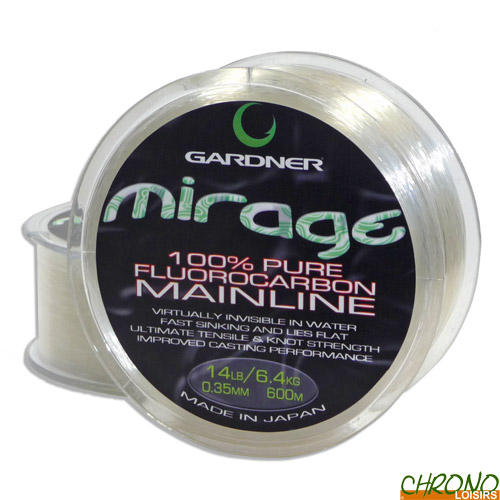 Innovation, quality and reliability are the foundation of the Gardner brand. This family-owned business is made up of a small team of hard-working employees who develop and provide products that will help you successfully hang beautiful fish.
Gardner Mirage Fluorocarbon 0.35mm 600m
7
€
00
Gardner Mirage Fluorocarbon 0.35mm 600m
Gardner Mirage Fluorocarbon 0.35mm 600m
The higher breaking strains of Mirage (18lb plus) have proven extremely effective and popular when used as low visibility leader or hooklink thanks to the fact that they sink much faster than standard lines.
Additionally, the improved knot strength offered by Mirage helps you to tie the strongest possible knots; other standard Fluorocarbons that suffer from poor knot performance simply do not compare.
Due to the material's high molecular density, Fluorocarbon leaders are extremely tough and highly resilient to cutting on sharp objects that are commonly found on the bottom of the lakes, rivers and canals that we fish.
If you are looking for an awesome alternative to the very commonly used leadcore or lead-free leaders, then maybe Mirage is the answer you have been looking for.
There are numerous advantages to using Fluorocarbon as either a leader, hooklink or mainline. The fact that it is nearly invisible in clear water is a great characteristic – but without doubt Mirage's greatest benefit is the fact that it is so heavy and lays flat and inconspicuously tight to the lake bed.
This means that if you're using Mirage as a mainline, even at night, fish moving and feeding in your swim will be less likely to touch the line and will naturally be less aware that they are being fished for.
'Rated' strengths are an indication of the strength of the line using a 3 or 4 turn tucked (improved) blood knot. Whereas this is a knot we would never recommend with a copolymer, it works amazingly consistent with Pure Fluorocarbons.
Features :
Fast sinking – lies flat on the bottom.
Nearly invisible under water. The refractive index of 1.42 is very close to that of water making Mirage hard to see in clear water.
High-tech low memory formula ensures the best possible casting performance.
Ultimate tensile and knot strength: Mirage has consistently out-performed all other fluorocarbon mainlines during testing.
Low stretch – offers improved bite indication and a crisp feedback when feeling leads down.
High abrasion resistance and a long life span.
Fluorocarbon does not absorb water (Non hydroscopic) and will not lose knot strength after long periods immersed in water.
UV Resistant – does not deteriorate in sunlight.
Customers who bought this item also bought :