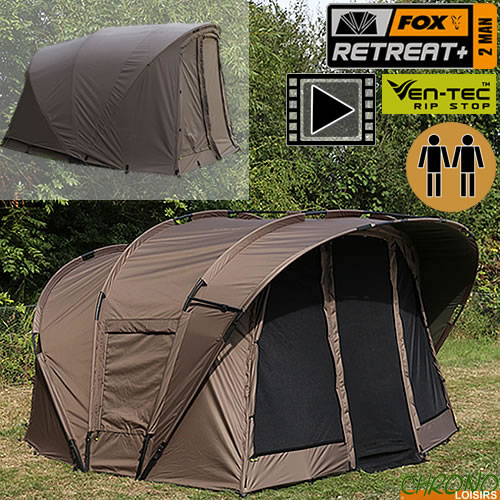 Fox is the largest distributor of specialized fishing tackle for carp. Who are the carp anglers who have never heard of products such as Swingers, FOX box systems, Microns. This is proof of a permanent desire for innovation and progress policy, both in design and in product development.
Fox Retreat+ 2 man Biwy (Biwy + Overwrap)
359
€
00
Fox Retreat+ 2 man Biwy (Biwy + Overwrap)
Fox Retreat+ 2 man Biwy (Biwy + Overwrap)
In recent years Fox engineers and the development team have worked hard with our consultants and the best European specialists to design the best biwys on the market. Many of us are certain today that Fox has achieved this goal.
These new biwys are full of technical innovations by making practical products, available in a variety of concepts to suit all fishermen, those favoring lightness and those seeking maximum comfort during long sessions.
Whether you're looking for just a shelter for a day, a light and fast shelter for one-night lightning sessions or a real home with all the comforts for long sessions on the mainland, you can be sure to find the shelter you're looking for. you need.
Fox Retreat+ 2 man Biwy (Biwy + Inner room)
The Retreat biwy is a very popular shelter that we decided to offer in an even more comfortable and versatile version. However, in view of the latest technologies, materials and design possibilities within our reach, it would have seemed a shame not to offer you the best possible.
It is in this spirit that our research team has kept the concept of the Retreat, it has preserved the best to include many new features, and so the new Retreat + was born.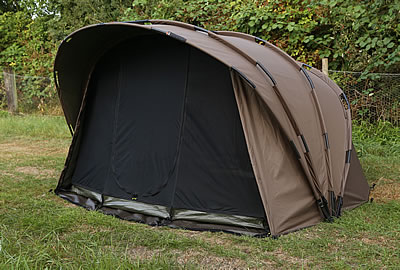 Like all our high-end shelters, the Retreat is both 100% waterproof while being very resistant.
If you like the design of the Retreat but prefer something much more comfortable, we have integrated in this version Retreat + a removable inner chamber removable breathable canvas.
The latter offers the advantage of increasing the thermal insulation of your biwy but also prevents insects and other small animals such as mice from entering your living space. In order to make the use of the inner chamber more practical, we decided to stiffen the bottom of the entrance door of the biwy.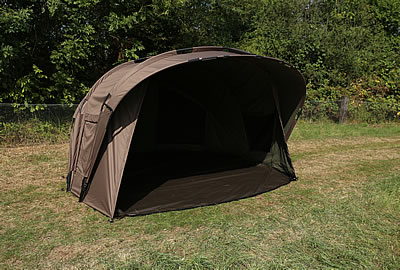 Ven-Tec ripstop fabric with hydrostatic head 20 000mm
Perfect for long sessions, couples or pairs
Lightweight aluminum poles
Flat rear panel with improved side angles to further increase useful volume from front to back and from left to right
The location of the pole joints increases the internal volume while improving the compactness of the shelter when folded
Fully removable front panel
Three door options, full, mosquito net and clear PVC
Dual-door closures on doors for use in "barn door"
Front cap for added protection from the elements
Front side panels in mosquito net
Mosquito net panels at the back also for better ventilation
Adjustable tension straps on the sides
Two rod support straps on the cap
Extension top available separately
Complete structure support system including for the cap
Polyester webbing straps allow great stability in high winds
Reinforced T pegs
Reinforced floor mat
Oversized carrying bag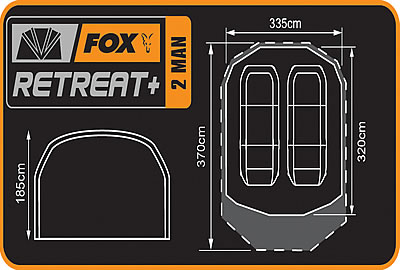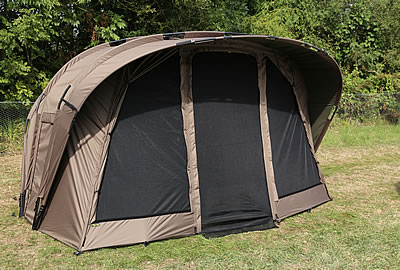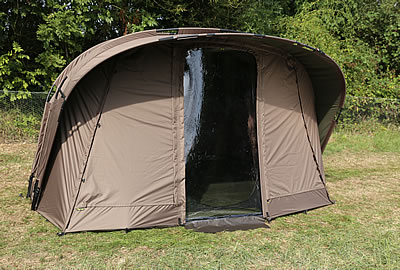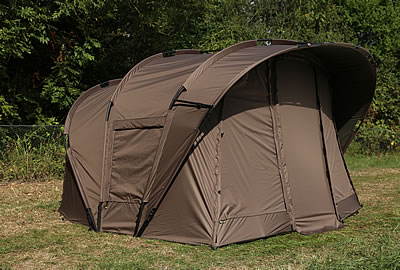 Fox Retreat+ 2 man Biwy (Overwrap only)
You own the Retreat + biwy and occasionally want a bigger shelter or even better protection in the winter, so this starter is designed for you!
It will allow you to increase the thermal insulation of the biwy and thus strongly limit the condensation.
Thanks to this overwrap, you gain 50cm of progress which widens your comfort zone and allows you to store your bulky things such as waders, buckets and other products that could clutter your indoor living space.
The overwing is also equipped with the ventilation system "Airflow" at the rear. So you keep the benefits of the overwrap while enjoying more air if needed.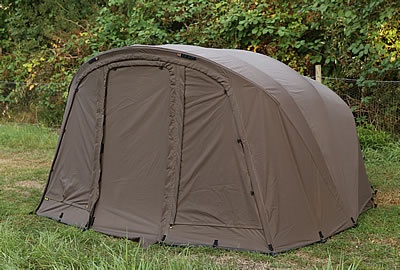 Ven-Tec Ripstop fabric with hydrostatic head 20 000mm
Same door options as the bivvy: full, transparent and mosquito net
The mosquito net panels are placed exactly in the same places as those of the bivvy, allowing optimized ventilation
Removable front panel
The air circulation between the canvases greatly reduces condensation, keeps the heat inside the winter and regulates this heat in summer
Enlarges the floor area of the bivvy by lengthening the front part
Two rod support straps
Supplied with a floor mat extension
| Quantity | Ref | Name | + |
| --- | --- | --- | --- |
| 1 x | 217828 | Biwy Fox Retreat+ 2 place (Biwy + Chambre intérieure) | |
| 1 x | 217829 | Biwy Fox Retreat+ 2 place (Surtoile seule) | |
Customers who bought this item also bought :