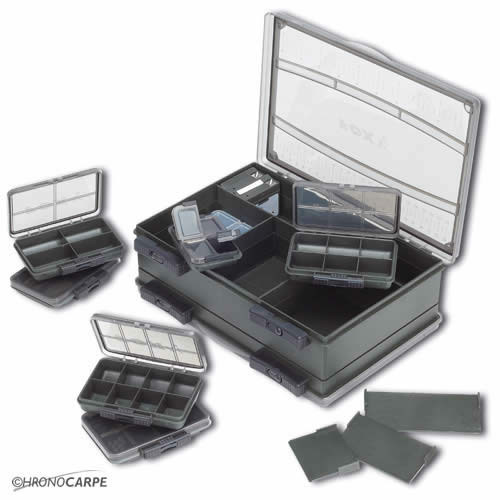 Fox is the largest distributor of specialized fishing tackle for carp. Who are the carp anglers who have never heard of products such as Swingers, FOX box systems, Microns. This is proof of a permanent desire for innovation and progress policy, both in design and in product development.
Fox F Box Deluxe Medium Double
11
€
00
Fox F Box Deluxe Medium Double
When the original Fox Box System box was launched 20 years ago, it was the first storage box specifically designed for the carp angler. Instead of having to adapt somehow to toolboxes, fishermen finally had the opportunity to organize all their small equipment in a methodical and accessible way. The Fox system quickly became an indispensable item for thousands of us.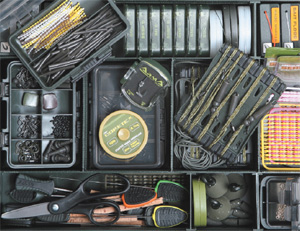 Fox F Box Deluxe Medium Double
The Deluxe Double model is the widest box in the medium range, and offers incredible storage space. It is equipped with independent boxes, side plates, dividers and the following components :
4 deep partitions
3 deep partitions of average size
3 small deep partitions
1 box of 8 compartments
1 box of 4 compartments
2 line distributor boxes
2 "flip Tops"
Dimensions : 270mm x 200mm x 90mm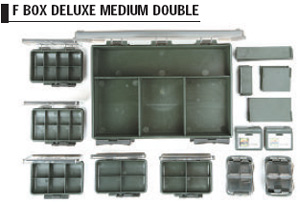 The double-sided Fox system boxes have a main compartment deep enough to accommodate the braid spool cases, as well as a flatter compartment for storing scissors, bait needles and other tools needed to make rigs.



A new closure mechanism has been used on all Fox boxes. It is operated with a simple push button and keeps the lids closed without risk of accidental opening during transport.

Fox F boxes are equipped with a new separation system. The perimeter of most partitions is equipped with grooves for inserting the dividers, creating an infinite number of layout possibilities.



All Fox boxes have a waterproof rubber seal running around their lid, creating an impassable barrier against dirt and moisture.
Customers who bought this item also bought :