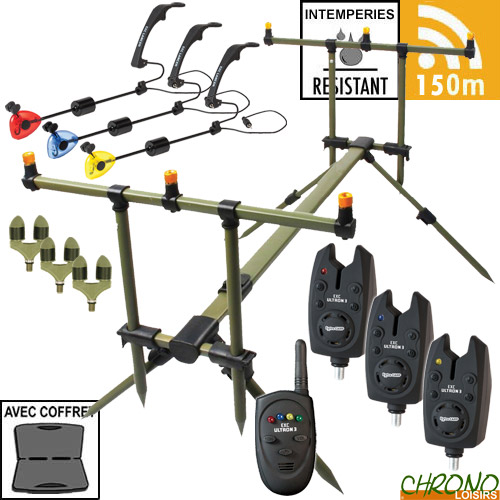 Founded in 1994, the Extra Carp brand was quickly recognized for the reliability and excellent quality of its products. This company ensures the growth of its range and its mission is to provide high quality products and accessories at the best quality / price ratio.
Extra Carp Detection Set Royal 3 Ultron EXC Lancer
94
€
20
Extra Carp Detection Set Royal 3 Ultron EXC Lancer
Extra Carp Detection Set Royal 3 Ultron EXC Lancer
Extra Carp EXC Royal Rod Pod 3 rods
Aluminum frame with adjustable legs for any kind of terrene. Central frame can be expanded to desired length (73-120 cm)
For maximum 3 rods
Supplied in quality cloth bag
Dimensions (when folded in the bag) : 76cm x 25cm x 8cm - Weight : 2kg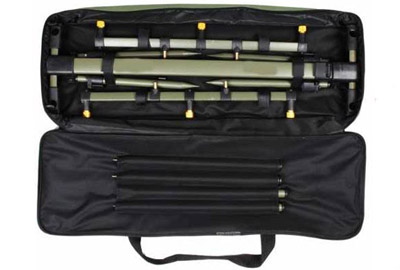 Extra Carp 3 Bite Alarm Set EXC Ultron 3
"Ultron EXC 3" wireless set contains 3 bite indicators and one receiver.
Easy to adjust with 4 waterproof buttons
4 different levels of sensibility
High quality electronics in weatherproof housing
150-200m range depending from the surrounding terrene and battery level
Indicators are powered with 9V batteries
Receiver works with 3 x AAA batteries
Functions:
"I" - ON/OFF switch
"V" – volume adjustment
"T" – tone adjustment
"S" – sensitivity adjustment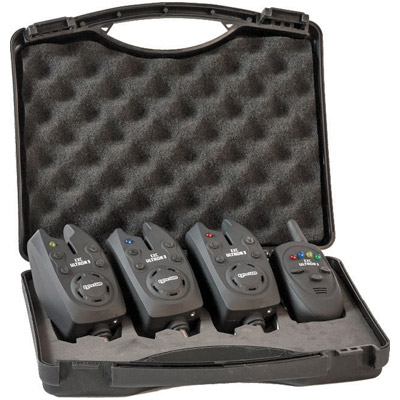 Extra Carp EXC Lancer Illuminated Indicator (Yellow, Red and Blue)
The "EXC Lancer" bite indicator represents new indicator concept with advanced line release system. Line holder is sensitive enough to recognize slightest bite and to release the line on strike.
Indicator is equipped with the slide weight for right amount of tension on the line. "EXC Lancer" can also be connected to the bite alarm with the power our socket for light effect of the fish strike during the night fishing.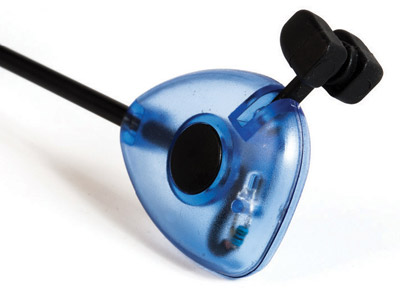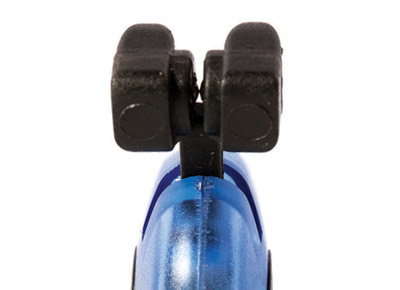 Extra Carp Anti Draw Back Rest (x3)
Rod holder with fixing mechanism and blister packaging.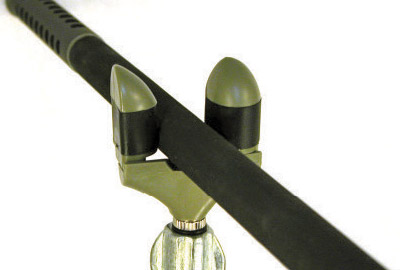 | Quantity | Ref | Name | + |
| --- | --- | --- | --- |
| 3 x | 205887 | Support Arrière Extra Carp Anti Draw Back Rest | |
| 1 x | 203803 | Coffret Extra Carp Centrale 3 Détecteurs EXC Ultron 3 | |
| 1 x | 204561 | Balancier Extra Carp Lumineux EXC Lancer | |
| 1 x | 205889 | Rod Pod Extra Carp EXC Royal 3 cannes | |
| 1 x | 204560 | Balancier Extra Carp Lumineux EXC Lancer | |
| 1 x | 204563 | Balancier Extra Carp Lumineux EXC Lancer | |
Customers who bought this item also bought :