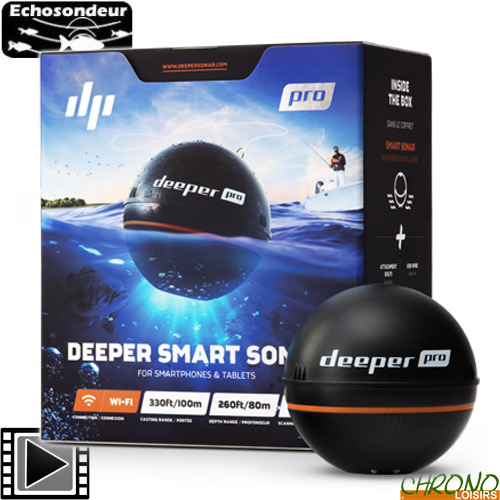 A true revolution in the field of wireless sounders, Deeper has established itself thanks to the technologies it has successfully developed and the precision of its devices. Leading carp specialists are already using it to track specimens and optimize their fishing all over Europe!
Deeper Smart Sonar PRO


This product is part of the following categories:
Deeper Smart Sonar PRO
Deeper Smart Sonar PRO

Troll, map, scan and catch with the Deeper Smart Sonar PRO, then use it as an ice flasher in winter. This versatile, powerful fish finder scans down to 80 m / 260 ft, using its rock solid Wi-Fi connection to send detailed sonar data direct to your smartphone or tablet. Mark fish, locate structure and features, map out any water from your kayak or boat, and start fishing smarter with the Deeper PRO.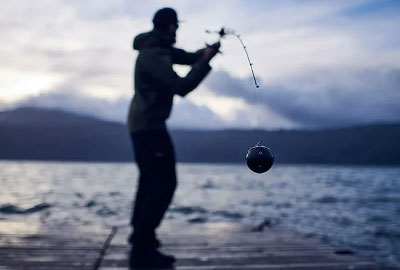 The Fish Deeper App uses your smartphone's GPS for live bathymetric mapping as you troll. All maps are saved and accessible through the app and online.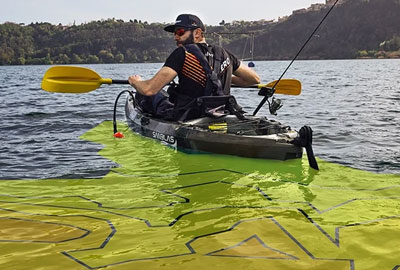 Technical Specifications:
Wireless Wi-Fi connection
Dual beam scanning

App compatibility: from IOS 8.0 and Android 4.0 to latest
Frequency: 290 kHz (15°) / 90 kHz (55°)
Depth range max/min: 80m / 0.5m
Smooth trolling: Sending 15 scans per second
Operational Temperature: -4F to 104F/ -20C to 40C
Alimentation: Micro USB type B, 5V DC, 450mA max
Battery: Lithium Polymer, 3.7V Rechargeable; lasts for 6 hours of non stop usage; takes 2 hours to fully charge.
Power Adapter: Compatible with 110V / 240V. Micro USB.
Use Smartphone GPS
Dimensions: 65mm diameter - Weight: 100g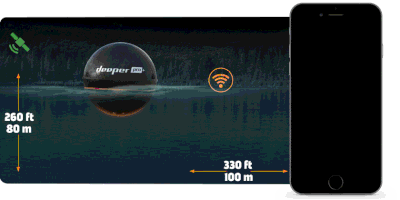 Inside the box:
Deeper Smart Sonar PRO
Attachment bolts
USB wire
Neoprene pouch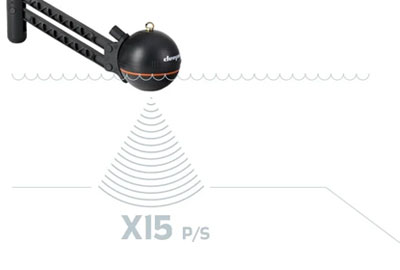 Smooth trolling
Sending 15 scans per second, and with a fast Wi-Fi connection, the PRO gives very smooth trolling from boat or kayak.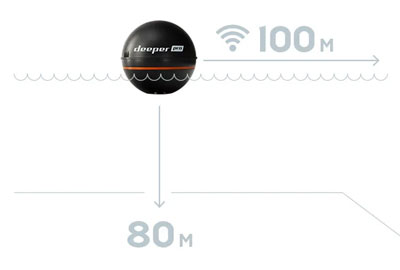 Bottom contour
The PRO's transducer scans down to 80m and has a casting range of 100m.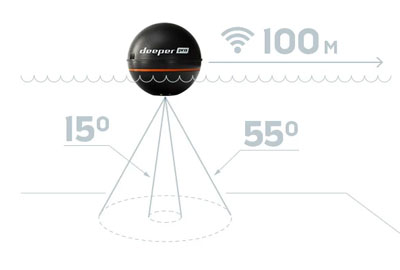 Dual beam scanning
Cover lots of water with the PRO's wide beam scanning frequency, then switch to narrow beam to home in on your targets.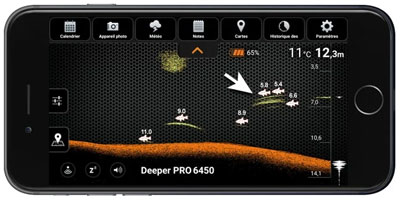 See fish arches and bait balls, or add fish icons with depth tags and fish size.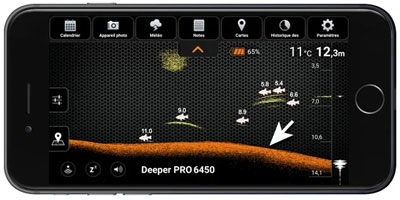 Locate structure and vegetation, and see bottom contour, hardness and consistency.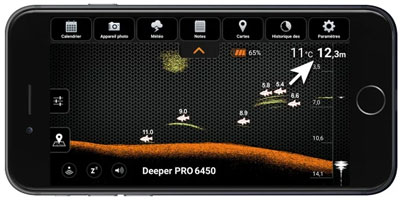 Know depth and water temperature from the moment you start scanning.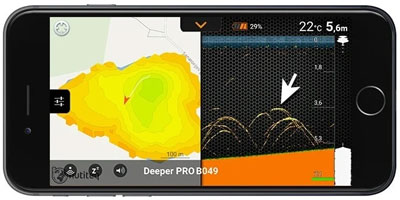 Split screen mapping and scanning. Mark fish and see vegetation as you're mapping.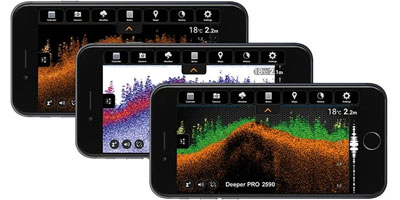 Choose from 3 color palettes for perfect display visibility, whatever the weather.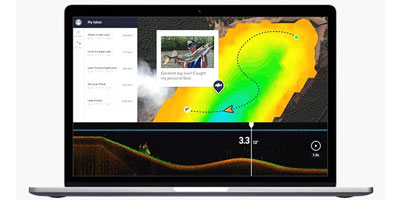 Every sonar scan and bathymetric map you create with your Deeper PRO series, every photo you make and note you take using the Fish Deeper App, all in one place with Lakebook™, your personal journal for better fishing.
Click here to download the user manual
Customers who bought this item also bought :