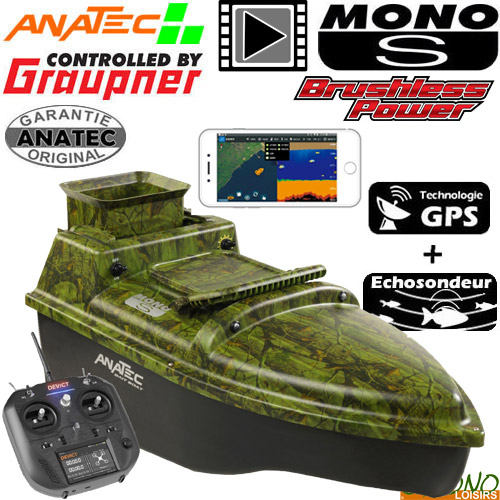 The Anatec brand is specialized in the manufacture of radio controlled starter boats for more than 20 years. Anatec is considered by the biggest names of "Specimen Hunting", as the indispensable ally of carp anglers. The French press considers the Anatec bait boats as the most efficient, reliable and robust on the market.
Bateau Amorceur Anatec Monocoque S OAK Brushless Echo + GPS
450
€
00
Bateau Amorceur Anatec Monocoque S OAK Brushless Echo + GPS
Bateau Amorceur Anatec Monocoque S Camou Oak Lithium Brushless Echo + GPS
Le MONOCOQUE est le best-seller de la gamme ANATEC. Un compromis idéal pour pratiquer sa pêche dans les meilleures conditions possibles. Son faible encombrement facilite sa mise à l'eau même lorsque le terrain est accidenté.
Cette nouvelle version est équipé de nouveaux composants électroniques notement une nouvelle télécommande DE-SR07, d'une batterie Lithium et possède désormais un moteur haut de gamme Brushless. Grâce à ses nouveaux équipement, il en résulte :
Une meilleur autonomie par rapport à la version "batterie plomb"
Un bateau plus léger (dut à la batterie Lithium)
Un bateau plus rapide sur l'eau grâce à son nouveau moteur Brushless
Plus aucun entretien mécanique (plus de graisse à mettre régulièrement sur l'arbre moteur)
Le MONOCOQUE respecte la charte de qualité et fiabilité commune à tous les bateaux de la gamme. Par ailleurs sa conduite ainsi que l'apprentissage de ses différentes fonctions sont très aisés et accessibles même aux débutants.
Il bénéficie également d'une très bonne flottabilité et peut être utilisé même lorsque la surface de l'eau est agitée.
Le MONOCOQUE fonctionne grâce à un moteur Brushless à hélice alimenté par une batterie au Lithium de 7.4V/12Ah. L'autonomie d'utilisation du bateau est d'environ 90/120 min et sa vitesse maxi de 1.3 m / seconde.
Par rapport à la version précédente, le MONOCOQUE S 2015 possède un contrôleur digital de tension afin de vérifier instantanément la tension de la batterie.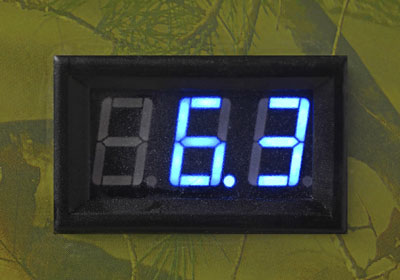 La direction est assurée par un mécanisme de gouvernail. Situé en position arrière, le bac d'amorçage du MONOCOQUE possède une capacité d'1 kilo. Ce bac permet le transport des amorces ainsi que de la ligne.
Pour faciliter le repérage du bateau sur l'eau de nuit ou par temps sombre, le MONOCOQUE est pourvu de 4 diodes lumineuses ultra puissantes (2 blanches à l'avant et 2 rouges à l'arrière).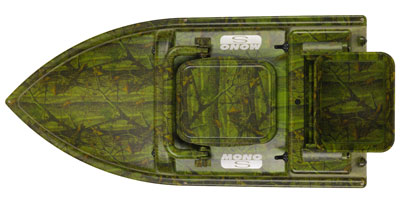 Pour une description détaillée relative à la mise en service, au mode d'emploi et aux conditions/précautions d'utilisation du MONOCOQUE il convient de se reporter au manuel d'utilisation joint avec le bateau.
Télécommande DEVICT DE-SR07
Ce nouveau Monocoque S est livré avec la télécommande DEVICT DE-SR07 qui bénéficie de la technologie 2,4 GHz. Cette nouvelle Radiocommande est alimentée par une batterie lithium rechargeable avec une connectique micro USB.
Egalement, lorsque plusieurs utilisateurs sont à portée, il n'est plus nécessaire d'effectuer un changement de quartz pour régler les fréquences radio. L'attribution des différents canaux se fait automatiquement.
Enfin cette nouvelle technologie ne nécessite plus d'antenne sur le bateau, ce qui facilite grandement l'accès sous les branches basses.
Grace à ces nouvelles télécommandes, la portée de transmission peut aller jusqu'à 300m, ce qui permet d'exclure tout risque de perte de contrôle.
Pour sa protection, la télécommande est accompagnée d'une housse en plastique transparent qui permet son utilisation en cas de pluie. Il est important de ne jamais utiliser la télécommande sous la pluie sans cette protection.
Livré complet avec :
1 Batterie Lithium 7.4V/12Ah
Chargeur fourni
Sac de transport
Dimensions : 75cm x 35cm x 36cm - Poids : 5.8kg (batterie comprise)
Echosondeur + GPS Anatec Fishing Robot
Le Fishing Robot est un système combiné sans fil incluant le guidage GPS du bateau ainsi qu'un échosondeur. Tout ceci sur votre tablette ou smartphone (non fournis) !
Il va vous permettre de guider votre bateau directement grâce à la carte Google MAP tout en ayant un sondeur simultanément.
L'application vas également vous donner accès à la sauvegarde de points afin de pouvoir y revenir pendant votre partie de pêche et même plus tard.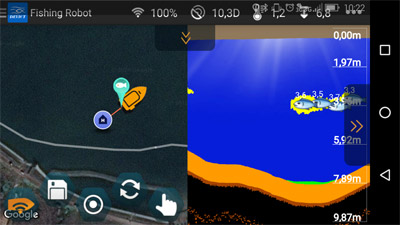 Le sondeur va quant à lui permettre d'obtenir les informations sur la profondeur et le type de fond qui se situe sous votre bateau.
Le Fishing robot est constitué de 3 éléments, 2 sont installés dans le bateau (la sonde et le pilotage GPS) le troisième reste sur la berge à coté de vous. Ce dernier élément va permettre obtenir une porte de plus de 300m à votre contrôle GPS.
En cas de perte de signale la bateau rentrera directement à son point de références (point « HOME ») qui se fait de manière automatique lors de la mise sous tension du bateau.
Voici LA technologie au service des carpiste exigeants !
Customers who bought this item also bought :