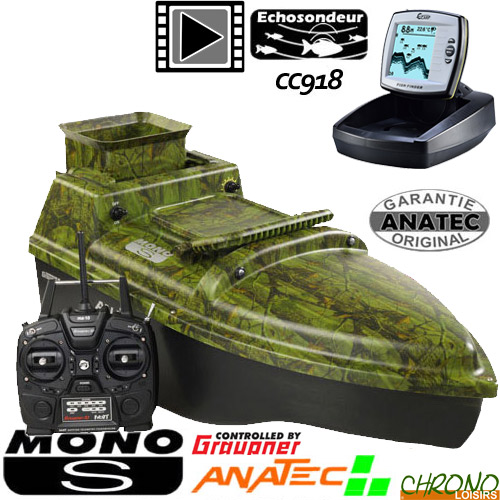 The Anatec brand is specialized in the manufacture of radio controlled starter boats for more than 20 years. Anatec is considered by the biggest names of "Specimen Hunting", as the indispensable ally of carp anglers. The French press considers the Anatec bait boats as the most efficient, reliable and robust on the market.
Anatec Monocoque S Camou Oak MZ10 Bait Boat Echo CC918
199
€
00
Anatec Monocoque S Camou Oak MZ10 Bait Boat Echo CC918
Anatec Monocoque S Camou Oak MZ10 Bait Boat Echo CC918
Anatec Monocoque S Camou Oak TF300 MZ 10 Bait Boat
MONOCOQUE is the bestseller of the ANATEC range. An ideal compromise to practice fishing in the best possible conditions. Its small size makes it easier to launch even when the terrain is rough.
Moreover, his behavior and the learning of his various functions are very easy and accessible even to beginners.
It also has a very good buoyancy and can be used even when the surface of the water is agitated.
Equipped like all the ANATEC electronic components boats from the German manufacturer GRAUPNER as well as a new MZ10 remote control from the same manufacturer. MONOCOQUE respects the charter of quality and reliability common to all its boats.
The MONOCOQUE works thanks to a propeller motor powered by a lead battery of 6V 12 Ah. The autonomy of use of the boat is about 90 mn and its maximum speed of 1.3 m / second.
Compared to the previous version, since 2015 the MONOCOQUE S has a digital voltage controller to instantly check the battery voltage.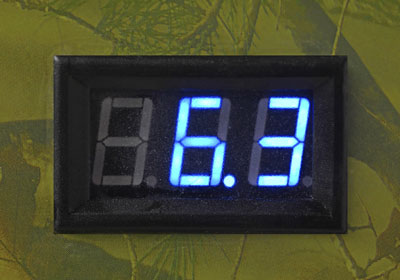 The steering is provided by a rudder mechanism.
Located in the rear position, the MONOCOQUE priming tank has a capacity of 1 kilo. This bin allows transport of the primers as well as the line.
The boat and its functions are controlled by the GRAUPNER MZ10 remote control. The latter benefits from the new HoTT 2.4 GHz technology, which also makes it possible to solve the problems of unfortunate interference and to increase the transmission range (approximately 250m). This technology also has the advantage of no longer requiring an antenna on the boat.
The MZ10 remote control is powered by 4 LR6 AA batteries
To make it easier to find the boat on the water at night or in dark weather, the MONOCOQUE is equipped with 4 ultra-powerful light diodes (2 white at the front and 2 red at the rear).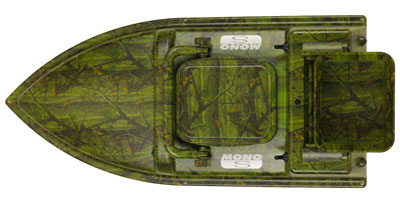 For a detailed description of the commissioning, the instructions for use and the conditions / precautions for use of the MONOCOQUE, please refer to the operating manual enclosed with the boat.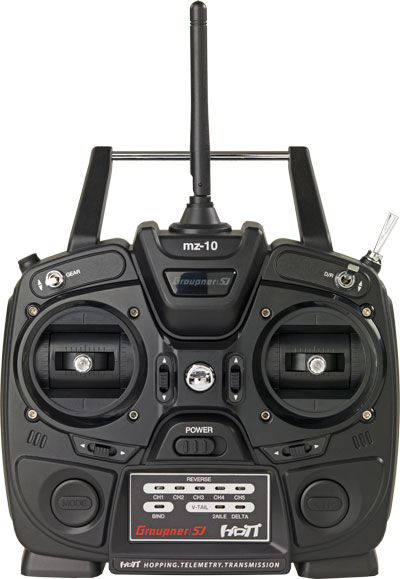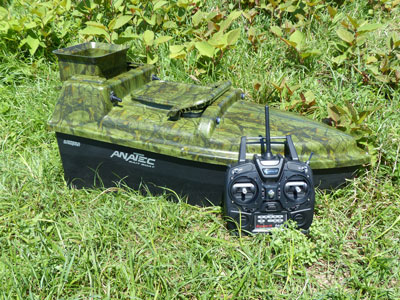 Comes complete with:
1 Battery 6V / 12Ah
1 Grease bomb
Supplied charger
Transport bag
Dimensions : 75cm x 35cm x 36 cm - Weight : 6 Kg (battery included)
Ccarp Bait Boat Fish Finder Lucky CC918
Display: high contrast FSTN LCD
4-level grayscale. 160V X 132H
Power output (RMS) : 100 W
Power output (peak-to-peak) : 800 W
Operating frequency : 125 kHz
Sonar coverage(wireless): 90 degrees at 125 kHz
Depth Units: Meters/Feet
Depth capability : 135feet
Wireless operating range: Up to 980 feet
Target separation: 2.5 inches
Fresh/Salt Water Environment
Temperature sensor: included in transducer
Operational Temperature : From -10C to 50C (14 Fto122 F)
Power input : 10 to 20 V DC / 8 AA alkaline battery
Unit mounting : Portable case
Clear fish icon, fish alarm
Operational wireless Frequency : 433.93mHz
Wireless signal tower battery requirement: 10 to 20 V DC
Memory : Built –in memory stores sonar setting when the unit is turned off
| Quantity | Ref | Name | + |
| --- | --- | --- | --- |
| 1 x | 213451 | Kit Echosondeur Bateau Amorceur Ccarp Lucky CC918 | |
| 1 x | 213265 | Bateau Amorceur Anatec Monocoque S Camou Oak MZ10 | |
Customers who bought this item also bought :