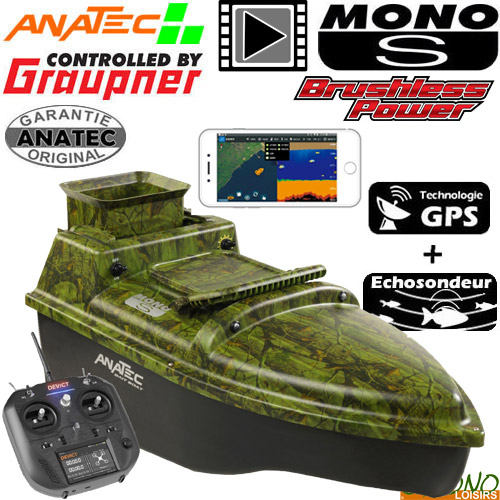 The Anatec brand is specialized in the manufacture of radio controlled starter boats for more than 20 years. Anatec is considered by the biggest names of "Specimen Hunting", as the indispensable ally of carp anglers. The French press considers the Anatec bait boats as the most efficient, reliable and robust on the market.
Anatec Monocoque S Camou Oak Lithium Brushless DE-SR07 Echo + GP
600
€
00
Anatec Monocoque S Camou Oak Lithium Brushless DE-SR07 Echo + GP
Anatec Monocoque S Camou Oak Lithium Brushless DE-SR07 Echo + GPS Bait Boat
MONOCOQUE is the bestseller of the ANATEC range. An ideal compromise to practice fishing in the best possible conditions. Its small size makes it easier to launch even when the terrain is rough.
This new version is equipped with electronic components, a new Devic DEE-SR07 remote control from the same manufacturer, a Lithium battery and now has a high quality Brushless motor. Thanks to its new equipment, it results:
Better autonomy compared to the "lead battery" version
A lighter boat (because a lithium battery)
A faster boat on the water thanks to its new Brushless engine
No more mechanical maintenance (no grease to be regularly put on the motor shaft)
Moreover, his behavior and the learning of his various functions are very easy and accessible even to beginners. It also has a very good buoyancy and can be used even when the surface of the water is agitated.
The MONOCOQUE works thanks to a Brushless propeller motor powered by a Lithium Ion battery of 7.4V/12Ah. The autonomy of use of the boat is between 90 and 120mn and its maximum speed of 1.3 m / second.
Compared to the previous version, since 2015 the MONOCOQUE S has a digital voltage controller to instantly check the battery voltage.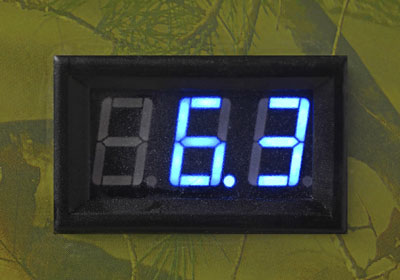 The steering is provided by a rudder mechanism.
Located in the rear position, the MONOCOQUE priming tank has a capacity of 1 kilo. This bin allows transport of the primers as well as the line.
To make it easier to find the boat on the water at night or in dark weather, the MONOCOQUE is equipped with 4 ultra-powerful light diodes (2 white at the front and 2 red at the rear).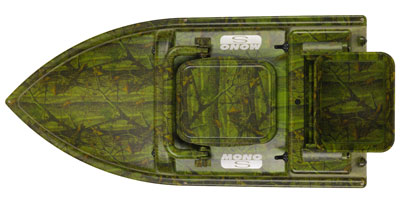 For a detailed description of the commissioning, the instructions for use and the conditions / precautions for use of the MONOCOQUE, please refer to the operating manual enclosed with the boat.
Handset DEVICT DE-SR07
This new Monocoque S comes with the DEVICT DE-SR07 remote control which boasts 2.4 GHz technology.
This new radio remote control is powered by a rechargeable lithium battery with a micro USB connection.
Also, when multiple users are in range, it is no longer necessary to make a change of quartz to adjust the radio frequencies, the allocation of different channels is done automatically.
Finally, this new technology no longer requires an antenna on the boat, which greatly facilitates access under the lower branches.
Thanks to these new remote controls, the range of transmission can go up to 300m, which makes it possible to exclude any risk of loss of control.
For its protection, the remote control is accompanied by a transparent plastic cover that allows its use in case of rain. It is important to never use the remote in the rain without this protection.
Comes complete with:
1 Lithium Battery 7.4V/12Ah
Supplied charger
Transport bag
Dimensions : 75cm x 35cm x 36 cm - Weight : 5.8kg (battery included)
Echosondeur + GPS Anatec Fishing Robot
Le Fishing Robot est un système combiné sans fil incluant le guidage GPS du bateau ainsi qu'un échosondeur. Tout ceci sur votre tablette ou smartphone (non fournis) !
Il va vous permettre de guider votre bateau directement grâce à la carte Google MAP tout en ayant un sondeur simultanément.
L'application vas également vous donner accès à la sauvegarde de points afin de pouvoir y revenir pendant votre partie de pêche et même plus tard.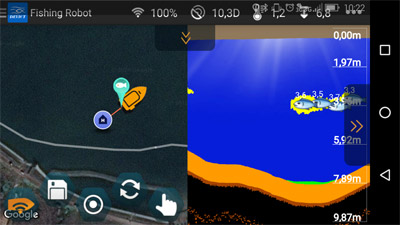 Le sondeur va quant à lui permettre d'obtenir les informations sur la profondeur et le type de fond qui se situe sous votre bateau.
Le Fishing robot est constitué de 3 éléments, 2 sont installés dans le bateau (la sonde et le pilotage GPS) le troisième reste sur la berge à coté de vous. Ce dernier élément va permettre obtenir une porte de plus de 300m à votre contrôle GPS.
En cas de perte de signale la bateau rentrera directement à son point de références (point « HOME ») qui se fait de manière automatique lors de la mise sous tension du bateau.
Voici LA technologie au service des carpiste exigeants !
Customers who bought this item also bought :