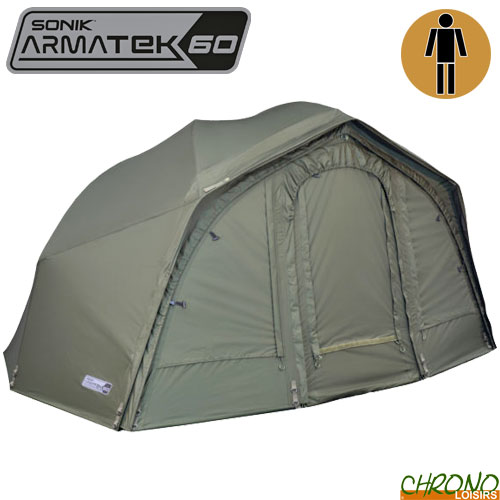 We are proud to offer Sonik products that have quickly gained a solid reputation for reliable performance and excellent value for money! Recognized worldwide, Sonik is one of the best references on the carp fishing market!
Sonik Armatek 60" 1 man Brolly
30
€
00
Sonik Armatek 60" 1 man Brolly
Sonik Armatek 60" 1 man Brolly
Designed in our ARMATEK hydrostatic head 20000mm material, the Sonik Armatek 60 1 man brolly is designed around a compact system with 8mm fiberglass frame. Unique Tri-Pole ™ clip support system for faster installation.
Flat back structure for perfect bed placement. The numerous storage spaces available offer incomparable habitability. In the same way redesigned openings and vents offer you more comfort compared to the shelters of the competition.
The Armatek 60 is certainly the best shelter in its category, we are not afraid to say it!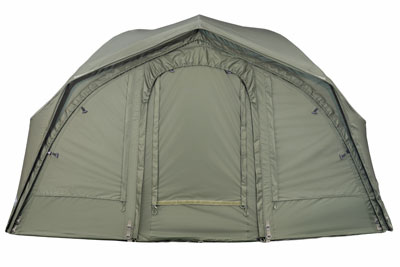 20,000mm HH ARMATEK Material
Space saver compact hub system with 8mm fibreglass frame
Unique Tri-Pole™ clip in support system for faster setup
Flat back frame design for perfect bed placement
Zip-on/off front panel complete with mozzy side windows and convertible to panoramic letterbox view
2-way letterbox removable door with universal clear, green and mozzy window panels for ultimate customisation
Clip in vapour guard (with overhead storage) to help reduce condensation (can remain in place when packed away)
2 large roll out organiser storage panels (can remain attached to support bars when packed away)
Large adjustable air-flow rear vent with internal access and removable wet weather vent spacer bars
Reinforced 3-layer construction at all key ware areas
Front rain drip guard, rod retaining straps, multiple height pegging points
Also supplied with quick setup pole, HD clip in groundsheet, groundsheet separator bag, HD peg set, Oversized HD compression carry bag with full length zip
Transport dimension : 180cm x 20cm
Dimensions : 290cm x 205cm x 125cm/150cm - Total Weight : 13.2 kg - Minimum Weight : 6.8 kg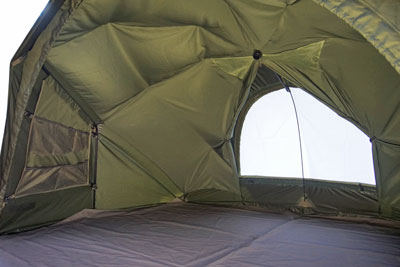 Without doubt the most comfortable brolly system of the market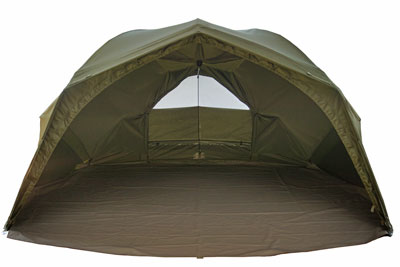 Large internal volume and optimal protection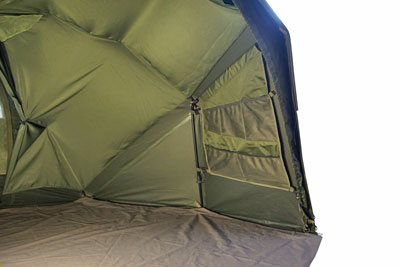 Side pockets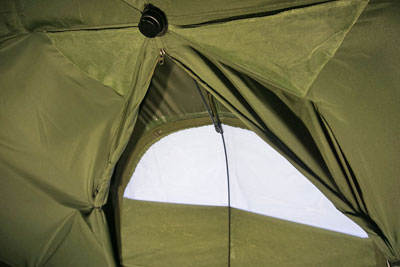 Adjustable rear vent with internal access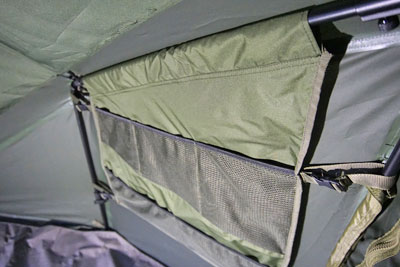 Supported side pockets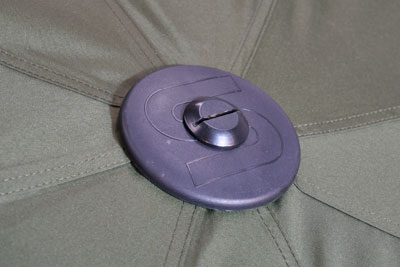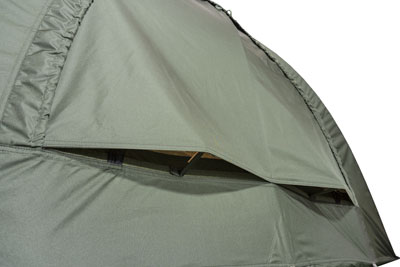 Ventilation system with side windows even in case of rain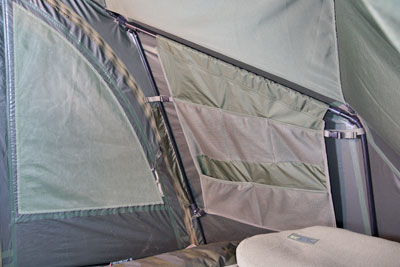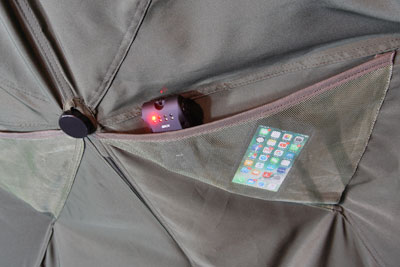 Pockets for receiver and anccessories on the anti-condensation shield
Customers who bought this item also bought :