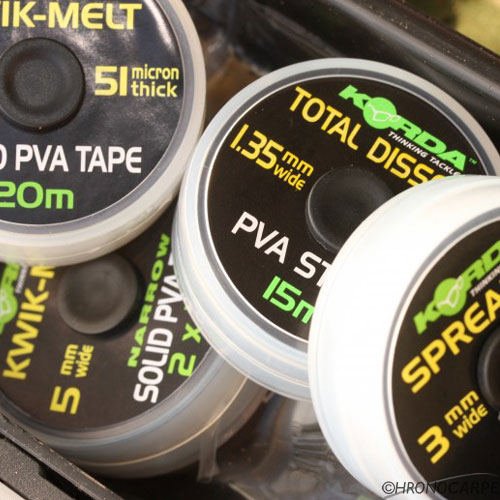 One of the most prestigious Anglo-Saxon brands for small carp fishing tackle. According to specialists, Korda accessories are the best on the market and especially the most sought after the best Carpers throughout Europe!
Korda PVA Tapes and String (pack per 4)
1
€
90
Korda PVA Tapes and String (pack per 4)
Korda PVA Tapes and String (pack per 4)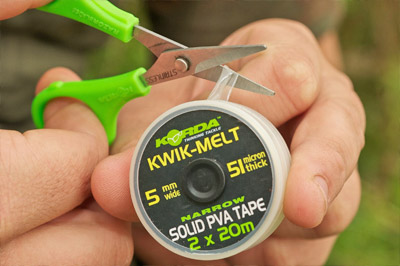 A - Korda Spread EM PVA Tape
This woven tape has a coarse texture to its flat cross section; this makes it perfect for stringers because the texture will actually hold the baits apart even with the force of the cast.
It is not necessary to tie this onto the hook either, because of the woven element; all you have to do is hook the point of the hook through it, it will not tear on the cast and this ensures no residue is left around the hook once the tape has melted.
This material is very strong when dry, making it ideal for tying up the top of solid PVA bags.
B - Korda PVA String Heavy 15m (Total Disolve)
We recommend you double it up by pulling your baits onto a loop of string and then hand the string over the hook before pulling the top bait back up against the hook to tighten the loop so the loop cannot slip back off the hook in flight.
You will find this string super strong when dry making it ideal for tying up the top of PVA bags where a small amount residue will do no harm to your presentation.
C - Korda Kwik Melt 10mm PVA Tape 20m
Kwik Melt tape has become the favourite PVA tape for many of our most-admired big-carp anglers. It's great for stringers, as well as tying off PVA bags and securing hairs on the cast.
D - Korda Kwick Melt 5mm PVA Tape 40m
As the name suggests, Kwik Melt dissolves reliably even in cold conditions. It is supplied as conventional10mm tape, as well as 5mm twin-tape.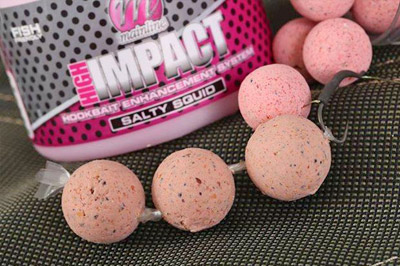 | Quantity | Ref | Name | + |
| --- | --- | --- | --- |
| 1 x | 230606 | PVA Korda Dispenser | |
| 1 x | 230607 | PVA Korda Dispenser | |
| 1 x | 230608 | PVA Korda Dispenser | |
| 1 x | 230609 | PVA Korda Dispenser | |
Customers who bought this item also bought :