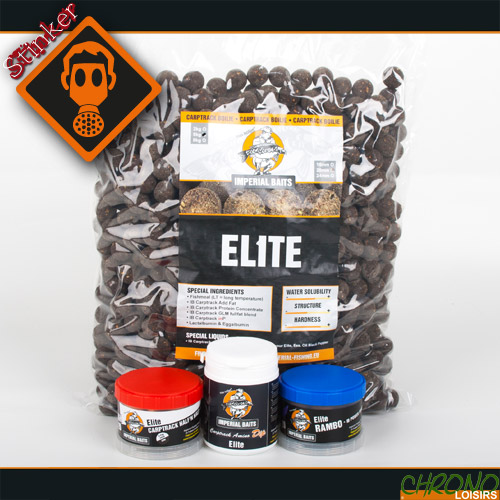 Thank you for your interest in our Imperial Fishing product line. Perhaps you have heard about us through the success of some of the best carp anglers from all over Europe! It is you who bring the "motivator", we provide the rest and we will not let you down!
Imperial Carptrack Elite Pack
4
€
70
Notify me when this item will be back in stock
Imperial Carptrack Elite Pack
Imperial Carptrack Elite Pack
Imperial Carptrack Boilies Elite 20mm 5kg
Challenging conditions at the fishing place require special baits. Especially busy hot spots, frequented by a lot of different anglers, this is when you want an exclusive mix that temps the carp to bite again.
The Carptrack Elite Boilie contains inL (12ml/kg), NHDC (3,5/kg), Elite Flavour (5ml/kg), Liquid Amino (12ml/kg) and Essential Oil Black Pepper (1,5ml/kg).
The Elite Boilie will become your best mate on the hunt for very big carp, especially in tricky and hard conditions!

Dedicated Carptrack Elite boilie mix !
Imperial Rambo Boilies Elite 20mm 80g
Imperial Baits Carptrack RAMBO Hookbaits – extra strong, sinking and feather light !
You can only catch a fish if you have a boilie on the hair. Crabs, catfish and increasingly gobies are making the carp angler's life difficult at times.
So we need to be stronger than them, if necessary over long periods of time, for example when long-range fishing. The longer it lays, the smaller the risk – that is the carp's experience that it normally operates on.
This has not been scientifically proven, however we are certain that it is difficult to find a scientist who knows more about their behaviour than us carp anglers, who love nothing more than observing these fantastic animals.
As we made the Rambos almost weightless in the water, they perfectly round up the hook bait collection to fish successfully in every kind of condition.
RAMBO – throw them in to pull 'em out !
Imperial Balanced Boilies Half'n'Half Elite 20mm 75g
Carptrack Half'n Halfs combine both the visual and flavorful appeal in a very special way.
Being produced half from V-Pop white and half from an original Carptrack Sinker Mix keeps them powerful tasty and attractive !
They last as hookbaits much longer than two cut halves. Another great advantage is the perfect balance of the bait by putting small lead to the boilie hair.
The carp hardly notices it by its weight which makes it easier to be sucked in.
Success all across Europe prove the quality of this bait.
Imperial Booster Carptrack Amino Dip Elite 150ml
Carptrack Amino Dips contain i.a.:
Carptrack NHDC, Carptrack Liquid Amino, Carptrack Flavour, Carptrack GLM fullfat, Carptrack Liquid and Carptrack inL.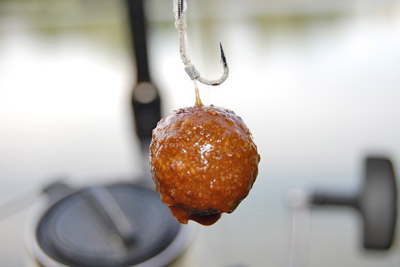 How to use :
Soak your hookbaits for at least 24 hours in one of our Amino Dips. By doing this you massively improve the attraction of your Boilie – especially useful for short sessions!
The boilies can remain for months in the dip and will not become soft. The carp will quickly find the hookbait!
Meaning of the Imperial Baits logos
Stinker, Yummys and Cold Water
We differentiate our Boilies and all Pop Ups, Dips, Gels, Power Powders and Flavours between Stinker, Yummys and Cold Water.
Stinker: Worm Up, Monster's Paradise, Elite, Liver, Monster, Monster-Liver and Fish and their Flavours and other Additives
Yummys: Our sweet Boilies, Explosiv Stickmix, Elite Strawberry, Osmotic Spice and Birdfood Banana, Uncle Bait "The Boilie" and their Flavours and other Additives
Cold Water: Optimal water solubility at low temperatures. It comes to the following varieties: Monster's Paradise CW, Explosiv Stickmix CW, Liver CW and Monster CW

IB P.T.S. (Power Tower System) allows you to "screw" pots equiped with PTS system both!
| Quantity | Ref | Name | + |
| --- | --- | --- | --- |
| 1 x | 242525 | Bouillettes Imperial Carptrack Elite 20mm 5kg | |
| 1 x | 242538 | Bouillettes Imperial Rambo Elite 20mm 80g | |
| 1 x | 242553 | Bouillettes Equilibrées Imperial Half'n'Half Elite 20mm 75g | |
| 1 x | 242562 | Booster Imperial Carptrack Amino Dip Elite 150ml | |
Customers who bought this item also bought :