Fox is the largest distributor of specialized fishing tackle for carp. Who are the carp anglers who have never heard of products such as Swingers, FOX box systems, Microns. This is proof of a permanent desire for innovation and progress policy, both in design and in product development.
Fox Micron RX+ 3D MK2 Illuminated Swinger Set
122
€
40

Fox Micron RX+ 3D MK2 Illuminated Swinger Set
Fox Micron RX+ 3D MK2 Illuminated Swinger Set
Fox Micron Rx+ Bite Alarms
Weatherproof sealed case
Digital circuitry
D-Tec™ Plus Sensing System (DTSS)
Drop back differential
Low battery drain
CNC machined Tru-Run™ roller wheel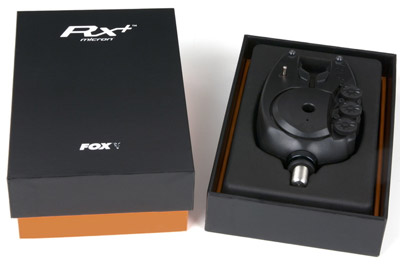 Twin multi-colour LEDs (Red, Green, Blue, Orange, Purple & White)
On / Off toggle switch with 2 operational modes (day and night mode)
When in night mode both LEDs will subtly glow in your chosen colour
High quality cone speaker
Rigid 3/8" stainless steel thread
Rod-friendly rubber inlays
Indexed ergonomic control for volume (8 different levels of volume with lowest setting being completely silent)
Indexed ergonomic control for tone (8 different tone settings: turn dial clockwise to raise pitch and anti-clockwise to lower pitch)
Indexed ergonomic control for Intelligent Sensitivity featuring See-Saw elimination (8 different sensitivity settings – see below Sensitivity table for comparison to NTX-R)
Range test function allows user to check RX+ Receiver is picking up RX+ head at any given range
Low battery warning (LED colour changes to cyan indicating it is time to replace batteries)
Power Out Socket (2.5mm) for use with illuminated Swingers
Supplied with two compression washer options: rigid and soft with an additional spare soft washer per unit
Requires 2 x AA batteries
RX+ Receiver, 2-rod, 3-rod and 4-rod presentation sets available separately
Improved features compared to NTX-R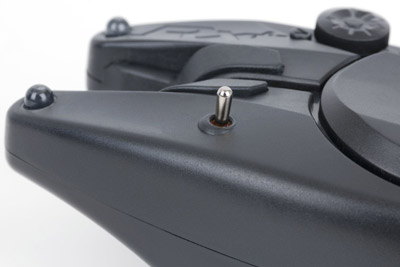 Deeper ears with no increase in the height of the alarm
Twin multi-colour LEDs, one per ear and at the very top of the ear
External control of the multi-colour LEDs with Colour Sync™ function – simply change LED colour via button on the battery cover
Manually selectable day and night modes
External control of the Vari-Bright adjustable LED brightness to suit the conditions you are fishing in (choice of 3 LED brightness settings in day mode and 3 different brightness settings in night mode) simply adjust via button on battery cover
Larger clearance around the roller wheel and improved drainage vastly reduces chances of roller wheel freezing up in extreme cold conditions
Stronger range performance with RX+ Receiver
Improved sensitivity range (see below)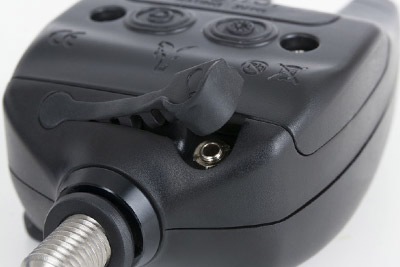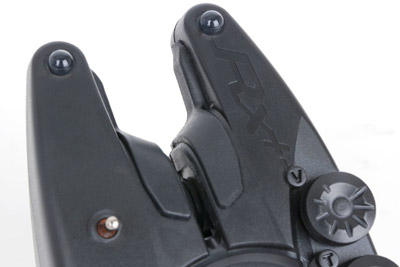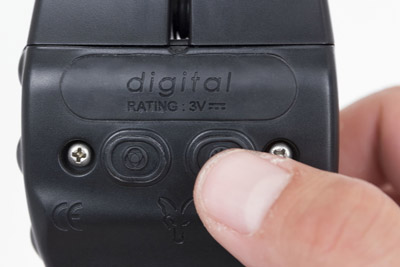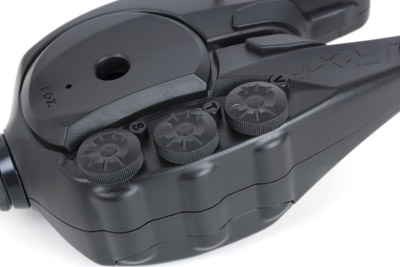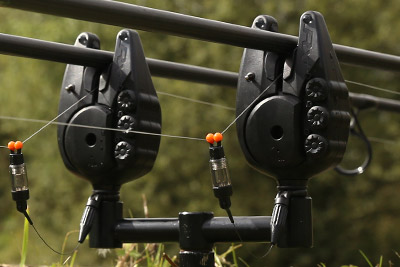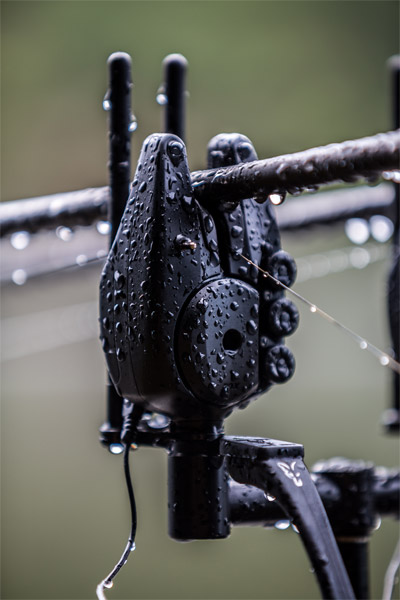 Fox Micron Rx+ Receiver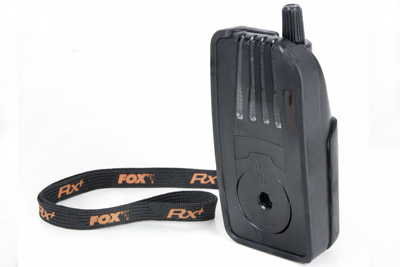 Features :
Ultra-Long Range™
Digital circuitry
Low battery drain
Battery life indication when receiver is switched on (4 x green LEDs indicates full/close to full, 3 x green LEDs indicates the batteries are used, but do not need replacing, 2 x orange LEDs indicates the batteries are becoming low, 1 x red LED indicates batteries are low and need replacing)
Low battery warning (LEDs will flash cyan periodically indicating the batteries need replacing)
Alarm low battery warning (when RX+ head turns to low battery warning so will the receiver for that particular alarm, again changing colour to cyan)
Vibration alert function (via switch on rear)
Bivvy light function (via switch on rear, see below for more details)
Anti-theft alarm
Easy RX+ Micron registration (via switch at rear)
Indicator LEDs with Colour Sync™
On/Off & volume control
High quality cone speaker
Lanyard attachment point
Requires 3 x AA batteries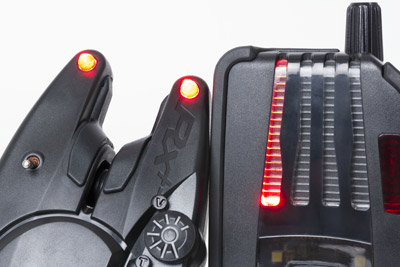 Improved features over NTX-R Receiver :
Larger indicator LED windows, visible from both the front and the top of the receiver
Optional bivvy light function when you receive a bite
Free standing design for placing on bivvy table/bucket lid
Soft grip casing
Ability to sync up to eight RX+ Micron heads
Stronger radio performance
Silent ON mode, full receiver function but with no sound output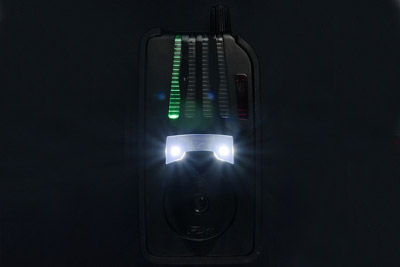 Bivvy Light function
When the bivvy light feature is turned on via the switch on the back of the receiver it will behave in the following ways :
The indication lights on the receiver will be dimmed slightly to prevent the receiver emitting too much light whilst the bivvy light is active
The bivvy light will only come on if three bite triggers are received in quick succession to prevent liners and false indication turning your bivvy light on unnecessarily
The bivvy light will fade into full brightness and remain on whilst the alarm continues to send trigger signals to the receiver. The light will fade out to nothing in the 5 seconds after the trigger lights have gone out on the receiver as long as no more indications are received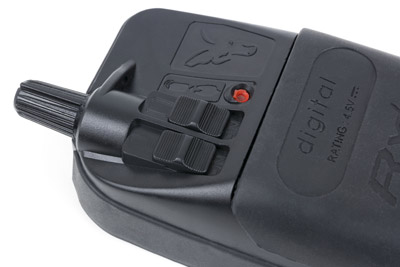 Coffret Fox 3 Balancier MK2 Illuminated Swinger (R/O/V)
Le nouveau modèle de balancier MK2 Illuminated Swinger est le plus polyvalent des Swingers jamais produits.
Conçu pour être efficace de la même manière en ligne détendue "sous votre canne" ou en ligne tendue sur distance pouvant souvent excéder des "centaines de mètres", le MK2 Swinger Illuminé présente une LED qui s'éclaire lors de la touche quand il est couplé à tout détecteur (hors Delkim) équipé d'une prise pour accessoire lumineux.
Il est équipé de notre systéme breveté de libération de la ligne et du système "Dial Loading" offrant trois différents niveaux de tension, le MK2 Swinger avec une masse inox de 80gr vous permet d'établir une sensibilité de l'indication entre zéro et 170gr.
Nouveau revêtement noir anodisé sur le bras et le lest
S'illumine lorsque branché sur un détecteur
La diode de la tête reproduit exactement les signaux de la diode du Micron y compris les touches retour
Interfaces d'attache aux détecteurs profilées
Pièce caoutchouc pour amortir les chocs sur embase de tête
Face avant surdimensionnée pour une meilleure visibilité
Système de réglage de tension sur ressort
Système fixe de "portique" pour la ligne
Lest coulissant de 80g
Tête en acrylique réactive à la lumière
Emplacement pour Betalight
Coffret composé des couleurs rouge, orange et vert
| Quantity | Ref | Name | + |
| --- | --- | --- | --- |
| 1 x | 203864 | Coffret Fox Centrale 3 Détecteurs Micron Rx+ | |
| 1 x | 204491 | Coffret Fox 3 Balancier MK2 Illuminated Swinger | |
Customers who bought this item also bought :