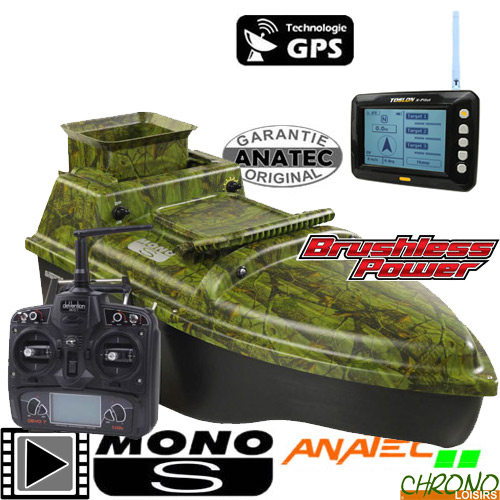 The Anatec brand is specialized in the manufacture of radio controlled starter boats for more than 20 years. Anatec is considered by the biggest names of "Specimen Hunting", as the indispensable ally of carp anglers. The French press considers the Anatec bait boats as the most efficient, reliable and robust on the market.
Anatec Monocoque S Oak Lithium Brushless Bait Boat + X-Pilot
269
€
00
Notify me when this item will be back in stock
Anatec Monocoque S Oak Lithium Brushless Bait Boat + X-Pilot
Anatec Monocoque S Oak Lithium Brushless Bait Boat + X-Pilot
Anatec Monocoque S Camou Oak Lithium Brushless DEVO 7 Bait Boat
MONOCOQUE is the bestseller of the ANATEC range. An ideal compromise to practice fishing in the best possible conditions. Its small size makes it easier to launch even when the terrain is rough.
This new version is equipped with electronic components, a new Devic DE-SR07 remote control from the same manufacturer, a Lithium battery and now has a high quality Brushless motor. Thanks to its new equipment, it results:
Better autonomy compared to the "lead battery" version
A lighter boat (because a lithium battery)
A faster boat on the water thanks to its new Brushless engine
No more mechanical maintenance (no grease to be regularly put on the motor shaft)
Moreover, his behavior and the learning of his various functions are very easy and accessible even to beginners. It also has a very good buoyancy and can be used even when the surface of the water is agitated.
The MONOCOQUE works thanks to a Brushless propeller motor powered by a Lithium Ion battery of 7.4V/12Ah. The autonomy of use of the boat is between 90 and 120mn and its maximum speed of 1.3 m / second.
Compared to the previous version, since 2015 the MONOCOQUE S has a digital voltage controller to instantly check the battery voltage.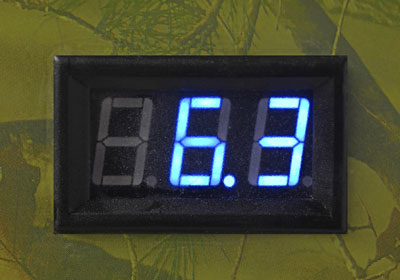 The steering is provided by a rudder mechanism.
Located in the rear position, the MONOCOQUE priming tank has a capacity of 1 kilo. This bin allows transport of the primers as well as the line.
To make it easier to find the boat on the water at night or in dark weather, the MONOCOQUE is equipped with 4 ultra-powerful light diodes (2 white at the front and 2 red at the rear).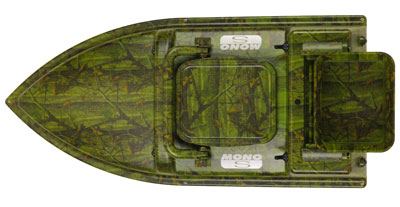 For a detailed description of the commissioning, the instructions for use and the conditions / precautions for use of the MONOCOQUE, please refer to the operating manual enclosed with the boat.
Dimensions : 75cm x 35cm x 36 cm - Weight : 5.8kg (battery included)
Télécommande DEVENTION DEVO7
Le Monocoque S est livré avec la télécommande DEVENTION DEVO7 qui bénéficie de la technologie 2.4GHz.
Cettenouvelle technologie est le nec plus ultra en matière de télécommande, elle permet de solutionner les problèmes d'interférences malencontreuses qui provoquent l'ouverture de la trappe ou le largage des lignes au mauvais moment.
Egalement, lorsque plusieurs utilisateurs sont à portée, il n'est plus nécessaire d'effectuer un changement de quartz pour régler les fréquences radio. L'attribution des différents canaux se fait automatiquement.
Enfin cette nouvelle technologie ne nécessite plus d'antenne sur le bateau, ce qui facilite grandement l'accès sous les branches basses.
Grace à ces nouvelles télécommandes, la portée de transmission peut aller jusqu'à 250m, ce qui permet d'exclure tout risque de perte de contrôle.
Pour sa protection, la télécommande est accompagnée d'une housse en plastique transparent qui permet son utilisation en cas de pluie. Il est important de ne jamais utiliser la télécommande sous la pluie sans cette protection.
La télécommande DEVO 7 fonctionne avec 8 piles 1.5 V AA.
Toslon X-pilot GPS Autopilot
As an autopilot system, TOSLON X-Pilot (TC106) can work with most bait boats. It support: 2 Engines / 1 Engine with Rudder / XBoat and using one button to start the auto-pilot mode. [Wiring Test] Menu help you check & correct connection quickly.
KEY FEATURES :
1. Boats support: 2 Engines / 1 Engine with Rudder / XBoat
2. Easy Operation: one button to start the auto-pilot mode
3. Easy Connection: [Wiring Test] Menu help you check & correct connection quickly
4. Radio Power: 100mW (max operating range: 800ft)
5. Storage: Micro-SD support, Max 500 fishing spots, and upgrade software by SD simplely
6. Quickly saving / loading waypoints (and HOME point)
7. Automatically steer straight ahead
8. Quickly fixed to remote with special metal bracket (optional)
Display size: 4.3" FSTN, Black & white
Display resolution: 240x160 Pixels,Visible under sunlight
Language: English (future update: German / French / Russian)
Failing-safe: YES (the X-Pilot would alarm when lost the remot signal)
SD card storage: YES
Radio frequency: 433Mhz / 2GFSK
Radio Power: 20dBm (Max 800ft RC distance , depending on weather
and environmental conditions)
Waypoints Number: 500
Quick Reach Targets:

4 (include the Home position)
GPS Receiver Type: 50 Channels
Compass Update Range: 10Hz
Power for X-Pilot CCU: DC 6~16V
Power for the display: Li battery (BL-5C)

Tripod sold separately
| Quantity | Ref | Name | + |
| --- | --- | --- | --- |
| 1 x | 213473 | Bateau Amorceur Anatec Monocoque S Oak Lithium Brushless DEVO 7 | |
| 1 x | 213476 | GPS Autopilote Toslon X-Pilot | |
Customers who bought this item also bought :