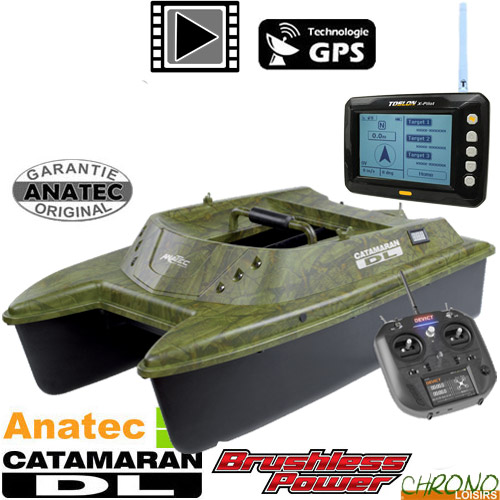 The Anatec brand is specialized in the manufacture of radio controlled starter boats for more than 20 years. Anatec is considered by the biggest names of "Specimen Hunting", as the indispensable ally of carp anglers. The French press considers the Anatec bait boats as the most efficient, reliable and robust on the market.
Anatec Catamaran DL OAK DE-SR07 LI Brushless Bait Boat X Pilot
309
€
00
Notify me when this item will be back in stock
Anatec Catamaran DL OAK DE-SR07 LI Brushless Bait Boat X Pilot
Anatec Catamaran DL OAK DE-SR07 LI Brushless Bait Boat X Pilot
Anatec Catamaran DL OAK DE-SR07 LI Brushless Bait Boat
ORIGINAL ANATEC WARRANTY
ChronoCarpe, Official
ANATEC
Seller.
2 Years Warranty parts & labor
Every Anatec bait boat is supplied with loaded batteries.
This new version is equipped with electronic components from the German manufacturer GRAUPNER a Lithium battery and now has a high quality Brushless motor. Thanks to its new equipment, it results:
Better autonomy compared to the "lead battery" version
A lighter boat (because a lithium battery)
A faster boat on the water thanks to its new Brushless engine
No more mechanical maintenance (no grease to be regularly put on the motor shaft)
The catamaran is the ultimate bait boat, its typical form ensures a perfect buoyancy and stability in any event even in the most extreme conditions (wind and waves).
On each side of the hull, two ventilated engines provide the power required to navigate more than 5km/h at full load. The control of these motors is made independently from one another thereby steer the boat.
To facilitate the transportation and launching, the catamaran is equipped with a handle.

The stainless steel bait tray is placed in a central position which gives the boat excellent stability even loaded. It is divided into 2 compartments.
The remote control allows a gradual opening of hatches which allow a sprinkling of the fishing area. The 2 hatches can be opened independently enabling specific, targeted boots.
The tray can hold up to 5 kg (2 x 2.5kg) and can be used to carry any type of bait (boilies, seeds, pellets, groundbaits).
Regarding the setting of lines, the boat is equipped with an ingenious system for transporting and depositing rigs easily and reliably. The setting is very precise and the rig always fishing.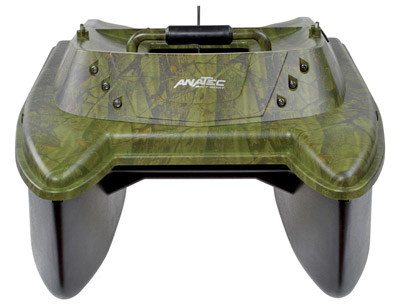 For use at night or in bad weather, the catamaran is equipped with 6 super bright white leds on the front and 2 red leds on the back to identify the position of the boat, even at great distance.
For the outward and return, the brightness of the leds give you direction. If the boat deviates from its path, intensity diodes decreases as you will see them over face.
Level autonomy, all catamaran models are equipped with 2 Lithium batteries 7.4V/12Ah ensuring an autonomy of 90 minutes.
A digital indicator of battery charge is on the side of the boat. Information is given in Volt . If the indicator shows 6 Volt batteries must be recharged.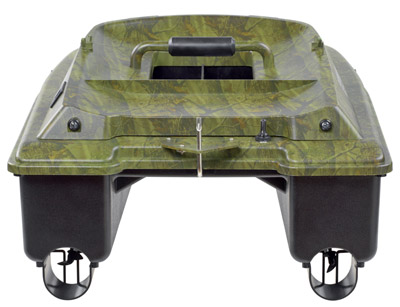 Features :
1 : Carry Handle
2 : Removable hood
3 : Cover fixing : To keep the cover in place or remove it to intervene in the internal components of the initiator
4 : LED front position : 6 white leds visualize the boat at night or long distance
5 : LED rear position : 2 red ledss visualize the boat at night or long distance
6 : Planned location switch ON / OFF power- fishfinder (sold separately)
7 : Location antenna fishfinder (sold separately)
8 : Rear Line Dropper : The rear line dropper allows the transport of 1 rig
9 : Voltage Digital Controller
Handset DEVICT DE-SR07
This new DL Catamaran comes with the DEVICT DE-SR07 remote control which boasts 2.4 GHz technology.
This new radio remote control is powered by a rechargeable lithium battery with a micro USB connection.
Also, when multiple users are in range, it is no longer necessary to make a change of quartz to adjust the radio frequencies, the allocation of different channels is done automatically.
Finally, this new technology no longer requires an antenna on the boat, which greatly facilitates access under the lower branches.
Thanks to these new remote controls, the range of transmission can go up to 300m, which makes it possible to exclude any risk of loss of control.
For its protection, the remote control is accompanied by a transparent plastic cover that allows its use in case of rain. It is important to never use the remote in the rain without this protection.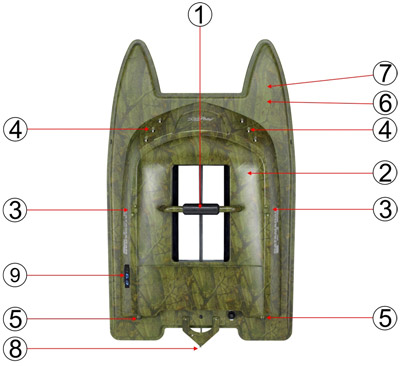 Toslon X-pilot GPS Autopilot
As an autopilot system, TOSLON X-Pilot (TC106) can work with most bait boats. It support: 2 Engines / 1 Engine with Rudder / XBoat and using one button to start the auto-pilot mode. [Wiring Test] Menu help you check & correct connection quickly.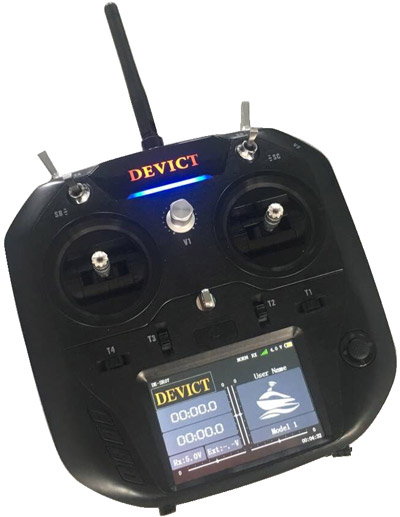 KEY FEATURES :
1. Boats support: 2 Engines / 1 Engine with Rudder / XBoat
2. Easy Operation: one button to start the auto-pilot mode
3. Easy Connection: [Wiring Test] Menu help you check & correct connection quickly
4. Radio Power: 100mW (max operating range: 800ft)
5. Storage: Micro-SD support, Max 500 fishing spots, and upgrade software by SD simplely
6. Quickly saving / loading waypoints (and HOME point)
7. Automatically steer straight ahead
8. Quickly fixed to remote with special metal bracket (optional)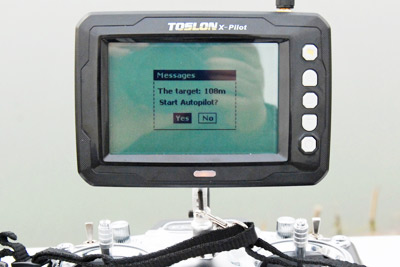 Display size: 4.3" FSTN, Black & white
Display resolution: 240x160 Pixels,Visible under sunlight
Language: English (future update: German / French / Russian)
Failing-safe: YES (the X-Pilot would alarm when lost the remot signal)
SD card storage: YES
Radio frequency: 433Mhz / 2GFSK
Radio Power: 20dBm (Max 800ft RC distance , depending on weather
and environmental conditions)
Waypoints Number: 500
Quick Reach Targets:

4 (include the Home position)
GPS Receiver Type: 50 Channels
Compass Update Range: 10Hz
Power for X-Pilot CCU: DC 6~16V
Power for the display: Li battery (BL-5C)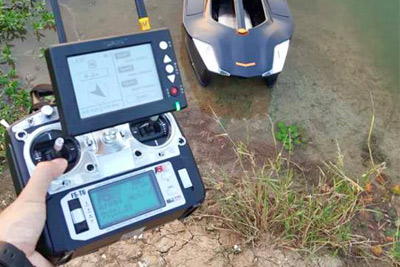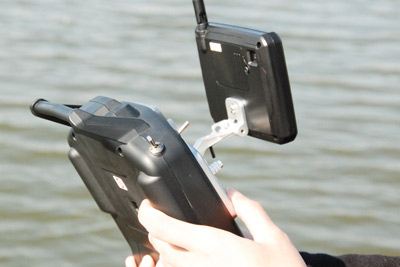 Tripod sold separately
Click here to download the user manual
| Quantity | Ref | Name | + |
| --- | --- | --- | --- |
| 1 x | 213470 | Bateau Amorceur Anatec Catamaran DL OAK LI Brushless DE-SR07 | |
| 1 x | 213476 | GPS Autopilote Toslon X-Pilot | |
Customers who bought this item also bought :