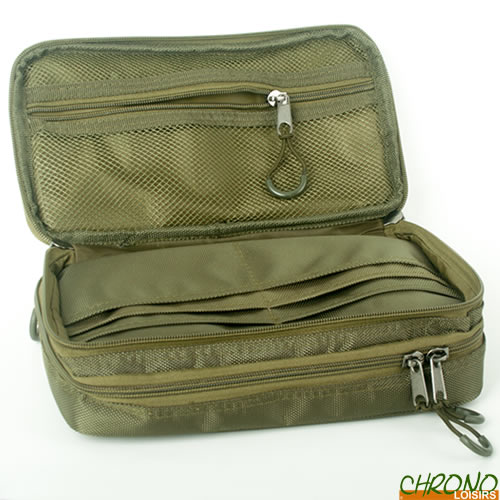 Inspired by current trends and the needs of modern carp anglers, Carp Design is a rising brand which aims to bring a new vision of carp fishing tackle.
Trousse de Montage Carp Design Green Line
8
€
00
Trousse de Montage Carp Design Green Line
Carp Design place la barre très haute avec cette nouvelle gamme de bagages ! Réalisée dans une toile 1680D (qui surclasse largement les produits proposés par la concurrence), la gamme Green Line se veut conçue pour vous apporter une robustesse accrue afin de vous permettre d'affronter sereinement les conditions les plus extrêmes et l'épreuve du temps. Un soin particulier a été apporté à cette gamme afin de la rendre la plus pratique et robuste possible dans le but de répondre aux attentes des carpistes d'aujourd'hui.
Trousse de Montage Carp Design Green Line
Pour les carpistes qui ne souhaitent pas s'encombrer avec une grosse boîte à accessoires ou simplement pour ceux qui souhaitent optimiser l'encombrement de leur matériel, nous avons développé cette trousse à accessoires composée de deux compartiments.
Le compartiment supérieur est équipé d'une poche filet et de 6 poches conçues pour y ranger les pochettes de vos accessoires préférés (hameçons, émerillons, perles, clips plomb, etc.).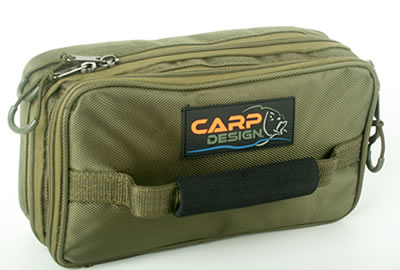 Le compartiment inférieur possède lui aussi une poche filet mais a été doté d'une partie conçue pour recevoir vos plombs et feeders. Le compartiment à plombs possède deux séparateurs avec attache Velcro rabattable pour vous permettre si besoin de séparer vos accessoires ou plombs (en fonction de la forme ou du grammage par exemple).
Grâce à ses dimensions compactes, cette trousse sera l'alliée des amateurs de « Stalking » ou de pêches rapides qui préfèrent pêcher léger.
Réalisée en Polyester 1680D
Double compartiment
6 poches internes + 2 poches filet
Rembourrage épais
Fermetures éclair sur-dimensionnées
Poignée de transport rigidifiée avec mousse EVA
Séparateur avec attache Velcro rabattable
Languettes de fermeture éclair ergonomiques et robustes
Coutures renforcées
Logo Carp Design caoutchouté
Dimensions : 28cm x 16cm x 8cm - 28cm x 16cm x 3cm (compartiment supérieur) - 28cm x 16cm x 5cm (compartiment inférieur)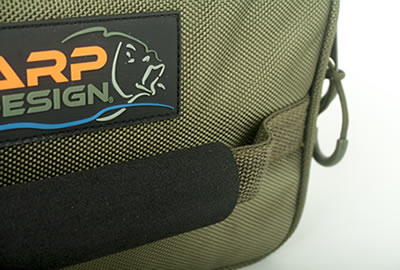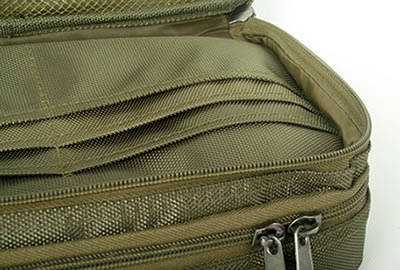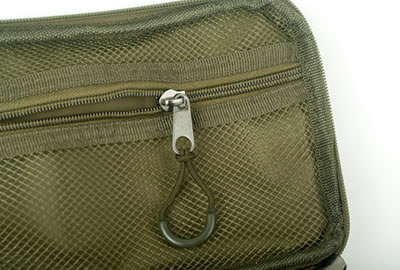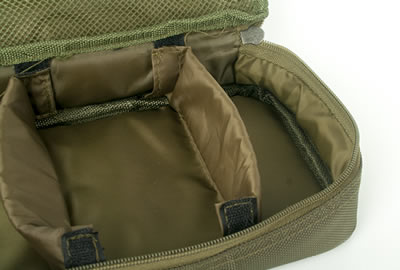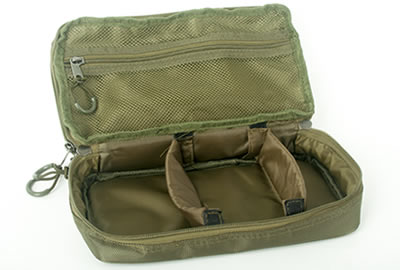 Customers who bought this item also bought :