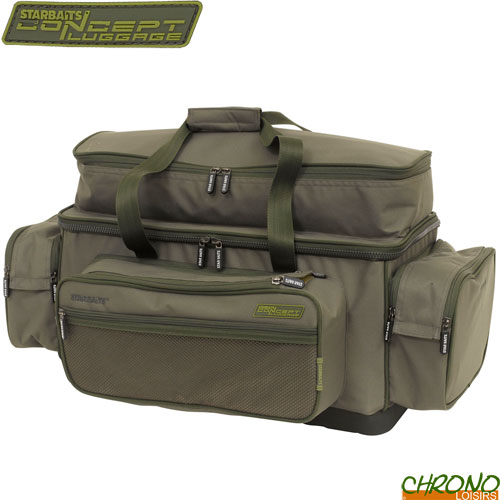 The development of new products still remains the spearhead of Starbaits, as required by its leadership position. Thanks to this "uncompromising" innovation in terms of labor and time, Starbaits products take the best podium places and pass the most demanding carpist tests all over Europe.
SAC CARRYALL STARBAITS CONCEPT
20
€
10
SAC CARRYALL STARBAITS CONCEPT
Vous pensiez avoir tout vu dans le domaine de la bagagerie et pourtant, Starbaits révolutionne le marché avec l'arrivée des nouveaux produits Concept. En effet, grâce à un système ingénieux de Pouch de différents formats, les bagages Concept sont modulables à souhait ! L'organisation logistique devient un jeu d'enfant car c'est le bagage qui s'adapte à vos besoins, et non le contraire. Question qualité, bien entendu, Starbaits reste fidèle à sa ligne de conduite en respectant un cahier des charges hyper stricte : fermetures éclairs X-stong indestructibles, poignées renforcées, toile robuste et indéchirable,...etc
En bref, la gamme Concept est à la bagagerie ce que le NG2 est au biwy. Des produits à utiliser en toute confiance !
Sac Carryall Starbaits Concept
Ce carryall disposant d'un compartiment central de 50 litres de volume est idéal pour ranger et protéger efficacement votre matériel nécessaire lors de vos sessions de pêche.
Destiné à recevoir n'importes quelles trousses de la gamme "Concept", son compartiment central est très volumineux et offre une capacité de stockage idéale pour les grosses sessions. Le Concept Carryall est également doté de deux poches latérales à double fermeture éclair, d'une poche frontale divisée en 2 parties (poche filet mesh et poche interne) et également d'une poche supérieure de grande capacité.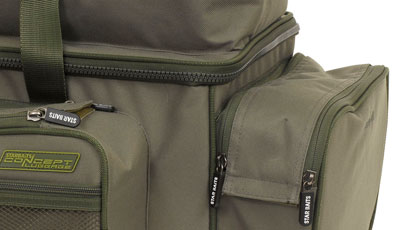 Son fond rigide en EVA vous assurera une protection maximale contre l'humidité mais aussi les chocs occasionés pendant son déplacement.
Ses deux poignées renforcées quand à elles vous permettront le transport du Concept Carryall en toute sécurité même lorsque celui-ci sera chargé au maximum.
La hauteur du Concept Carryall a été étudiée de manière à le loger aisément sous votre bed chair lors de votre session.
Rigide et ultra robuste
Volume compartiment principal de 50 litres
4 poches extérieurs dont une en filet mesh
Deux poignées de transport renforcées
Fermetures éclairs surdimensionnées, ultra robustes
Coutures renforcées
Fond rigide en EVA
Dimensions : 68cm x 40cm x 40cm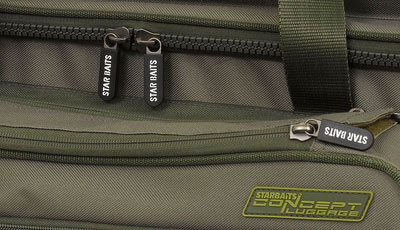 Fermetures éclair surdimensionnées, ultra robustes.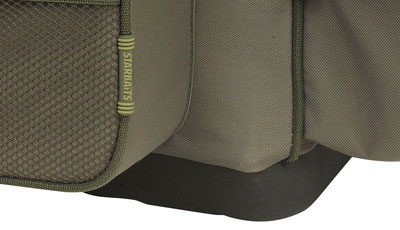 Fond rigide en EVA.
Customers who bought this item also bought :