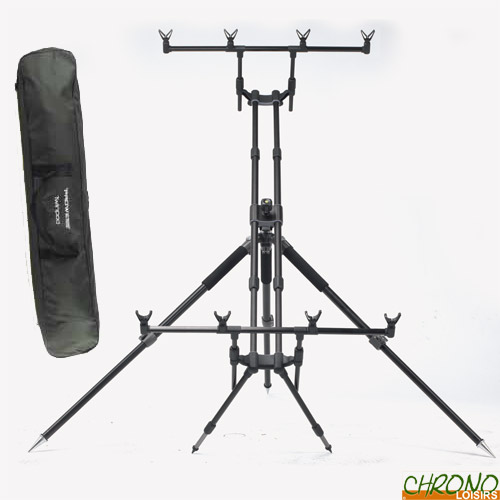 The Prowess brand continues its flight by proudly proposing its new range enriched with many new products. Prowess responds to your growing appetite for innovation.
ROD POD PROWESS TWINPOD II 4 CANNES
80
€
00
ROD POD PROWESS TWINPOD II 4 CANNES
Rod Pod Prowess Twinpod II
PROWESS renforce sa sélection de rod pod avec un produit haut de gamme et de conception inédite : le TWINPOD II.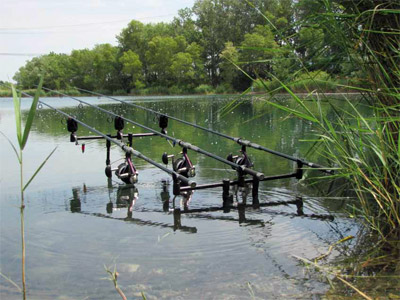 Le concept du TWINPOD est réellement révolutionnaire grâce à une modularité hors du commun. Ainsi, il satisfait aux conditions de pêche basiques dans sa version 2x2 pieds et pourra s'adapter, en l'espace de quelques secondes, aux exigences imposées par des conditions de pêche plus extrêmes.
Cette performance fait du TWINPOD un véritable rod pod 2 en 1 qui se transforme d'une version simple 2x2 pieds (2 à l'avant et 2 à l'arrière), en une version extrême grâce à l'ajout de son trépied.
Son montage est très rapide et d'une simplicité déconcertante. Les multiples réglages s'opèrent en un éclair, il est même possible de jouer sur l'orientation latérale des cannes (à 360°) et également sur leur inclinaison jusqu' à 80°.
Conçu à partir d'un alliage d'aluminium qualité aéronautique, le TWINPOD se veut extrêmement léger ce qui facilite son installation notamment dans les endroits délicats. Il bénéficie d'une stabilité à toute épreuve aussi bien en version 2x2 pieds qu'en version tri pattes.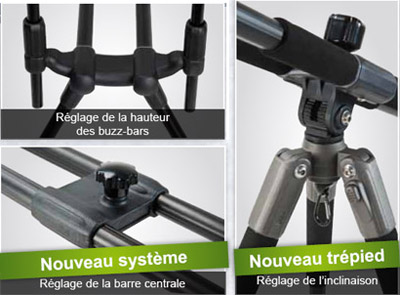 Longueur maximale entre les 2 Buzz Bar 160cm

Hauteur maximale cannes horizontales : 160cm en module tripod et 70cm en module 2 x 2 pieds (avec pieds d'origine)

Longueur des Buzz Bar 85cm (4 cannes)

Rotatif sur 360°

Inclinable à 80°

Poids 5.5kg

Encombrement dans son sac 108cm

Livré avec son sac de transport
Position extrême empatement et stabilité
Position basique
Position extrême standard
Position extrême canne haute
Customers who bought this item also bought :