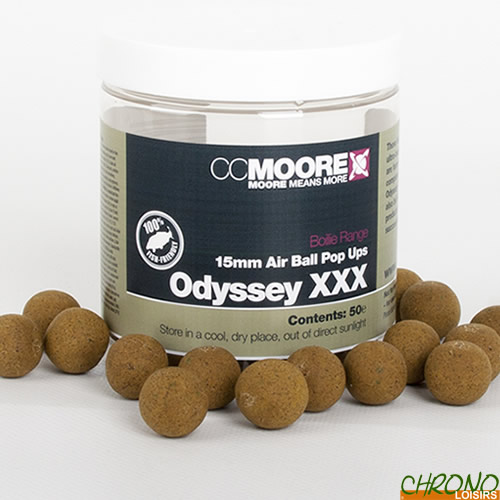 Invest in the future, invest in quality... this is the motto of CC Moore. The result of our customers is our main concern, we invest in depth to increase the diversity of our range, to meet the growing demand and deliver the best baits possible.
Pop Ups CC Moore Odyssey XXX Air Ball 15mm (par 50)
0
€
50
Pop Ups CC Moore Odyssey XXX Air Ball 15mm (par 50)
Comme pour chacune de nos gammes, nous avons passé beaucoup de temps à réfléchir à un procédé de développement d'envergure. Absolument aucun élément n'a été laissé au hasard lors de sa période de tests et de développement.
Pop Ups CC Moore Odyssey XXX Air Ball 15mm (par 50)
Depuis son lancement en 2005, les résultats de l'Odyssey XXX ont placé cet appât au sommet et c'est pour cette raison que de nombreux grands pêcheurs refusent maintenant d'utiliser autre chose.
S'étant montrée irrésistible face aux carpes les plus difficiles en Angleterre et dans toute l'Europe, son profil d'attraction naturel sans aucun additif synthétique fait de la XXX l'appât ultime que les gros poissons mangeront instantanément et en toute confiance.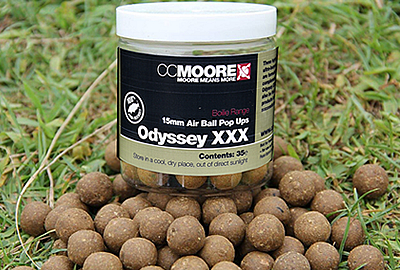 Fabriquée avec des farines de poissons basse température de première qualité, du lait, des céréales et des protéines solubles de poissons, des bird food, de la bétaïne et un taux incroyable de 10% (100g/kg) d'Extrait de moules à lèvres vertes de Nouvelle Zélande (GLM), l'Odyssey XXX a un superbe profil de nutrition et une saveur naturelle phénoménale qui en font une source de nourriture parfaite et instantanée.
Dès lors qu'une carpe goûte à la saveur riche et profonde de moule de l'Odyssey XXX elle ne peut résister à en consommer d'autres... Jusqu'à en prendre une de plus et commettre une erreur.
Conditionné en pot de 50 pièces en 15mm.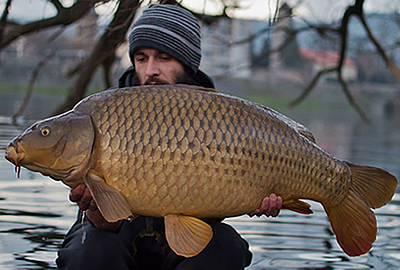 Customers who bought this item also bought :