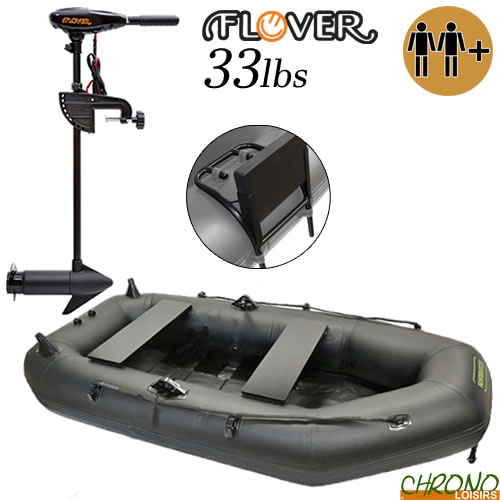 Faith is a carp brand that develops products for all enthusiastic carp anglers. Faith puts good products on the market at an affordable price so that carp fishing with quality products is available to everyone! When you go carp fishing and want to buy good products for a nice price, then you choose Faith.
Pack Navigation Faith Waterside Hunter SP 235 Flover 33lbs
89
€
00
Pack Navigation Faith Waterside Hunter SP 235 Flover 33lbs
Pack Navigation Faith Waterside Hunter SP 235 Flover 33lbs
Bateau Gonflable Faith Waterside Hunter SP 235 Plancher Lattes
Réalisé à partir d'un PVC de 0.7mm à base de polyester 1000D de couleur noir, il est doté de deux boudins gonflables indépendants avec valves haute pression.
Ce modèle est un bon compromis pour les carpistes qui recherchent une embarcation fiable et rapide à monter. Le Waterside Hunter SP 235 est un modèle passe-partout pouvant être utilisé sur des petits plans d'eau comme servir d'annexe en grand lac.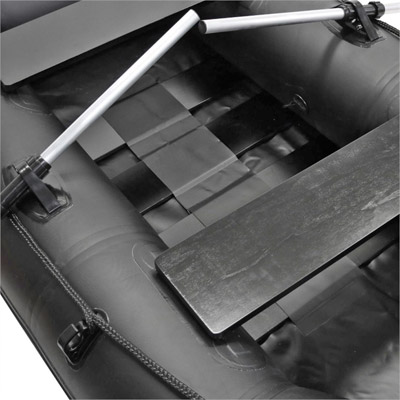 La présence d'un support moteur amovible lui permet d'être facilement motorisé en fonction des circonstance de vos besoins.
Il est doté de deux bancs amovibles qui seront d'une grande utilité lorsque vous naviguez avec un moteur ou simplement que vous vous déplacez à la rame afin de les ajuster par rapport à votre physionomie.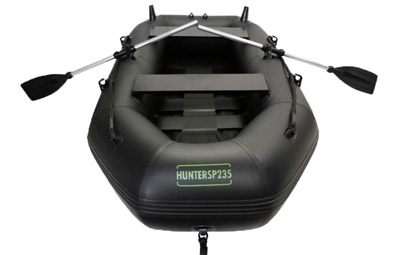 Nombre de lattes : 4
Rames en aluminium
Bancs amovibles : 2
PVC 0.7mm à base de polyester 1000D
Couleur : noir
Nombre de chambres : 2
Support moteur amovible
Anneau de fixation sur l'avant du bateau
Kit de réparation fourni
Livré avec une pompe à pied
Charge maximale : 210kg
Dimensions : 235cm x 118cm - Poids : 15kg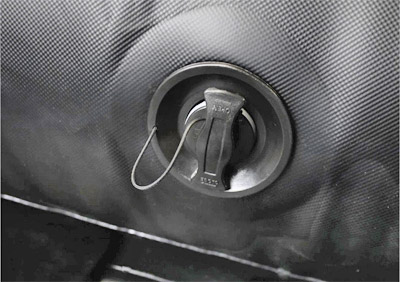 Valves haute pression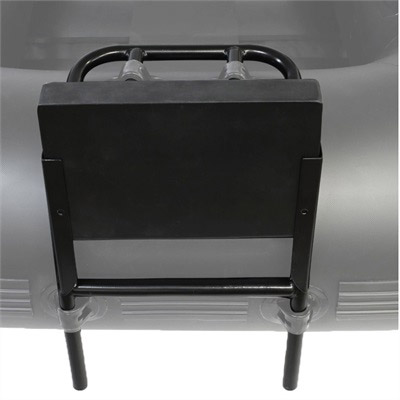 Support moteur amovible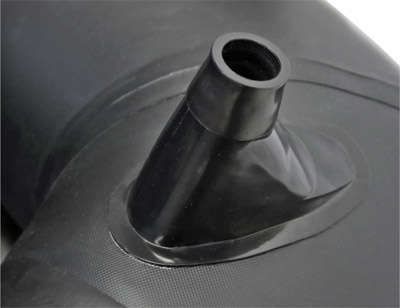 Support de canne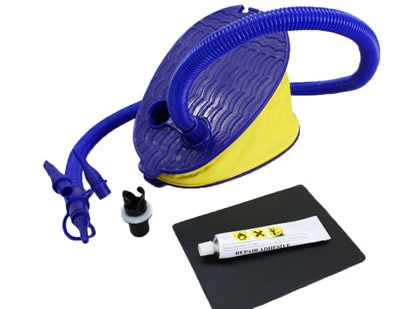 Livré avec une pompe à pied et kit de réparation
Moteur Electrique Carp Design Flover TG 33lbs
Léger, puissant et efficace ! Tels sont les 3 mots qui pourraient décrire au mieux cette série.
Fort de son expérience dans le domaine du bateau pneumatique, Carp Design propose cette année une nouvelle gamme de moteurs électriques, spécialement conçus pour répondre aux attentes des carpistes.
Grâce aux dernières technologies en matière d'électronique, les Flover TG fonctionnent plus longtemps que d'autres moteurs avec une batterie de capacité équivalente.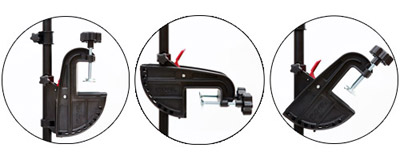 Son boîtier de commande est équipé d'une rampe de 9 diodes qui indique le niveau de charge de la batterie afin de vous éviter de mauvaises surprises lorsque vous êtes sur l'eau. Pour un aspect pratique, le manche de commande est télescopique (extensible de 14cm) pour plus de confort lorsque vous naviguez.
Les Flover TG possèdent une gâchette située proche du support moteur qui permet de faire basculer le moteur d'une simple pression (10 positions), alors qu'une bague à vis présente sur le bras vous permettra de régler la profondeur d'immersion de l'hélice.
Ils fonctionnent avec une batterie de 12V (batterie non fournie) et sont disponibles en 3 puissances différentes (33lbs, 40lbs et 55lbs) afin de pouvoir répondre à tous les besoins et s'adapter au mieux à chaque type d'embarcation.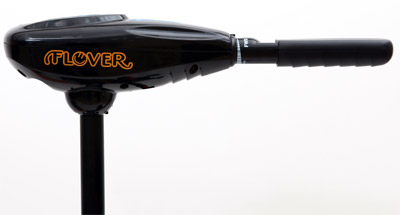 Les câbles d'alimentation sont munis d'anneaux qui faciliteront le raccordement aux cosses rapides de votre batterie (batterie non fournie). Pour un usage optimal, nous vous recommandons d'utiliser une batterie marine (décharge lente de minimum 100AH) et surtout de vous équiper d'un gilet de survie.
Les tests effectués sur cette version 33lbs nous ont permis de mesurer les autonomies suivantes avec une batterie* de 100AH déchargée à hauteur de 85% :
Vitesse 1 : 9h22
Vitesse 2 : 7h30
Vitesse 3 : 5h21
Vitesse 4 : 3h45
Vitesse 5 : 2h30
*batterie marine décharge lente chargée à 100 %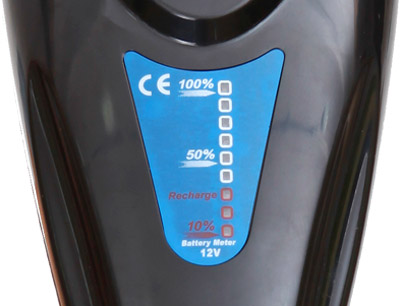 Caractéristiques techniques :
Voltage : 12V
Ajustement de la profondeur : collier de serrage
Puissance maxi : 33lbs/15kg
Type d'hélice : 2 pales
Nombre de vitesse avant : 5
Nombre de vitesse arrière : 3
Équivalence de puissance avec un moteur thermique : 0.53HP
Batterie conseillée : 100HA décharge lente
Indice d'étanchéité : IP65
Poids maxi de l'embarcation : 780kg
Puissance : 396W
Ampérage : 30A/33A
Type d'arbre : aluminium
Longueur de l'arbre : 75cm
Poids : 6.8kg
Garantie : 2 ans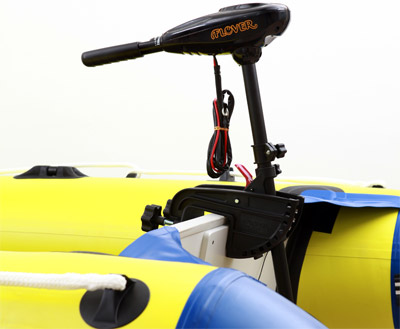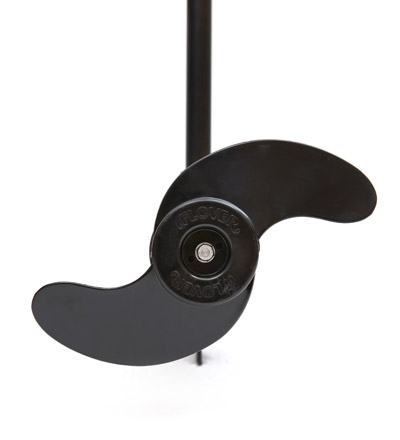 | Quantity | Ref | Name | + |
| --- | --- | --- | --- |
| 1 x | 219267 | Bateau Gonflable Faith Waterside Hunter SP 235 Plancher Lattes | |
| 1 x | 219268 | Moteur Electrique Carp Design Flover TG 33lbs | |
Customers who bought this item also bought :