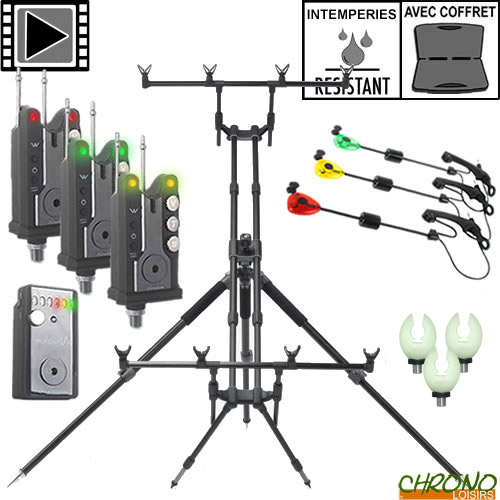 The Prowess brand continues its flight by proudly proposing its new range enriched with many new products. Prowess responds to your growing appetite for innovation.
Pack Détection Prowess Twinpod 3 Absolum B-Light
162
€
60
Pack Détection Prowess Twinpod 3 Absolum B-Light
Pack Détection Prowess Twinpod 3 Absolum B-Light
Rod Pod Prowess Twinpod II
PROWESS renforce sa sélection de rod pod avec un produit haut de gamme et de conception inédite : le TWINPOD II.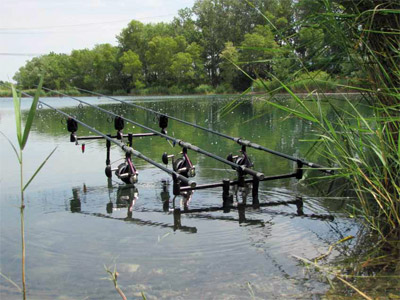 Le concept du TWINPOD est réellement révolutionnaire grâce à une modularité hors du commun. Ainsi, il satisfait aux conditions de pêche basiques dans sa version 2x2 pieds et pourra s'adapter, en l'espace de quelques secondes, aux exigences imposées par des conditions de pêche plus extrêmes.
Cette performance fait du TWINPOD un véritable rod pod 2 en 1 qui se transforme d'une version simple 2x2 pieds (2 à l'avant et 2 à l'arrière), en une version extrême grâce à l'ajout de son trépied.
Son montage est très rapide et d'une simplicité déconcertante. Les multiples réglages s'opèrent en un éclair, il est même possible de jouer sur l'orientation latérale des cannes (à 360°) et également sur leur inclinaison jusqu' à 80°.
Conçu à partir d'un alliage d'aluminium qualité aéronautique, le TWINPOD se veut extrêmement léger ce qui facilite son installation notamment dans les endroits délicats. Il bénéficie d'une stabilité à toute épreuve aussi bien en version 2x2 pieds qu'en version tri pattes.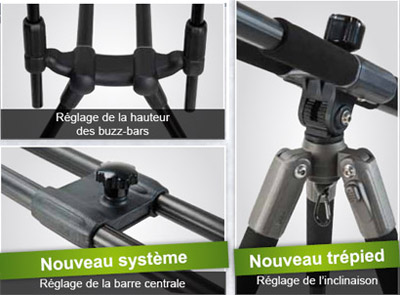 Longueur maximale entre les 2 Buzz Bar 160cm

Hauteur maximale cannes horizontales : 160cm en module tripod et 70cm en module 2 x 2 pieds (avec pieds d'origine)

Longueur des Buzz Bar 85cm (4 cannes)

Rotatif sur 360°

Inclinable à 80°

Poids 5.5kg

Encombrement dans son sac 108cm

Livré avec son sac de transport
Position extrême empatement et stabilité
Position basique
Position extrême standard
Position extrême canne haute
Coffret Prowess Centrale 4 Détecteurs Absolum
Dernier détecteur signé PROWESS avec de nouvelles fonctionnalités. Un avertisseur de réglage, lorsque vous tournez une molette, le détecteur vous signale les différents niveaux de réglage à l'aide de signaux sonores, plus besoin de tirer sur votre ligne pour connaître le volume, la tonalité ou la sensibilité du détecteur !
Vous avez le choix parmi 6 couleurs pour chaque détecteur (rouge, vert, bleu, jaune, violet, blanc). Le récepteur utilise les tonalités du détecteur directement.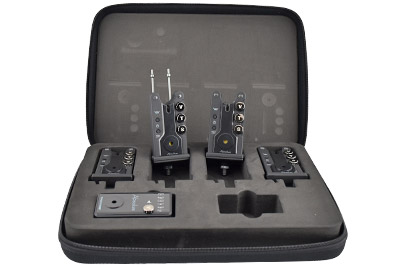 Technologie digitale,
Interrupteur de mise sous tension
Réglage du volume, de la tonalité et de la sensibilité
Diodes haute visibilité
Temporisation lumineuse de 20 secondes
Diode veille de nuit
Prise pour accessoires lumineux
Fonction antivol
Différentiation touche retour
Pas de vis inoxydable
Boitier étanche
Mode son / vibreur (centrale)
6 canaux / diodes témoin (centrale)
Compartiment pile séparé
Fonctionne avec une pile de 9 V (non fournie)
Fréquence de transmission sans fil : 433 MHz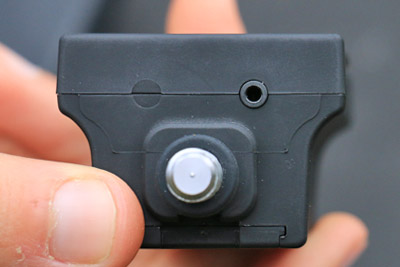 Prise pour accessoires lumineux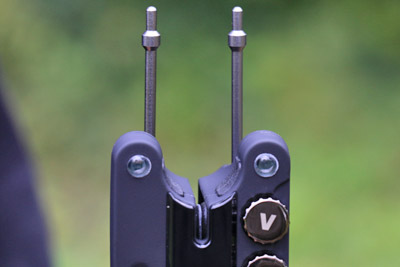 Système anti-ejection amovible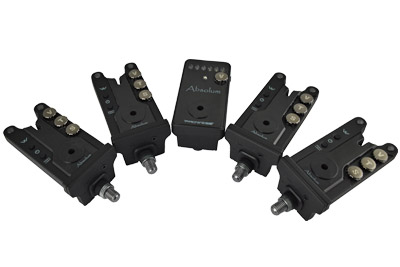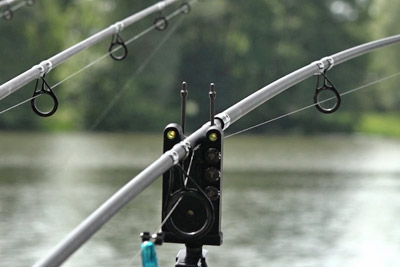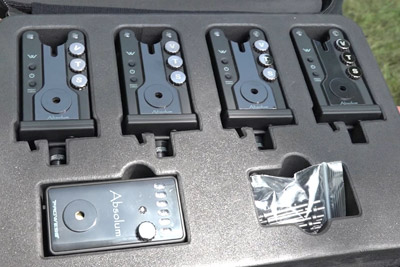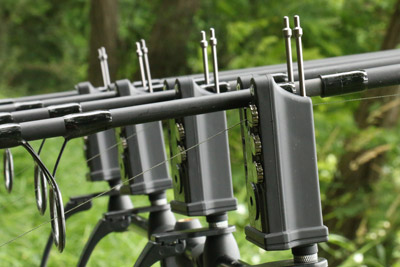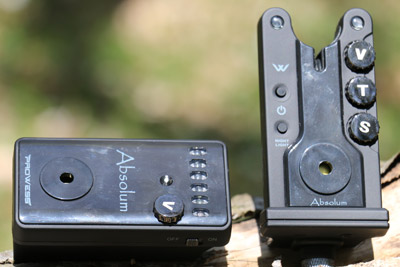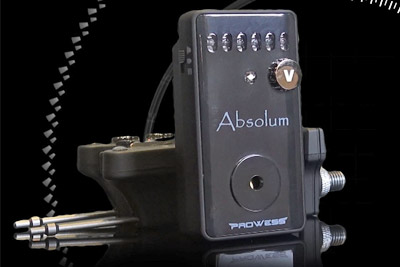 Coffret Carp Design 3 Balanciers Lumineux B-Light
Les B-Light sont des balanciers lumineux d'une grande polyvalence qui bénéficient d'un excellent niveau de finition.
Ils sont dotés d'un clip ligne à billes qui assure un excellent maintien de la ligne sans risque de l'abîmer et qui garantit une libération sans faille lors d'un départ.
Leur tête haute visibilité se voit aussi bien de jour que de nuit grâce à la présence d'une diode qui s'allume lorsque le balancier est raccordé à la prise Jack 2.5mm pour accessoire lumineux présente sur la plupart des détecteurs du marché.
Afin de régler avec précision la tension exercée sur votre ligne, une masselotte coulissante de 56g en acier inoxydable est présente sur le bras du balancier.
Livré avec une patte de fixation rapide à laisser sous votre détecteur.
Idéal de jour comme de nuit
Éclairage LED intégré
Masselotte coulissante permettant de régler la tension de la ligne
Système d'attache de la ligne à billes
Patte de fixation rapide
Fonctionne avec la plupart des détecteurs (hors Delkim)
Prise Jack 2.5mm
Prise Jack 2.5mm
Masselotte coulissante permettant de régler la tension de la ligne
Support Arrière Ccarp Rod Rest Luminous
Repose canne arrière phosphorescent qui absorbe la lumière du soleil et la restitue la nuit sous la forme d'une lueur fluorescente.
Compatible avec toutes les cannes du marché, son grip puissant vous permettra de pêcher canne haute ou canne basse sans risque de voir glisser la canne, même sur un départ violent.
Cette version "Mega" offre une adhérence très importante, ce qui le rend idéal pour les pêches en rivière sur des poissons puissants ou dans le cadre de pêche de bordure, lorsque les départs sont d'une extrême violence.
Finition irréprochable, il bénéficie d'un emplacement pour Betalight.
| Quantity | Ref | Name | + |
| --- | --- | --- | --- |
| 1 x | 204608 | COFFRET CARP DESIGN 3 BALANCIERS LUMINEUX B-LIGHT | |
| 1 x | 203079 | Coffret Prowess Centrale 3 Détecteurs Absolum | |
| 1 x | 205124 | ROD POD PROWESS TWINPOD II 4 CANNES | |
| 3 x | 205019 | SUPPORT ARRIERE CCARP ROD REST LUMINOUS | |
Customers who bought this item also bought :