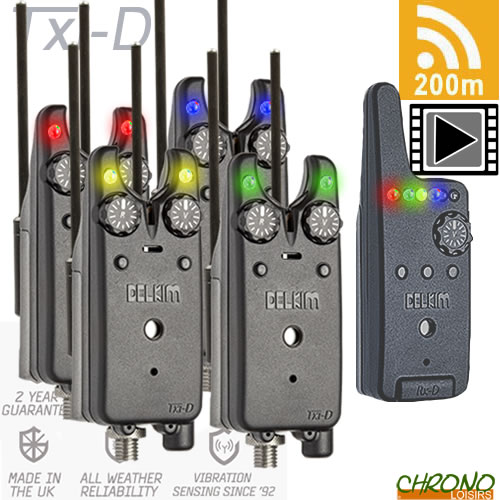 Delkim detection is considered among the best in the market for carp fishing. Great reliability and excellent quality in cutting-edge technology from England !
Pack Delkim New Txi-D 4D Color Safe-D Carbon Snag Bars
23
€
60
Pack Delkim New Txi-D 4D Color Safe-D Carbon Snag Bars
Pack Delkim New Txi-D 4D Color Safe-D Carbon Snag Bars
4 detecteur Delkim New Txi-D (jaune, rouge, vert, bleu)
Delkim est à la pointe de la technologie de détection de touche depuis plus de 35 ans.
Le système unique de détecteur de vibration Piezo a révolutionné l'indication des touches dès sa commercialisation en 1992. La gamme de détecteurs, incluant le célèbre Tx-i est restée inégalée dans le domaine du contrôle de la sensibilité, des micro-réglages et par-dessus tout… de la détection de touches.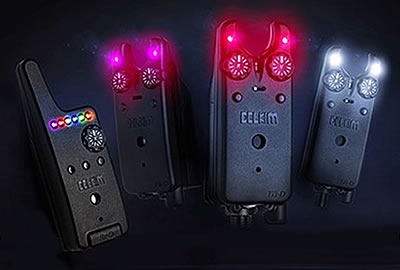 Tous les produits Delkim sont mis au point, fabriqués et testés au Royaume Uni et s'accompagnent d'une fiabilité légendaire par tous les temps, ainsi que d'une garantie de 2 ans.
Aujourd'hui, grâce à l'évolution grandissante des technologies de pointe en matière d'électronique et à la suite d'une demande énorme de la part des carpistes de l'Europe entière, Delkim est fier de nous présenter le dernier né de leur bureau d'étude, le très attendu Txi-D et son récepteur le Rx-D.
Delkim a puisé dans son savoir faire et le retour d'expérience de milliers de carpistes à travers le monde entier pour nous proposer cette version « updatée » du célèbre Tx-i.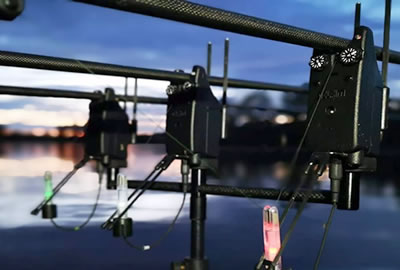 Caractéristiques techniques des détecteurs Txi-D :
Système de détection des vibrations éprouvé et testé
Traitement du signal numérique (breveté)
Contrôle de la vitesse du bip (breveté)
Emetteur radio numérique avec test de portée
Protection contre les intempéries améliorée
Anti-vol doté d'un capteur de mouvement IMU (breveté)
Design compact : 30% plus petit que la précédente version
Paramètres de LED améliorés
Mode LED furtif
Deux LED haute visibilité
Prise de sortie pour hanger Delkim NiteLite
Fonction Muet
64 réglages de tonalité numérique
Préférences utilisateur mémorisées
Économie d'énergie améliorée
Étui rigide moulé fourni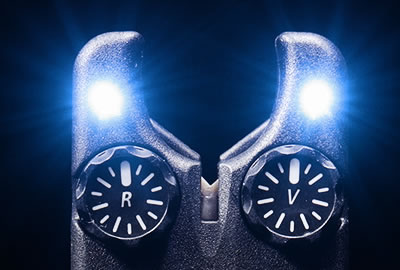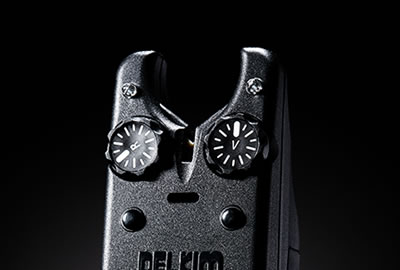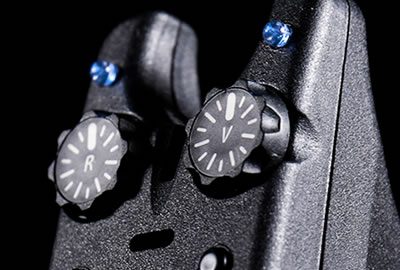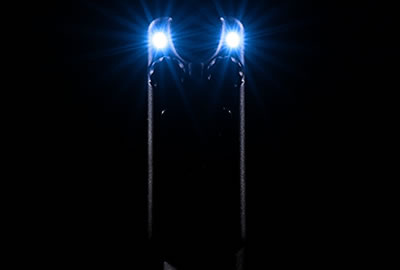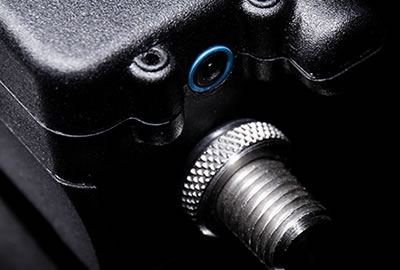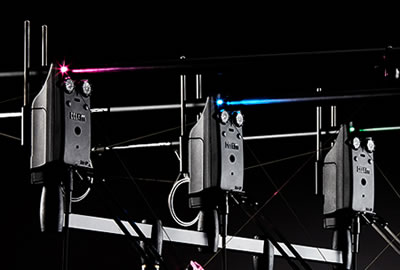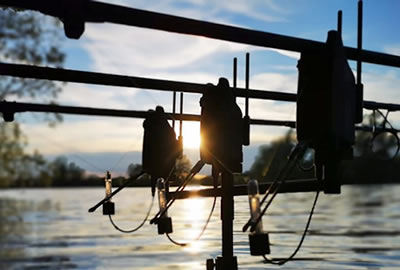 Centrale Delkim Rx-D
Le récepteur Rx Plus Pro mini a été durant des années le fleuron de la gamme Delkim et apporté entière satisfaction aux pêcheurs expérimentés du monde entier.
Aujourd'hui, Delkim nous propose une version 2.0 compatible avec les nouveaux détecteurs de la gamme, les Txi-D.
La centrale Rx-D est une version évoluée de la Rx Plus Pro et a été dotée des dernières améliorations technologiques afin de garantir aux carpistes une fiabilité et une robustesse à toutes épreuves.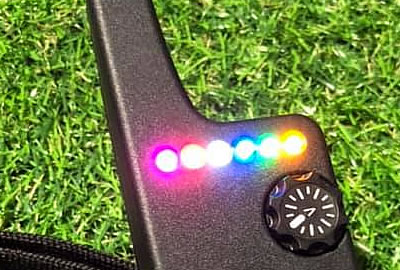 Caractéristiques techniques du récepteur Rx-D :
Emetteur radio numérique
Réplication visuelle des pulsations (brevetée)
Paramètres de plage multiples
Appariement facile
Mode RunLite
Mode DND (Ne pas déranger)
Sécurité avancée (brevetée)
Mode Vibro réglable
Rappel de la dernière activité (fonction mémoire)
Indicateur de mise sous tension
Économie d'énergie améliorée
Dragonne fournie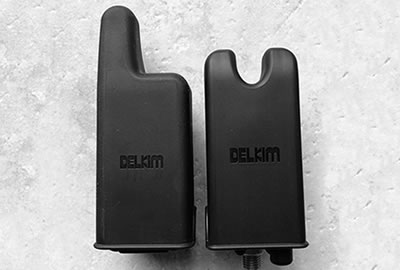 Livré avec des étuis rigides moulés

Système Anti Ejection Delkim Safe-D Carbon Snag Bars Txi-D (les 4)
Les Delkim Safe-D™ Carbon Snag Bars sont une conception sur mesure, dédiée exclusivement pour se fixer sur toutes les alarmes Delkim passées et présentes. Ils aident à empêcher la canne de sortir du détecteur en cas de touche extrême.
Particulièrement utile lorsque vous pêchez frein bloqué ou dans les bordures en angle droit par rapport à l'alarme.
Disponible en 2 versions différentes pour s'adapter aux anciens détecteurs Delkim et au Txi-D.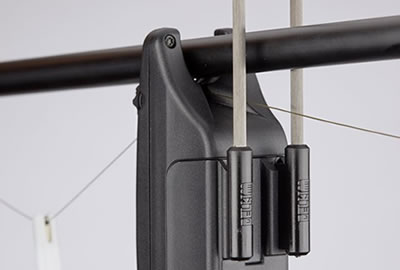 Design unique du cache piles - Capot de piles de rechange fixe moulé dans du nylon résistant, qui a les montants (snag bars) en carbone incorporés. Les montants en carbone peuvent ensuite être ajoutés ou enlevés au besoin. La porte du compartiment reste en place, ce qui permet la pose des étuis Delkim Hardcase.
Montants en fibre de carbone - Snag bars fabriqués en fibre de carbone tubulaire, avec capuchons en acier inoxydable et glissières en nylon. Donner un poids léger mais une grande résistance.
Pas d'accessoires supplémentaires - Les montants se montent dans le capot du compartiment de la pile de rechange, de sorte qu'il n'y a pas d'accessoires supplémentaires autour de la base de l'alarme.
Disponible pour s'adapter à toutes les alarmes Delkim - Disponible en deux versions. L'original convient à toutes les anciennes alarmes Delkim et la version v.2 convient uniquement au Txi-D.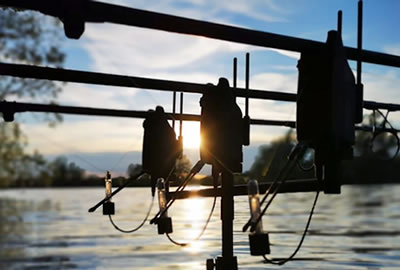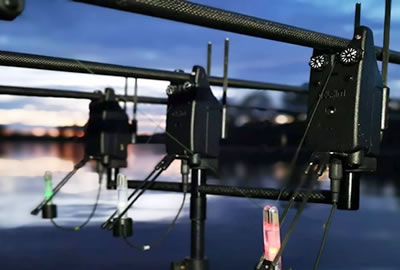 | Quantity | Ref | Name | + |
| --- | --- | --- | --- |
| 1 x | 203026 | Détecteur Delkim New Txi-D Rouge | |
| 1 x | 203027 | Détecteur Delkim New Txi-D Vert | |
| 1 x | 203028 | Détecteur Delkim New Txi-D Jaune | |
| 1 x | 203029 | Détecteur Delkim New Txi-D Bleu | |
| 1 x | 203032 | Centrale Delkim New Rx-D | |
| 4 x | 203034 | Système Anti Ejection Delkim New Safe-D Carbon Snag Bars (Txi-D) | |
Customers who bought this item also bought :