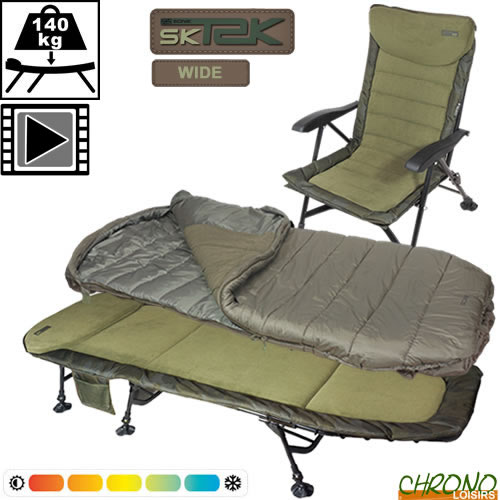 We are proud to offer Sonik products that have quickly gained a solid reputation for reliable performance and excellent value for money! Recognized worldwide, Sonik is one of the best references on the carp fishing market!
Pack Confort Sonik SK-TEK Wide 5 saisons
68
€
90
Pack Confort Sonik SK-TEK Wide 5 saisons
Pack Confort Sonik SK-TEK Wide 5 saisons
Bed Chair Sonik SK-TEK Levelbed Camo Wide 6 pieds
Le nouveau Sonik SK-TEK Levelbed a une multitude de fonctionnalités haut de gamme pour assurer un maximum de confort, peu importe la durée de votre session.
La section centrale et les épaules sont dotées d'un soutien lombaire extra élastiqué pour un confort maximal, que vous dormiez sur le ventre, sur le dos ou sur les côtés. Cela peut également être adapté à votre fermeté préférée.
Les doubles charnières pliantes donnent au lit un profil complètement plat et laissent assez de place pour se replier avec le sac de couchage en place. En molleton doublé dans notre matériau camouflage SK-TEK élégant avec une section d'oreiller rembourrée très large.
Cadre robuste en acier et aluminium à 6 pieds - profil plat à 100%
Soutien lombaire au centre et aux épaules
Large oreiller et doublure en molleton
3 tailles maintenant disponibles
Matériau camo SK-TEK à support PVC HD 600D
Système de verrouillage sur tous les pieds
Deux poches en filet pliantes
Pieds réglables avec grandes coupelles pivotantes en boue
Double support pliant pour permettre le rangement du sac de couchage
Dimension plié : 79cm x 95cm x 26cm
Dimensions : 220cm x 95cm x 34-48cm - Poids : 11.4kg

Confort absolu quelle que soit la durée de votre session

Support lombaire au centre et aux épaules

Grand oreiller moletonné intégré

Bordures dans notre matériaux ultra résistant camouflage SKTEK

Poche en maille de chaque côté pour recevoir centrale et effets personnels

Grands pieds équipés de coupelles anti boue articulées

Clip de maintien pour un transport sécurisé même avec le duvet
Level Chair Sonik SK-TEK Recliner Armchair
Le fauteuil Recliner Armchair SK-TEK est le summum du luxe au bord de l'eau.
Pleinement inclinable avec 8 positions, soulevez simplement l'inclinaison des bras et verrouillez en place.
La position assise et le dossier du siège offrent beaucoup de soutien, et avec chacun des quatre pieds ayant des pieds extensibles à verrouillage auto bloquant, la chaise est stable sur tous les terrains.
Décoré dans le nouveau tissu remarquable camouflage SK-TEK avec la partie centrale rembourrée polaire unie et coussin de tête rembourré extra large.
Haut dossier avec coussin rembourré en polaire
Mécanisme inclinable à 8 positions
Matériau camo SK-TEK en PVC HD 600D enduit
Quatre pieds entièrement réglables
Accoudoirs confortables
Hauteur de siège : 41cm – 58cm
Largeur de siège : 51cm
Siège profondeur : 47cm
Hauteur dossier : 62cm
Dimensions plié : 90cm x 59cm x 16cm – Poids : 6.3kg
Duvet Sonik SK-TEK Wide 5 Saisons
Le sac de couchage SK-TEK offre une isolation complète 5 saisons et est extrêmement efficace pour vous garder au chaud.
Le remplissage de fibre creuse de silicone de haute qualité maintient sa forme et assure l'isolation thermique pour une rétention maximale de la chaleur.
Une nouvelle conception de la capuche donne une polyvalence maximale et permet un mouvement suffisant pour que le sac se forme autour de vous, peu importe votre position de sommeil.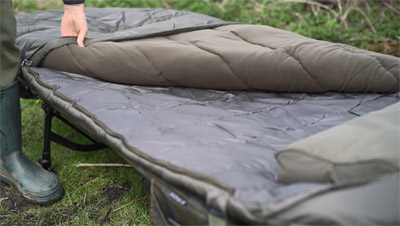 La partie supérieure du duvet est doublée de polaire pour la chaleur et la base doublée de polyester lisse pour un mouvement facile à l'intérieur du sac, avec une doublure de protection en polyester lisse supplémentaire au niveau du cou.
Les sections de tête et pied ont toutes deux des cordons qui vous permettent de renforcer l'isolation et d'éliminer les points froids pour une nuit de sommeil confortable.
Isolation de l'épaisseur complète 5 saisons
Remplissage de fibres creuses de silicone de haute qualité
Fermetures à glissière surdimensionnées
Rabats internes plus efficaces
Nouveau design amélioré de la tête et du pied
Sangle centrale élastiquée amovible
Zips ¾ longueur avec guides coulissants faciles
Matériau extérieur Ripstop 190T
Base doublée de polyester lisse pour un mouvement facile
Couverture supérieure doublée de molleton polaire avec doublure de col en polyester lisse
Cordon de serrage pour éliminer les points froids
Dimension plié : 55cm x 40cm
Dimension : 230cm x 10cm - Poids : 4.4kg
| Quantity | Ref | Name | + |
| --- | --- | --- | --- |
| 1 x | 216652 | Bed Chair Sonik SK-TEK Levelbed Camo Wide 6 pieds | |
| 1 x | 216614 | Level Chair Sonik SK-TEK Recliner Armchair | |
| 1 x | 216654 | Duvet Sonik SK-TEK Wide 5 Saisons | |
Customers who bought this item also bought :