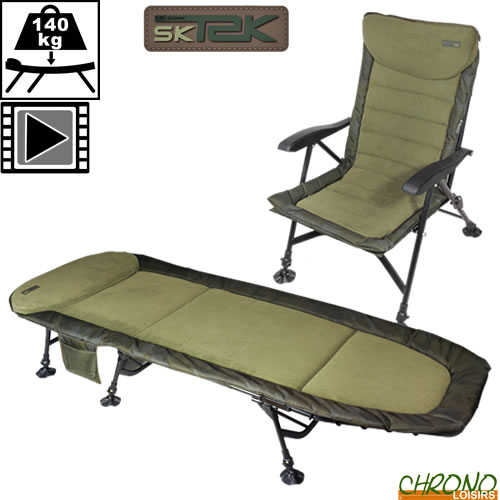 We are proud to offer Sonik products that have quickly gained a solid reputation for reliable performance and excellent value for money! Recognized worldwide, Sonik is one of the best references on the carp fishing market!
Pack Bed Level Chair Sonik SK-TEK Recliner Armchair
39
€
90
Notify me when this item will be back in stock
Pack Bed Level Chair Sonik SK-TEK Recliner Armchair
Pack Bed Level Chair Sonik SK-TEK Recliner Armchair
Bed Chair Sonik SK-TEK Levelbed 6 pieds
Le nouveau SK-TEK Levelbed dispose d'une multitude de fonctions haut de gamme pour assurer un maximum de confort, quelle que soit la durée de votre session.
La section centrale lombaire et la zone d'épaules ont un support élastiqué pour un maximum de confort que vous dormiez sur le ventre, le dos ou sur le côté. Cela peut également être adapté à vos préférences.
Les charnières rabattables doubles donnent au lit un profil complètement plat et laissent assez de place pour le replier avec un sac de couchage en place.
Matelas polaire doublé sur le contour de notre remarquable tissu camouflage SK-TEK avec une section rembourrée extra large au niveau de l'oreiller.
Cadre robuste en acier et aluminium à 6 pieds - Profil 100% plat
Soutien lombaire, au centre et aux épaules
Large coussin rembourré et doublure en polaire
Matériau camo SK-TEK avec support en PVC HD 600D
Système de verrouillage sur tous les pieds
Deux poches en maille dépliables
Pieds réglables avec grandes coupelles anti boue pivotantes
Double articulation rabattable pour permettre le rangement avec sac de couchage
Dimensions plié : 76cm x 80cm x 26cm
Dimensions : 210cm x 80cm x 34-48cm – Poids : 9.6kg
Level Chair Sonik SK-TEK Recliner Armchair
Le fauteuil Recliner Armchair SK-TEK est le summum du luxe au bord de l'eau.
Pleinement inclinable avec 8 positions, soulevez simplement l'inclinaison des bras et verrouillez en place.
La position assise et le dossier du siège offrent beaucoup de soutien, et avec chacun des quatre pieds ayant des pieds extensibles à verrouillage auto bloquant, la chaise est stable sur tous les terrains.
Décoré dans le nouveau tissu remarquable camouflage SK-TEK avec la partie centrale rembourrée polaire unie et coussin de tête rembourré extra large.
Haut dossier avec coussin rembourré en polaire
Mécanisme inclinable à 8 positions
Matériau camo SK-TEK en PVC HD 600D enduit
Quatre pieds entièrement réglables
Accoudoirs confortables
Hauteur de siège : 41cm – 58cm
Largeur de siège : 51cm
Siège profondeur : 47cm
Hauteur dossier : 62cm
Dimensions plié : 90cm x 59cm x 16cm – Poids : 6.3kg
| Quantity | Ref | Name | + |
| --- | --- | --- | --- |
| 1 x | 216610 | Bed Chair Sonik SK-TEK Levelbed Camo 6 pieds | |
| 1 x | 216614 | Level Chair Sonik SK-TEK Recliner Armchair | |
Customers who bought this item also bought :