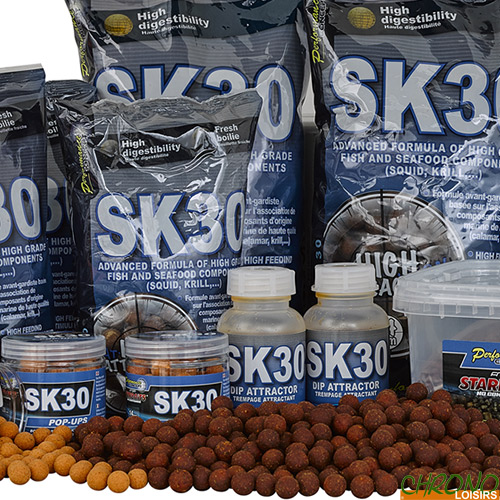 The development of new products still remains the spearhead of Starbaits, as required by its leadership position. Thanks to this "uncompromising" innovation in terms of labor and time, Starbaits products take the best podium places and pass the most demanding carpist tests all over Europe.
Pack Appâts Starbaits Perf Concept SK30
4
€
70
Pack Appâts Starbaits Perf Concept SK30
Pack Appâts Starbaits Perf Concept SK30
Formulée à partir de matières premières carnées de haute qualité reconnues pour leurs principes attractifs tels que : farines de poissons séchées à base température, extraits solubles de protéines de poissons, extraits marins, … associés à des composés attractifs solubles provenant du calamar ainsi que du krill, la « SK 30 » possède un profil en acides aminés ainsi qu'en acides gras permettant de la classer comme étant un appât indispensable dans la sélection de gros poissons sur un poste.
Renforcée en huiles naturelles reconnues comme stimulantes des sens olfacto-gustatifs ainsi qu'en composants favorisant la prise alimentaire, cet appât à haute digestibilité favorisera l'accoutumance, voire la dépendance, des poissons lors d'amorçages à long terme sans aucun phénomène de saturation !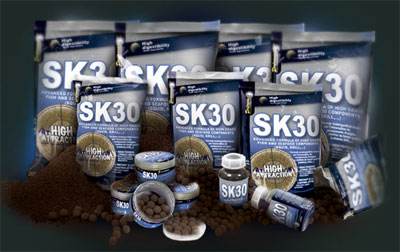 Bouillettes Starbaits Performance Concept SK 30mm 5kg (2 x 2.5kg)
Longue conservation.
Diamètre 20mm

Conditionnement 2.5kg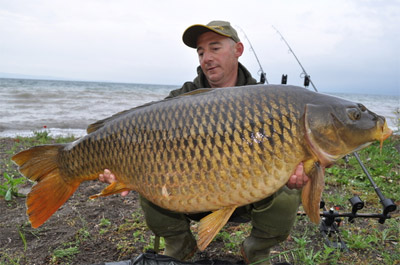 Booster Starbaits Performance Concept SK30 200ml
Reprenant les principes actifs de la bouillette SK 30, cette solution de trempage formulée à partir de molécules naturelles (acides aminés ; acides gras poly insaturés ; ...) sélectionnées pour leurs caractéristiques attractives (forte diffusion ; identification naturelle; source nutritive ; ...) se diffusera en halo autour de votre appât, facilitant ainsi la localisation par les carpes.
Elle pourra être utilisée comme additif afin de fabriquer vos appâts ; de trempage sur vos bouillettes de pêche SK 30 (fond ou flottante) afin d'augmenter leur valeur attractive ; ou de boostage à incorporer dans l'eau de mouillage de votre Method mix.Composé d'éléments solubles et insolubles à l'eau afin d'optimiser la diffusion, il est conseillé de bien agiter le trempage avant emploi : ceci afin d'obtenir une homogénéisation parfaite du mélange.
Conditionnement 200ml
Pop Ups Starbaits Performance Concept SK30 20mm 80g
Formulées à partir des mêmes principes attractifs que les bouillettes de fond, elles vous permettront facilement de réaliser des montages décollés sur des fonds mous ou accidentés ainsi que des montages équilibrés tels que « bonhomme de neige »…
| Quantity | Ref | Name | + |
| --- | --- | --- | --- |
| 2 x | 240574 | Bouillettes Starbaits Perf Concept SK30 20mm 2.5kg | |
| 1 x | 240577 | Booster Starbaits Perf Concept SK30 200ml | |
| 1 x | 241683 | Pop Ups Starbaits Perf Concept SK30 20mm 80g | |