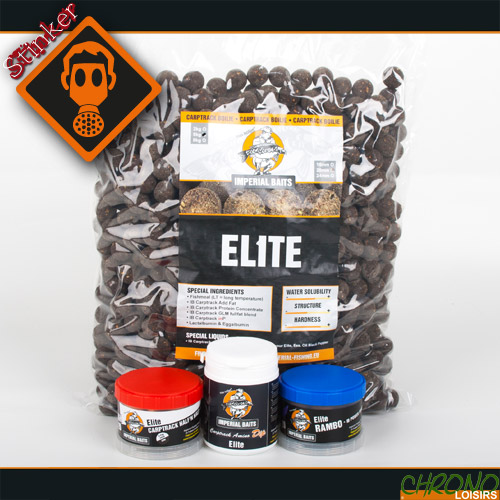 Thank you for your interest in our Imperial Fishing product line. Perhaps you have heard about us through the success of some of the best carp anglers from all over Europe! It is you who bring the "motivator", we provide the rest and we will not let you down!
Pack Appâts Imperial Carptrack Elite
4
€
70
Notify me when this item will be back in stock
Pack Appâts Imperial Carptrack Elite
Pack Appâts Imperial Carptrack Elite
Nos bouillettes… prennent des carpes depuis 13 ans ! Nos légendaires bouillettes Carptrack sont réalisées selon exactement la même formule que notre mixe Carptrack. En plus de ce fameux mixe nous complétons notre recette avec des arômes et additifs hautement attractifs tels que le Carptrack inLiquid, le Carptrack Liquid Amino, les Essential Oils ainsi que du NHDC Liquid. Ainsi vous pouvez pêcher en toute confiance et mieux vous concentrer sur les autres aspects de votre pêche.
Bouillettes Imperial Carptrack Elite 20mm 5kg
Les situations difficiles au bord de l'eau exigent des appâts particuliers !
Principalement les lieux sur-pêchés où vous aurez besoin d'un mélange exclusif pour séduire les carpes.
Les bouillettes Carptrack Elite sont composées du Carptrack inL (12ml/kg), du NHDC (3.5ml/kg), de l'arôme Elite (5ml/kg), du Liquid Amino (12ml/kg) et de l'huile essentielle Black Pepper (1.5ml/kg).
Un fidèle compagnon pour la traque des plus gros specimens, surtout lorsque les situations sont difficiles !

Mix qui compose les Bouillettes Carptrack Elite !
Bouillettes Imperial Rambo Elite 20mm 80g
Esches RAMBO - extra strong, coulante et légère comme une plume !
Prendre une carpe est seulement possible s'il y a une esche sur le cheveu ! Les écrevisses, les poissons chats et autres indésirables peuvent ruiner notre pêche.
C'est dans ces conditions-là qu'il faut opter pour une vraie bonne solution, et d'autant plus si l'on pêche pendant des jours et/ou à grande distance, et qu'il faut tromper des poissons méfiants.
Une esche qui reste longtemps en place est bien plus susceptible de tromper les carpes éduquées qui au bout d'un certain temps n'y voient plus de danger. Les esches Rambo ultra dures ont été allégées, une fois dans l'eau elles ne pèsent pratiquement plus rien.
C'est un vrai plus dans notre gamme d'esches pour pouvoir faire face à toutes les situations possibles.
RAMBO - une fois dans l'eau vous sortez les poissons !
Bouillettes Equilibrées Imperial Half'n'Half Elite 20mm 75g
Elles combinent une forte attraction visuelle et la puissance du goût, ce qui donne un appât alternatif extraordinaire.
Composé d'une moitié de V Pop et d'une moitié de bouillette de la gamme Carptrack, cet appât se décolle très facilement du fond lorsque les carpes l'aspirent.
Roulées ensemble à partir des mixes V-Pop et Carptrack lors de la fabrication, les half'n'half tiennent beaucoup plus longtemps au fond de l'eau que 2 morceaux de bouillettes associés sur un cheveu qui se dégragent très rapidement par rapport à nos Half'n'Half hookbaits.
Le succès de ces Carptrack Half'n'Halfs est connu à travers toute l'Europe et les carpes les plus malignes se laissent séduire et prendre au piège.
Booster Imperial Carptrack Amino Dip Elite 150ml
Composés de nos meilleurs attractants comme le Carptrack NHDC, le Carptrack Liquid Amino, les arômes Carptrack, le Carptrack GLM full-fat, le Carptrack Liquid et le Carptrack inL.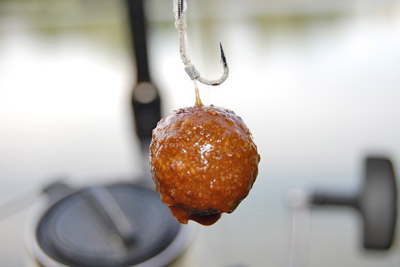 Utilisation : Trempez vos appâts minimum pendant 24 heures dans nos Amino Dips, ceci vous permet de renforcer leur puissance d'attraction surtout lors de vos pêches rapides.
Vos appâts peuvent rester plusieurs mois dans nos dips sans qu'ils se ramollissent.
Signification des logos Impérial Baits
Catégorie Stinker "Odeur Forte" la puissance dans tous ses états :
Vous trouverez les Worm Up, Monster's Paradise, Elite, Liver, Monster, Monster/Liver et Fish, ainsi que tous les parfums correspondants et additifs.
Catégorie Yummys "Douce ou fruitée" la puissance cachée :
Explosiv-Stickmix, Elite-Strawberry, Osmotic Spice, Birdfood Banana, Uncle Bait "The Boilie", ainsi que tous les parfums correspondants et autres additifs.
Catégorie Cold Water "Eaux Froides" la puissance maîtrisée :
Gage d'une qualité optimale en eaux froides et profondes, vous trouverez les Monster's Paradise CW, Explosiv-Stickmix CW, Liver CW et Monster CW.
Le nouveau système IB Power Tower System
Le IB Power Tower System permet à chaque pêcheur lors de sa session, de personnaliser son "IB Power Tower" avec exactement les produits dont il a besoin au moment de sa pêche.
Tenez plusieurs boites dans votre main en même temps, le IB Power Tower se compose de boites connexes avec un filetage de chaque côté !
Pour atteindre un produit, il suffit simplement de dévisser le "IB Power Tower" au bon endroit. La boite supérieure est toujours en même temps le couvercle de la boite inférieure.
Beaucoup de produits différents peuvent être rangés de telle manière ce qui est très pratique lors du rangement de votre étagère de pêche (à la maison) ou de votre sac carryall.
Vos produits sont toujours bien organisés : dans votre garage, biwy, bateau, etc... Les boites IB Power Tower sont aussi parfaitement appropriées pour ranger des montages, émerillons, tresses de montage, etc...
N´oubliez pas non plus le café, thé, sucre en poudre, sel, etc... Les boites Power Tower sont réalisés dans un plastique de qualité alimentaire.
La transparence laiteuse réduit la pénétration du soleil, mais permet aussi de voir le produit pour pouvoir reconnaitre rapidement le contenu.
Nous souhaitons à tout le monde de bien s´amuser en trouvant sa propre manière d´utiliser le IB Power Tower de façon optimale
| Quantity | Ref | Name | + |
| --- | --- | --- | --- |
| 1 x | 242525 | Bouillettes Imperial Carptrack Elite 20mm 5kg | |
| 1 x | 242538 | Bouillettes Imperial Rambo Elite 20mm 80g | |
| 1 x | 242553 | Bouillettes Equilibrées Imperial Half'n'Half Elite 20mm 75g | |
| 1 x | 242562 | Booster Imperial Carptrack Amino Dip Elite 150ml | |
Customers who bought this item also bought :