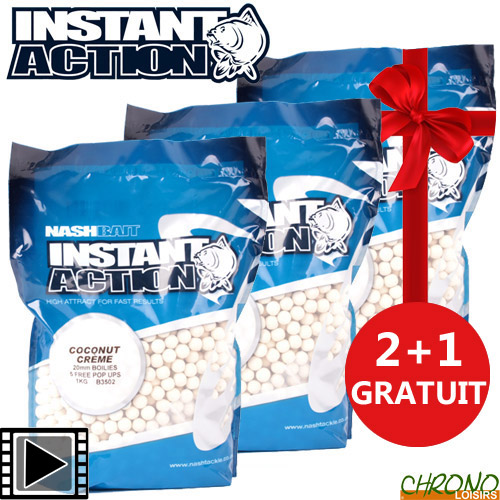 Nash bait revolutionized the world of baits with the HNV The Key boilies and its magnificent Cultured Hookbaits, Citruz and legendary Scopex Squid. Since constant pressure carp are only reacting to the highest quality baits, these formulas have become the most prominent of the moment, generating record after record on all waters in the UK and Europe. A range of fresh prepared seeds of the highest quality, exclusive pellet blends, and baits like Citruz pop-ups also help to change the world of carp baits into the future.
Nash I.A. Coconut Cream Boilie 20mm 2kg + 1 Free
Nash I.A. Coconut Cream Boilie 20mm 2kg + 1 Free
Nash Instant Action Coconut Cream Boilie 20mm 3kg (pack of 2kg + 1 free)
Bright white for tremendous visual attraction, based on the success of Nashbait's legendary Amber Strawberry, Coconut Crème blends oil and water soluble synthetic and natural attractors with two sweeteners, allowing it to dissipate smell quickly in the coldest water yet always retaining a rich, rounded taste.
Coconut Crème uses a two stage manufacture unique to this recipe to impregnate taste enhancers and attractors that leak off more aggressively.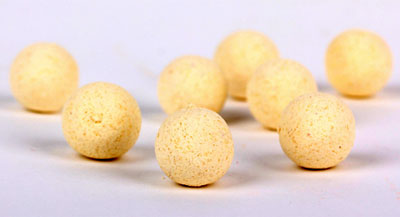 Excellent in cold water thanks to its colour and attractor solubility, and like the white Amber Strawberry also a winner on clear, weedy venues. Coconut Crème has immediately found a place in Nash consultant Julian Cundiff's bait bag, catching from his very first trip and proving a consistent winner for takes everywhere.
Instant Action boilies contain 3 free Airball pop-ups
Customers who bought this item also bought :