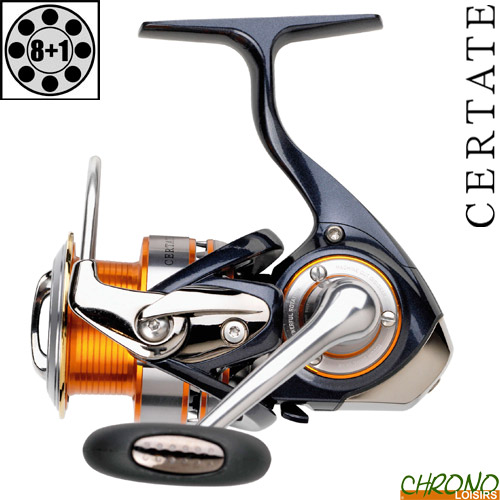 Since 1958, Daïwa has continued to offer rods and reels to fishermen around the world, focusing on design, innovation and reliability.
MOULINET SPINNING DAIWA CERTATE 3000 HA
170
€
00
MOULINET SPINNING DAIWA CERTATE 3000 HA
Moulinet Spinning Daiwa Certate 3000 HA
Un Certate marinisé et doté d'un ratio élevé !
Dérivé du Certate 2010, le Certate HA dispose d'un ratio supérieur et se veut entièrement équipé de roulements anti-corrosion CRBB.
Propulsé par une roue de commande Hyper Digigear en bronze C6191 marinisé, il est un moulinet incontournable dans l'univers de la pêche aux leurres en mer.
POINTS FORTS : Etanchéité | Fluidité | Grande récupération | Frein progressif
Frein à technologie UTD
Roulements : 8 CRBB + 1
Bâti et rotor en alliage aluminium
Bobine aluminium
Enroulement CrossWrap
Manivelle monobloc aluminium devissable
Puissance du frein : 7kg
Informations techniques

Roulements

Ratio

TMV

Capacité

Bobine Sup.

Poids

8+1

5.6:1

95cm

185m / 0.30mm

-

290g

MAG SEALED - Longévité de la rotation : +150 %
Le barrage d'huile maintenue dans un champs magnétique empêche l'intrusion d'eau et d'impureté. Cette construction étanche conserve la rotation fluide et précise des Certate sur une durée prolongée.

MAG SEALED - Bruit dans le roulement de galet de pick-up réduit de 90 %
Tout comme pour l'étanchéité du corps, un film d'huile protectrice a été placé dans le galet de pick-up pour éliminer l'intrusion de sel lors de la récupération de la ligne, qui demeure plus précise et fluide !

AIR ROTOR - Confort de rotation : +25 %
La forme originale en arche du rotor est une révolution en matière de rotation. Le rotor est allégé tout en conservant sa résistance grâce à son matériau en Zaion. Ce carbone léger de haute résistance améliore le temps de réponse du nouveau Certate. Lors de la prise en main de la manivelle, le confort de rotation offre de nouvelles sensations.

UTD - Frein régulier, précis, puissant
Système de frein de combat plus puissant disposant de nouveaux disques de frein de haute densité caractérisant la robustesse et précision sans les à-coups.

DIGIGEAR II - Mécanique de précision
L'engrenage Digigear II offre un format plus large au niveau des dentures hélicoïdales comme de la roue en acier pour une fluidité et une longévité accrues.