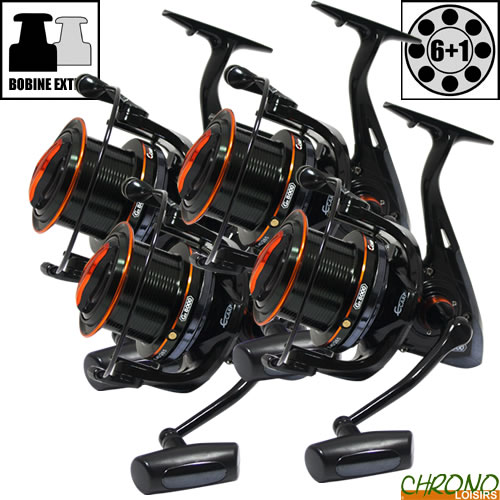 The Ccarp brand has been designed to offer an alternative solution to Carp anglers. It offers a range that meets 100% the needs of modern Carpists. The development of the range has been developed and finalized by specialist Carp anglers to guarantee users a response to their expectations.
Moulinet Ccarp GX 8000 Black (les 4)
120
€
60
Moulinet Ccarp GX 8000 Black (les 4)
Moulinet Ccarp GX 8000 Black (les 4)
Bénéficiant du même cahier des charges que le GX 10000, il s'impose comme un moulinet de lancer à grande distance et possède toutes les caractéristiques qu'un moulinet haut de gamme peut apporter.
Un design captivant, un poids ultra-léger pour son prix, le GX 8000 sera l'une des meilleures ventes de 2016 !
Le GX 8000 est équipé du système d'enroulement croisé à double oscillation ultra lente ce qui permet un rangement du fil absolument parfait et de gagner les quelques mètres qui font la différence lorsque l'on pêche déjà à grande distance.
Son bâti hybride composé d'aluminium et graphite vous apporte : équilibre, fluidité ainsi que précision.
Il possède 6 roulements à billes + 1 positionné au galet, deux bobines aluminium ce qui est encore un avantage incontestable dans sa catégorie, un anti retour infini, un frein micrométrique qui permet de passer d'un frein en position libre à un frein de combat de manière très rapide et très précise.
Bobine en aluminium forgé
Bâti graphite avec traitement anti-corrosion
Bobine supplémentaire en aluminium
Frein avant micrométrique puissant et précis
Anti retour infini
Galet anti-torsion
Poignée ambidextre
Enroulement à spires croisées
Double oscillation Worm Shaft System
Manivelle de combat
Informations techniques

Roulements

Ratio

TMV

Capacité

Bobine Sup.

Poids

6+1

4.6:1

102cm

350m / 0.35mm

450m / 0.30mm

1

605g
| Quantity | Ref | Name | + |
| --- | --- | --- | --- |
| 4 x | 202429 | Moulinet Ccarp GX 8000 Black | |
Customers who bought this item also bought :