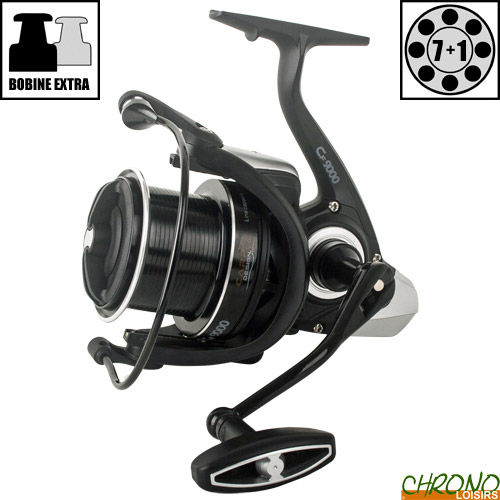 Inspired by current trends and the needs of modern carp anglers, Carp Design is a rising brand which aims to bring a new vision of carp fishing tackle.
MOULINET CARP DESIGN CF9000 BLACK & GREY
30
€
00
MOULINET CARP DESIGN CF9000 BLACK & GREY
Moulinet Carp Design CF9000 Black & Grey
Fort du succès rencontré avec la série de moulinets Carp Design GK9000 et afin de répondre à une forte demande, nous sommes fier de vous présenter le dernier né des bureaux d'étude Carp Design.
Le CF9000 est un modèle haut de gamme, conçu pour répondre aux attentes des carpistes exigeants qui sont à la recherche de moulinets performants.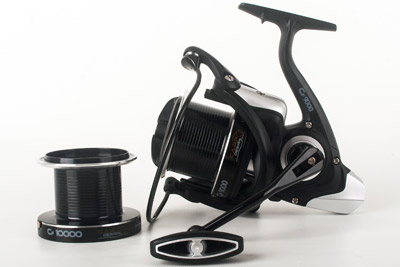 Avec un poids de seulement 535g, ce moulinet Long Cast risque de rapidement détrôner certains modèles prestigieux ! Grâce à son bâti ultra léger équilibré par ordinateur, il offre un équilibre parfait aux cannes de toutes longueurs.
Derrière son look sobre et épuré, le CF9000 renferme une mécanique fiable et robuste qui a déjà fait ses preuves depuis plusieurs années désormais.
Il est équipé du système d'enroulement croisé à double oscillation ultra lente « Worm Shaft System » ce qui permet un rangement du fil absolument parfait pour vous permettre de gagner les quelques mètres qui font la différence lorsque l'on pêche à grande distance.
Il possède 7+1 roulements à billes en acier inoxydable, une bobine aluminium (+ une bobine aluminium de rechange), un anti retour infini ainsi que le nouveau système anti-vibration AVS.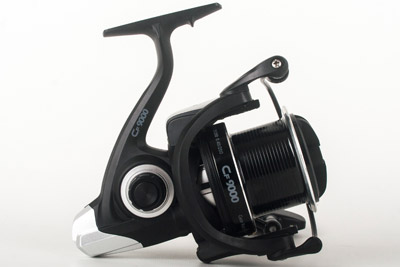 En plus de bénéficier d'un frein avant micrométrique « Drag Control » qui permet de passer d'un frein en position libre à un frein de combat de manière très rapide et très précise, nous avons ajouter des disques de feutre entre les rondelles de frein pour augmenter sa puissance… les amateurs de pêches fortes apprécierons !
La poignée ergonomique montée sur la manivelle en aluminium usiné offre une prise en main confortable et la bobine supplémentaire en taille 10000 (485m / 0.30mm) comblera les carpistes ayant besoin d'une bobine de grande capacité.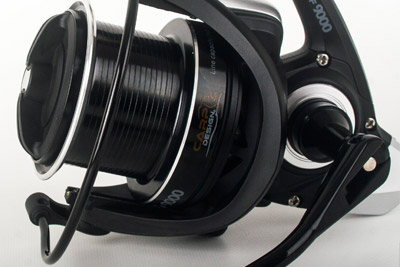 Finition noir & gris
7 + 1 roulements à billes en acier inoxydable
Bobine principale en aluminium forgé (taille 9000)
Bobine supplémentaire en aluminium forgé (taille 10000)
Axe, visserie et rondelles en acier inoxydable (compatible eau salée)
Système anti-vibration AVS
Roue de commande renforcée
Bâti graphite haute résistance ultra léger
Frein avant micrométrique « Drag Control »
Galet anti-vrillage et anti-corrosion
Anti retour infini
Poignée ambidextre
Enroulement à spires croisées
Double oscillation « Worm Shaft System »
Manivelle rabattable en aluminium usiné
Poignée de combat ergonomique
Clip ligne
Informations techniques

Roulements

Ratio

TMV

Capacité

Bobine Sup.

Poids

7+1

4.6:1

102cm

260m / 0.35mm

350m / 0.30mm

1

535g
Bâti graphite haute résistance ultra léger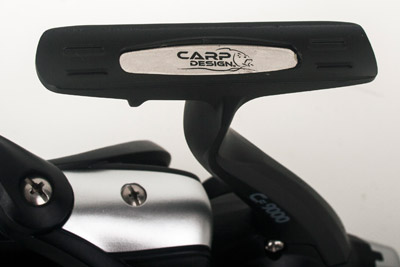 Finition noir & gris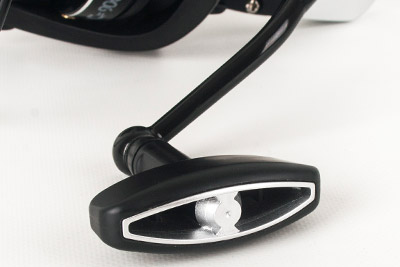 Poignée de combat design et confortable
Customers who bought this item also bought :