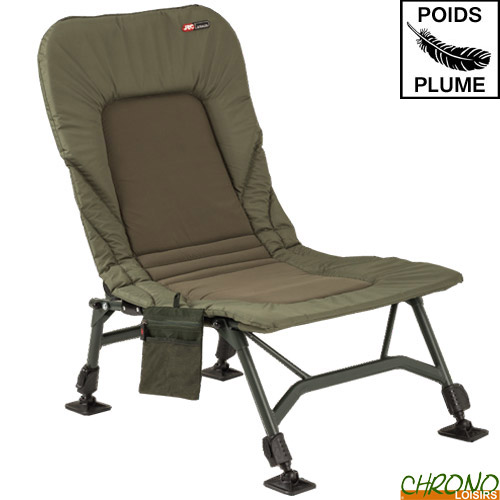 A new season is off to a flying start for the brand JRC because it is not the innovations that are missing! With a brand new logo, JRC offers this new season with an avalanche of new products. Whether Biwys, electronics or luggage, we have a safe bet that you will find your happiness.
LEVEL CHAIR JRC STEALTH RECLINER
40
€
10
LEVEL CHAIR JRC STEALTH RECLINER
Level Chair JRC Stealth Recliner
Que vous alliez pêcher pour quelques heures ou quelques jours, le confort reste essentiel.
Le siège JRC Stealth Recliner offre un confort supérieur grâce à l'excellent soutien du dossier et grâce à ses pieds plus hauts que la norme.
Son assise est fabriqué dans un revêtement durable 100% polyester en nylon 600D, pour un confort maximal, il est rembourré avec de la mousse haute densité.
Pieds anti-boue
Revêtement durable 100% polyester 600D
Rembourré avec de la mousse haute densité
Pieds entièrement réglable
Léger et compact
Cadre robuste
Capacité : 130kg maxi
Dimensions : 86cm x 58cm x 34/94cm - Poids : 4.6kg
Customers who bought this item also bought :