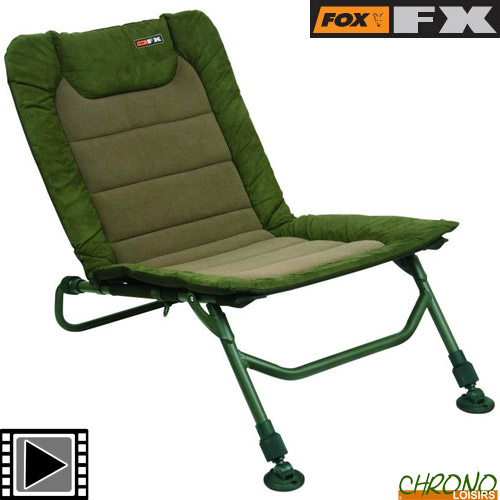 Fox is the largest distributor of specialized fishing tackle for carp. Who are the carp anglers who have never heard of products such as Swingers, FOX box systems, Microns. This is proof of a permanent desire for innovation and progress policy, both in design and in product development.
LEVEL CHAIR FOX FX COMBO CHAIR
34
€
10
LEVEL CHAIR FOX FX COMBO CHAIR
Depuis son lancement l'an dernier, la bagagerie novatrice FX s'est établie comme la gamme de bagages la plus élaborée jamais produite. Conçue pour répondre aux attentes du pêcheur moderne et d'une fi abilité à toute épreuve, la gamme FX est considérée par les critiques spécialisés, tout autour du globe, comme étant la meilleure actuellement disponible – un véritable exploit !

Level Chair Fox FX Combo Chair
Afin de vous offrir un niveau de confort, le level Chair Fox FX Combo Chair dispose de la même garniture en mousse haute densité et de la doublure "peau de mouton" que le bed chair Fox Flatliner.
Le Combo Chair est équipé d'un système d'attache qui permet de le fermer mais également qui l'empêche de s'ouvrir durant le transport.
Il est livré avec une sangle de transport amovible et matelassé pour vous permettre de garder les mains libres pour d'autres bagages si vous emmenez votre matériel au bord de l'eau.
D'une incroyable polyvalence, le FX Combo Chair peut s'utiliser de trois manières différentes :
Il peut être utilisé en travers, sur le milieu d'un bed chair. Cette configuration est parfaite lorsque vous voulez être assis et lire un magazine ou discuter avec des amis dans le biwy lorsqu'il fait mauvais temps à l'extérieur. Le pied arrière est renforcé et sa structure de conception simple, s'étend sur la largeur du bed chair de manière à s'ajuster à la perfection. Cette position vous permettra d'avoir une assise ferme et confortable. Le FX Combo Chair est adaptable sur la quasi-totalité des bed chair du marché.
La plupart des abris modernes sont conçus pour que le bed chair soit placé au fond du biwy. Donc si vous êtes assis sur votre bed chair, vous en conviendrez donc qu'il n'est vraiment pas facile d'observer le moindre signe d'activité sur l'eau. Grâce à la conception de la jambe arrière qui peut facilement être réduite à sa longueur la plus courte (via le système"Twist-Lok"), vous pourrez simplement placer le pied arrière sur le cadre de votre bed chair qui est le plus proche de la porte d'entrée. Cette position vous permettra de rester protégé des éléments tout en ayant une meilleure vue du lac devant vous.
Finalement, le FX Combo Chair peut aussi être utilisé seul en temps que chaise basse lorsque vous voulez vous assoir à l'extérieur pour vous rapprocher de vos canne ou lorsque vous recevez un visiteur sur votre poste. En raison de l'angle du pied arrière et de la longueur réglable des pieds avants, vous pourrez rester assis pendant des heures tellement le niveau de confort est élevé.
Ajustement parfait à la largueur du bed chair.
Pied arrière réglable en longueur.
Peu encombrant et facile à transporter.
Offre une meilleure visibilité de l'intérieur du biwy.