Today Nash is the largest brand dedicated to carp fishing, translating into high quality products the desires and needs of fishermen, a leading brand in the UK as well as in Europe and around the world for carp anglers from 32 different countries! Nash: Innovators from the beginning.
Ensemble Nash Scope 10' 3.5lbs BP6 Fast Drag (les 4)
136
€
92
Ensemble Nash Scope 10' 3.5lbs BP6 Fast Drag (les 4)
Ensemble Nash Scope 10' 3.5lbs BP6 Fast Drag (les 4)
Canne Nash Scope S 10' 3.5lbs
Maintenant disponibles, suite à la demande de notre clientèle, la performance et l'encombrement mini des Scopes avec une esthétique élégante, incluant une poignée Abbreviated en Japanese Shrink Duplon.
Afin de répondre aux besoins de plombs plus lourds, l'usage de PVA, l'usage intensif des Scopes pour la dépose en bateau, et pour satisfaire nos amis Européens qui pêchent parfois des étendues vierges et extrêmes, les Scopes Abbreviated sont maintenant disponibles dans une version 3.5lbs S (Stepped Up Special).
Cette nouvelle addition à la gamme Scope offre plus de puissance pour un meilleur contrôle des grosses carpes dans le courant ou aux abords des obstacles et permet de lancer (mouvement de balancier) des plombs de 170g et plus dans le chenal des fleuves.
Les modèles 10 ft se replient à une longueur de 127cm
Les modèles 3.5lbs S (Stepped Up Specials) possédent une puissance augmentée
dans le talon
Anneaux Minima Tournament montage inversé sur les modèles 10 pieds pour
éviter que la ligne tape contre le blank
Anneau de tête Fuji anti-emmêlement et anneau de 40mm sur les modèles de 10 pieds
Authentique Porte-moulinet Fuji
Clip-ligne en carbone
Ligatures noires mates et talon gravé laser avec logement isotope
Décalcomanies noires satinées
Informations techniques

Longueur

Brins

Puissance

Anneaux

10' (300cm)
2
3.5lbs
Minima Tournament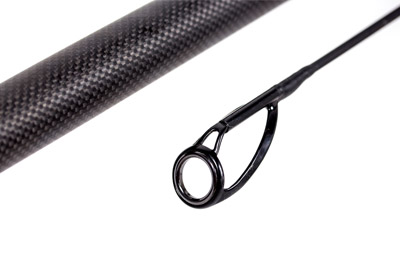 Moulinet Nash BP-6 Fast Drag
Offrant les performances au lancer d'un moulinet à large bobine tout en restant peu encombrant et parfaitement équilibré, le BP-6 est le parfait moulinet compact.
Idéal pour les cannes Scopes ou Dwarfs, ou pour les petits étangs, le BP-6 combine la performance d'un grand avec tous les avantages du petit !
Le frein rapide passe de la postion libre à totalement fermée en un tour, alors que l'enroulement parfait du fil sur la bobine alu , à technologie "level wind", vous assure de longs et faciles lancers.
Le BP6, avec ses roulements à bille en inox et sa finition noire mate, vous permet de prendre les plus grosses carpes avec un petit moulinet !
Finition noire mate
Bobine aluminium long cast
Frein rapide
Poignée se repliant d'un seul geste
Deux line clips sur la bobine pour plus de précision
Roulements à bille en inox
Protection de bobine
Enroulement Level Wind
Galet surdimensionné réduisant le vrillage
Poignée ergonomique CNC avec logement isotope
Informations techniques

Roulements

Ratio

TMV

Capacité

Bobine Sup.

Poids

4+1
4.9:1
NC

210m / 0.30mm

-
390g
| Quantity | Ref | Name | + |
| --- | --- | --- | --- |
| 4 x | 251284 | Canne Nash Scope S 10' 3.5lbs | |
| 4 x | 202474 | Moulinet Nash BP-6 Fast Drag | |
Customers who bought this item also bought :