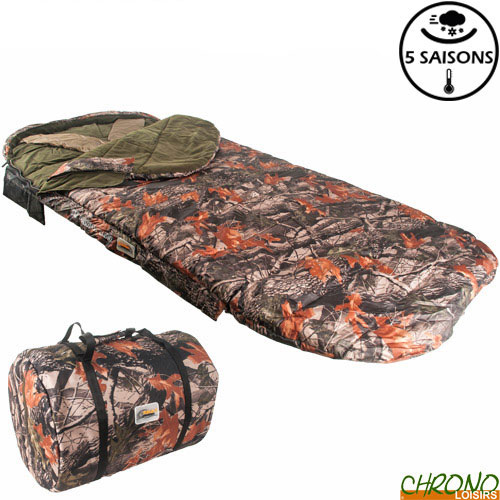 Inspired by current trends and the needs of modern carp anglers, Carp Design is a rising brand which aims to bring a new vision of carp fishing tackle.
Duvet Carp Design Camo Line Evo 5 saisons
30
€
10
Duvet Carp Design Camo Line Evo 5 saisons
La gamme Camo Line surfe sur la tendance actuelle du matériel "camou" qui revient à la mode depuis quelques années désormais. Carp Design propose une gamme complète de produits dédiés au confort et à l'organisation du matériel, le tout dans un camouflage exclusif du plus bel effet.
Duvet Carp Design Camo Line Evo 5 saisons
Les carpistes qui pêchent en toutes saisons connaissent l'importance de posséder un duvet suffisamment chaud pour dormir correctement lorsque le thermomètre descend en dessous de la barre des 0°C !
Avec le duvet Carp Design, vous êtes sûr de faire le bon choix si vous êtes à la recherche d'un vrai duvet 5 saisons.
Cette version "Evo" est une amélioration du précédent modèle. En effet, afin d'accroitre le niveau de confort et de chaleur, ce duvet est désormais doté du système WBD (Warm Belt Design).
Il s'agit de grands et larges rabats situés de chaque coté (au niveau des épaules) qui permet d'isoler au mieux le pêcheur. En effet, après de multiples tests et observations en condition, nous avons put constater qu'une déperdition de chaleur importante avait lieu à ce niveau, raison pour laquelle nous avons développé ce système ingénieux !
Bénéficiant d'une garniture épaisse composée de fibres creuses « Hollow Fiber Plus» avec traitement silicone pour conserver la forme du duvet, il vous permettra d'affronter sereinement les conditions les plus difficiles.
Il est doté d'un oreiller intégré, possède 2 rabats anti-froid afin de limiter les déperditions de chaleur au niveau des épaules et ses deux fermetures éclair sur-dimensionnées permettent une sortie rapide des deux côtés, quel que soit le sens dans lequel est positionné votre bed chair.
Afin d'assurer un maintien parfait sur votre bed chair, il possède deux poches pour le fixer aux extrémités de votre bed chair ainsi qu'une sangle centrale réglable.
Amplitude thermique : +15°C/-15°C
Motif camouflage exclusif
Fibres creuses « Hollow Fiber Plus»
Rabats anti-froid
Double fermeture éclair sur-dimensionnée
Oreiller intégré
Capuche avec lacet de serrage pour maintenir l'oreiller en place
Sangle de fixation centrale
Poches de fixation aux extrémités
Livré dans un sac de transport robuste
Encombrement : 60cm x Ø40cm
Dimensions : 200cm x 100cm - Poids : 5.3kg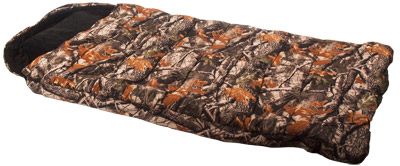 Customers who bought this item also bought :