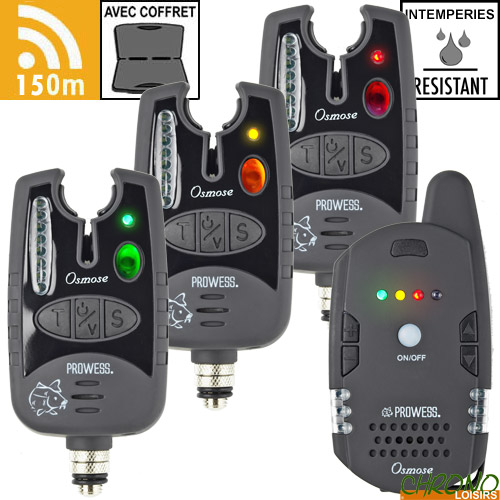 The Prowess brand continues its flight by proudly proposing its new range enriched with many new products. Prowess responds to your growing appetite for innovation.
Coffret Prowess Centrale 3 Détecteurs Osmose
20
€
00
Coffret Prowess Centrale 3 Détecteurs Osmose
Coffret Prowess Centrale 3 Détecteurs Osmose
Les nouveaux coffrets de détection Osmose offrent toutes les fonctionnalités nécessaires à la pêche de la carpe, de jour comme de nuit et par tous les temps.
Ils sont bien sûr dotés d'un système électronique de radio transmission qui fonctionne en association avec le récepteur. Le réglage du volume, de la tonalité et de la sensibilité se fait par simple pression des touches centrales.
Plusieurs niveaux sont accessibles pour des réglages très fins. Les détecteurs Osmose possèdent également un système de différenciation des touches retour.
La retransmission de cette donnée se traduit par un avertissement sonore d'une tonalité spécifique différente celle émise dans le cas d'une touche classique.
Ils possèdent également une diode de veille, à activation manuelle, qui peut être utilisée pour un repérage plus aisé de sa batterie la nuit. En dessous du boitier, on trouve une prise destinée à recevoir des indicateurs visuels de touches lumineux.
Les détecteurs Osmose renferment une mémoire interne qui enregistre les réglages effectués par l'utilisateur. Ces derniers seront effectifs chaque fois que l'appareil sera mis sous tension.
Coffret détecteurs + centrale
Transmission sans fil
Volume, tonalité, sensibilité réglables
Prise accessoires lumineux
Témoin de veille nocturne
Mode vibreur sur centrale
100% étanche.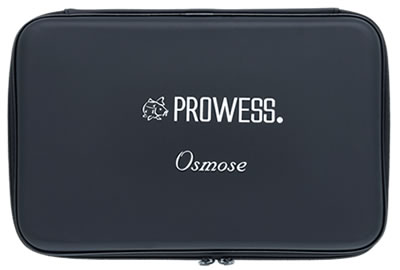 Customers who bought this item also bought :