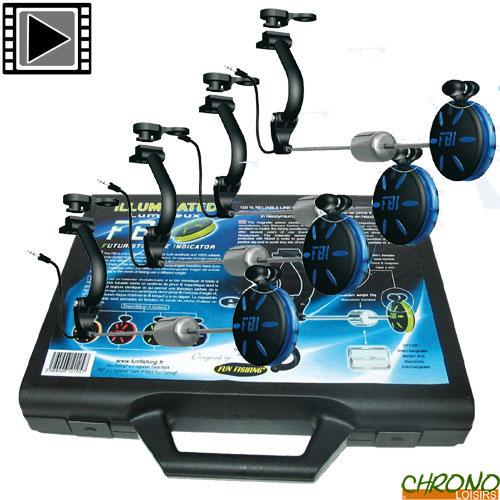 The whole range of Fun Fishing products and baits has the same high quality that will suit the most demanding fishermen.
COFFRET FUN FISHING 4 BALANCIER LUIMINEUX FBI BLEU
45
€
00
COFFRET FUN FISHING 4 BALANCIER LUIMINEUX FBI BLEU
Coffret Fun Fishing 4 Balanciers Lumineux FBI Bleu
Grâce à son esthétique, sa technicité avant-gardiste et sa fiabilité à toute épreuve, le FBI a séduit de très nombreux carpistes au travers l'Europe en l'espace de quelques mois. A l'image du FBI classic, en investissant dans la version lumineuse, vous êtes certain d'avoir un produit extrêmement solide qui a été étudié sous tous les aspects. Vous pourrez ainsi garder vos détecteurs de touche durant de nombreuses années.

Pour la partie technique, nous avons conservé tous ce qui fait le succès du FBI : le pince fil magnétique fiable à 100%, la masselotte interchangeable permettant en fonction du mode de pêche d'utiliser un poids différent et enfin le système de fixation quart de tour exclusif qui est à la fois très innovant et strictement inusable.

Pour la partie lumineuse : nous avons incorporé un système électrique fiable qui passe à l'intérieur d'un tube inox puis ressort via une articulation et se termine par une prise Jack.
Masselotte standard livrée avec le FBI = 55g. Masselotte optionnelle (vendue séparément) = 80g
La puissance magnétique exercée par ce pince fil révolutionnaire est toujours constante quelques soient les conditions de pêche et ce même après plusieurs années d'utilisation grâce au Neodymium. Les sphères magnétiques sont recouvertes de Nickel afin de garantir une glisse parfaite et d'éviter tout risque de corrosion.
Ce système laisse le fil glisser parfaitement tout en permettant une libération adéquate de celui-ci lors du ferrage.
Customers who bought this item also bought :