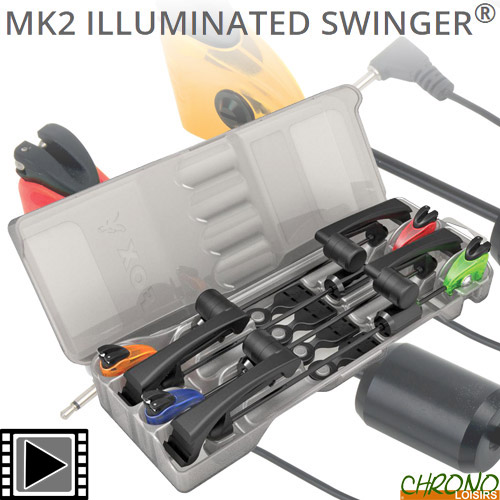 Fox is the largest distributor of specialized fishing tackle for carp. Who are the carp anglers who have never heard of products such as Swingers, FOX box systems, Microns. This is proof of a permanent desire for innovation and progress policy, both in design and in product development.
Coffret Fox 4 Balancier MK2 Illuminated Swinger
40
€
00
Coffret Fox 4 Balancier MK2 Illuminated Swinger
L'indicateur de touche original Fox est toujours aussi performant qu'il y a 25 ans, que se soit sur des départs subtils ou fulgurants. Que vous souhaitiez pêcher avec vos lignes détendues à courte distance ou au contraire tendues comme des arcs à distance extrême, vous êtes sûrs de trouver un swinger Fox qui vous corresponde !
Coffret Fox 4 Balancier MK2 Illuminated Swinger (R/O/V/B)
Le nouveau modèlle de balancier MK2 Illuminated Swinger est le plus polyvalent des Swingers jamais produits.
Conçu pour être efficace de la même manière en ligne détendue "sous votre canne" ou en ligne tendue sur distance pouvant souvent excédée des "centaines de mètres", le MK2 Swinger Illuminé présente une LED qui s'éclaire lors de touche quand il est couplé à tout détecteur (hors Delkim) équipé d'une prise pour accessoire lumineux.
Il est équipé de notre système breveté de libération de la ligne et du système "Dial Loading" offrant trois différents niveaux de tension, le MK2 Swinger avec une masse inox de 80gr vous permet d'établir une sensibilité de l'indication entre zéro et 170gr.
Nouveau revêtement noir anodisé sur le bras et le lest
S'illumine lorsque branché sur un détecteur
La diode de la tête reproduit exactement les signaux de la diode du Micron y compris les touches retour
Interfaces d'attache aux détecteurs profilées
Pièce caoutchouc pour amortir les chocs sur embase de tête
Face avant surdimensionnée pour une meilleure visibilité
Système de réglage de tension sur ressort
Système fixe de "portique" pour la ligne
Lest coulissant de 80g
Tête en acrylique réactive à la lumière
Emplacement pour Betalight
Coffret composé des couleurs rouge, orange, vert et bleu
Customers who bought this item also bought :