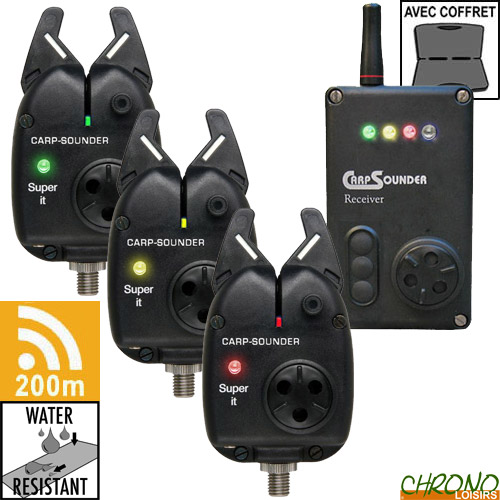 Carpsounder detectors work even after several days of immersion under water... 100% waterproof. They are particularly appreciated by all those who fish a lot, whatever the climatic conditions. Their technology today reaches the peak in reliability and longevity. Carpsounder products are legendary products.
Coffret Carpsounder Super IT Centrale 3 Détecteurs
50
€
00
Coffret Carpsounder Super IT Centrale 3 Détecteurs
Coffret Carpsounder Super IT Centrale 3 Détecteurs
3 Détecteurs Carpsounder Super IT
Le détecteur Carpsounder Super IT vous offre un rapport qualité prix sans équivalence dans le domaine des systèmes sans fils. Ce détecteur à émetteur incorporé est fabriqué en Allemagne.
Il possède les fonctions essentielles d'un indicateur tel que le réglage de la tonalité et du volume, ainsi qu'une prise pour balanciers lumineux, une étanchéité à 100% et une énorme économie de la pile.
Facile à utiliser et d'une solidité absolue, ce détecteur vous permet de bien pêcher dans toutes les situations.
Détecteur étanche même en cas d'immersion totale sous l'eau.
Emetteur radio incorporé d'une portée 200m.
Transmission "bip par bip" sans décalage.
Autonomie de pile environ 2 ans.
Compatible avec le récepteur CSF1.
Réglage de la tonalité par potentiomètre étanche et du volume par disque.
Prise jack de 2.4mm pour hanger lumineux.
Super IT vert, jaune et rouge.
Centrale Carpsounder Super IT
Toutes les centrales à distance CARPSOUNDER sont basées sur le même concept de construction. Un boîtier 100 % étanche avec une antenne incorporé. L'émetteur et le récepteur de toutes nos centrales résistent aux pires conditions et fonctionnent même après immersion totale dans l' eau.
Cette nouvelle version est équipée d'une antenne haute performance pour plus de précision et un gain considérable de distance de réception.
Avec une performance inégalable la dernière génération des centrales CARPSOUNDER s'impose comme LA REFERENCE ABSOLUE dans cette gamme de produits. Centrale équipée d'un code 16 positions afin d'éviter des interférences entre plusieurs batteries de pêche dans un même secteur.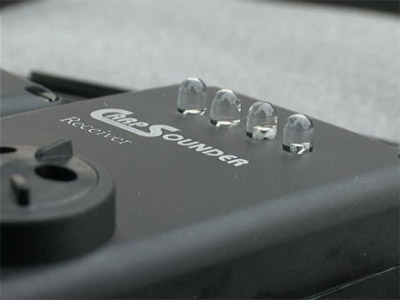 Pêcher plusieurs postes d'un grand secteur à l'aide de cannes chercheuses reste une des meilleures stratégies pour sélectionner les carpes spécimen. Avec ce nouveau système vous pouvez surveiller jusqu' à 4 cannes espacées sur des piques. Le récepteur 4 diodes vous indique la moindre activité sur chaque canne avec une distance de réception d'environ 200 mètres.
Grâce au boîtier compact avec antenne incorporé, il peut trouver sa place dans la poche d'un blouson. Le système First Run Control vous aide à éviter toute erreur de canne en cas de double signal de détection.
Livré prêt à l'emploi avec les piles.
Réglage 16 codes
Distance de réception d'environ 200 m
4 diodes haute visibilité
Système "Fisrt Run Control"
Système "Transmission Control"
Réglage Tonalité
Réglage du volume par disque
Interrupteur étanche
Boîtier compact 100% étanche
Système d' accrochage pour biwy
Vis pour fixation sur pique ou buzz bar
Economiseur de pile
(Illustration réalisée avec le coffret 4 détecteurs + centrale)
Customers who bought this item also bought :