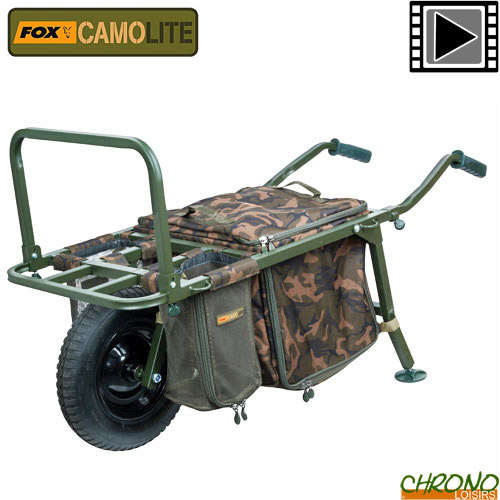 Fox is the largest distributor of specialized fishing tackle for carp. Who are the carp anglers who have never heard of products such as Swingers, FOX box systems, Microns. This is proof of a permanent desire for innovation and progress policy, both in design and in product development.
Chariot Fox Explorer Barrow
20
€
00
Chariot Fox Explorer Barrow
Ayant créé ses gammes de bagagerie révolutionnaires, Fox franchit le pas et offre un moyen efficace de transporter ces bagages jusqu'à votre poste. Après une année de conception, tests et mises à l'épreuve en tous genre de leurs prototypes successifs sur tous types de terrain, Fox propose son nouveau chariot, le Explorer!
Chariot Fox Explorer Barrow
Le chariot Explorer Barrow a été conçu pour être l'une des brouettes spéciale pêche à la carpe des plus polyvalents jamais sorti sur le marché.
Initialement conçu dans un esprit compact pour les carpistes qui pêchent sur une journée, l'Explorer peut également être ajusté pour une utilisation sur de plus longues sessions où le bed chair et du matériel supplémentaire sont nécessaires.

Chariot livré avec le sac Under Barrow Bag (A) et deux sacoches en filet (B).
Le concept de l'Explorer permet de laisser la plus grosse partie du matériel à l'intérieur de la brouette, à l'exception bien sûr des éléments destinés à recevoir le poisson (matelas de réception, épuisette, sac de pesée, etc...) afin de permettre au pêcheur de plier rapidement en cas de problème ou d'intempéries.
Cependant, grâce à sa conception intelligente, l'avant du chariot est extensible, permettant ainsi d'augmenter considérablement la taille du porte bagage, permettant ainsi d'y loger facilement un bed chair. Cette conversion redistribue également le poids lorsque des éléments supplémentaires sont ajoutés pour assurer un bon équilibrage de la brouette chargée.

Compatible avec la gamme de bagagerie Camolite (vendu séparément).
L'Explorer est équipé de solutions de stockage tel qu'un Under Barrow Bag (grand sac situé sous le chariot) dans le style Camolite et de deux poches de rangement en mailles situées de chaque côté de la roue, idéales pour stocker des éléments lourds tels qu'un jerricane d'eau de 5 litres et/ou des appâts.
La poche centrale et les deux poches de stockage sont équipées de zips sur les côtés permettant un accès rapide et facile à l'intérieur sans avoir à enlever les éléments stockés sur le chariot.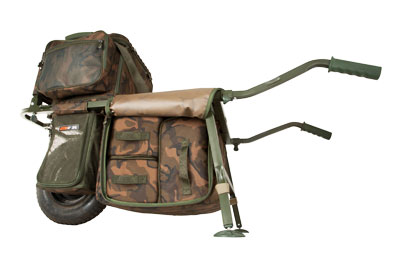 Compatible avec la gamme de bagagerie Camolite (vendu séparément).
Châssis robuste en acier
Poignées ergonomique amovibles
Système d'attache rapide de la roue
Conception compacte
Porte bagage extensible à l'avant
Anneaux de sanglage

Livré avec

2

sangles

FX

Universal

Barrow

Sac de chariot zippé sur le dessus et le côté

Compatible avec la gamme Camolite et sacs isotherme

Pieds pivotants avec support anti boue pour une stabilité accrue

Encombrement plié : 85cm x 64.5cm

Compatible avec la gamme de bagagerie Camolite (vendu séparément).

Encombrement réduit une fois plié.

Sacs en maille équipés de zips de chaque côté de la roue (vendu sans jéricanne).
Customers who bought this item also bought :