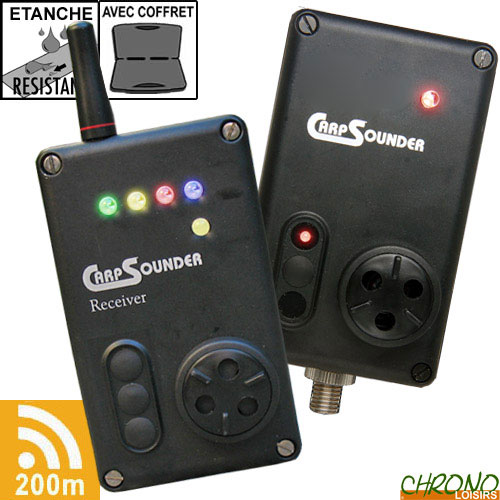 Carpsounder detectors work even after several days of immersion under water... 100% waterproof. They are particularly appreciated by all those who fish a lot, whatever the climatic conditions. Their technology today reaches the peak in reliability and longevity. Carpsounder products are legendary products.
Centrale Carpsounder Funkbox 4 cannes
30
€
00
Centrale Carpsounder Funkbox 4 cannes
CARPSOUNDER fabrique et développe sa propre technologie sans fil depuis 1995. Les deux concepts actuels FUNKBOX et MICROBOX sont le résultat d'une longue expérience de notre équipe avec ce genre de technologie. Il est important de savoir que l'émetteur d'une centrale sans fil reste en principe exposé aux intempéries avec les détecteurs.
C'est pourquoi nos centrales sont équipées du même système d'étanchéité à 100% que nos détecteurs. Des milliers de ces centrales sans fil sont en service chez des pêcheurs dans toute l'Europe, et chaque année nos ingénieurs en électronique apportent de nouvelles améliorations et perfectionnements à ces BEST-SELLERS de la marque.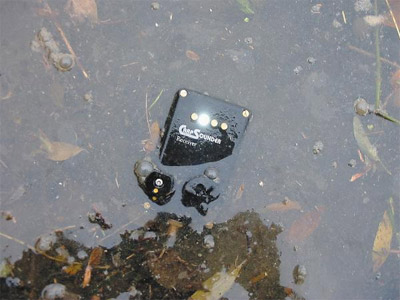 Centrale Carpsounder Funkbox 4 cannes
La FUNKBOX 4 est une des centrales les plus vendues en Europe. Elle est compatible avec la quasi-totalité des détecteurs du marché (hors Delkim).
Elle possède 4 diodes et on peut brancher jusqu'à 4 indicateurs par prise Jack 2.5mm. L'émetteur et récepteur sont 100% étanches, la portée moyenne est supérieure à 200m. La transmission est très précise (bip par bip) et sans décalage temporaire.
L'autonomie en position allumée est d'environ 3 semaines, de quoi pouvoir passer une longue session sans changement des piles. L'antenne est totalement incorporée dans le solide boîtier ce qui favorise la compacité et le rangement dans une poche.
L'émetteur et le récepteur de toutes nos centrales résistent aux pires conditions et fonctionnent même après immersion totale dans l' eau.
Avec une performance inégalable la dernière génération des centrales CARPSOUNDER s'impose comme LA REFERENCE ABSOLUE dans cette gamme de produits. Nos centrales sont équipés d'un code 16 positions afin d' éviter des interférences entre plusieurs batteries de pêche dans un même secteur.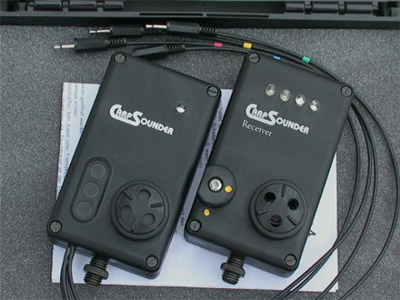 Nouvelle centrale avec 4 diodes sur le récepteur et équipée du système FIRST RUN CONTROL. Le récepteur possède une incroyable autonomie d'environ 90 jours et la portée est d'environ 200 mètres.
Livré prêt à l'emploi avec les piles.
La Funkbox 4 est la centrale sans fil la plus performante jamais fabriqué par la société Carpsounder.
4 diodes hautes visibilité sur le récepteur.

Emetteur et récepteur 100% étanche.

Autonomie de l' émétteur : environ 1 ans.

FISRT RUN CONTROL avec sa première diode qui s'allume en clignotant.

Antenne incorporée.

Piles 9v.

Livré dans un coffret.

Livré dans un coffret de rangement anti choc.
Customers who bought this item also bought :