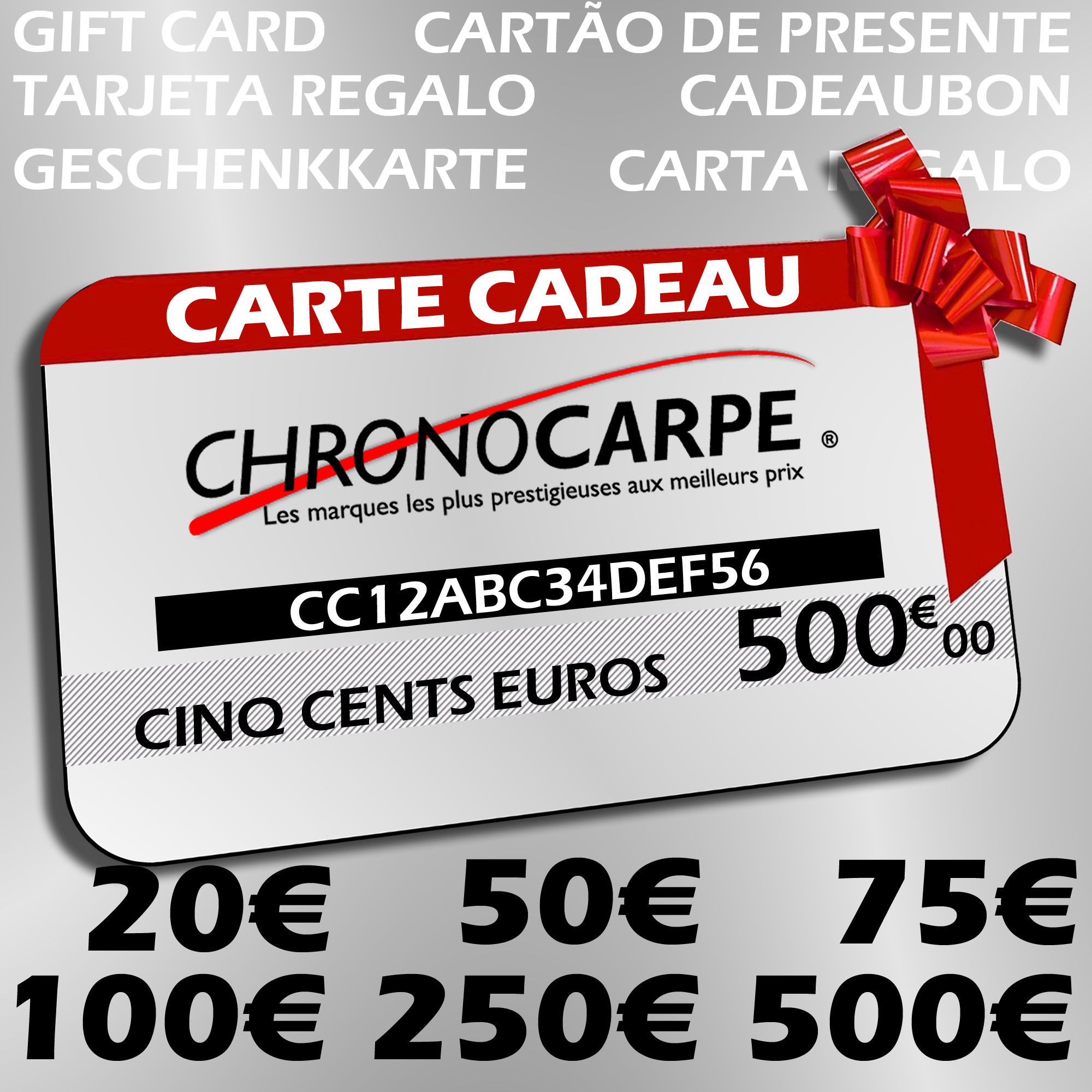 The Chronocarpe Selection of products and accessories sought and particularly appreciated by specialist carp anglers.
Cartes Cadeaux
Cartes Cadeaux
Offrez ou faites vous offrir une carte Cadeau Chronocarpe !

Même au dernier moment … faites plaisirs en offrant un chèque cadeau !
Commander une carte cadeau Chronocarpe
Sélectionnez le montant que vous souhaitez offrir
Réglez normalement votre commande avec le moyen de paiement de votre choix
La carte cadeau est activée immédiatement *
Transmettre la carte cadeau Chronocarpe au bénéficiaire :
En version informatique
Dans votre espace "Mon compte" ouvrez "Cartes cadeaux"
Cliquez sur le bouton [Envoyer] sur la ligne de la carte cadeau
Indiquez le nom, prénom, adresse email du bénéficiaire et votre message
Validez ... le bénéficiaire reçoit alors un email avec les informations nécessaires pour utiliser la carte Cadeau Chrono Carpe
En version papier
Dans votre espace "Mon compte" ouvrez "Cartes cadeaux"
Cliquez sur le bouton [Imprimer PDF] sur la ligne de la carte cadeau
Imprimez le document et remettez le au bénéficiaire
Conditions d'utilisation
Un Chèque Cadeau Chronocarpe a une validité de 6 mois à compter de l'activation du chèque (la date est indiquée sur le chèque).
Il est exclusivement destiné aux achats sur l'ensemble du site www.chronocarpe.com.
Les Chèques Cadeaux Chronocarpe ne peuvent pas servir à l'achat d'autres Chèques Cadeaux
La valeur en euro d'un Chèque Cadeau est indiquée sur celui ci et validée par le code unique rattaché (visible dans le compte client).
Lors de l'achat avec un Chèque Cadeau, si le montant de la commande est supérieur à la valeur du chèque, le complément doit être réglé avec un autre moyen de paiement proposé sur le site.
Si le montant de la commande est inférieur à la valeur du chèque cadeau, la différence ne fera l'objet d'aucun remboursement ou avoir.
Le chèque cadeau Chronocarpe n'est ni remboursable, ni échangeable, ni fractionnable.
Le délais de rétractation ne peut s'appliquer si le Chèque Cadeau a déjà été utilisé par le bénéficiaire. Les achats effectués par le bénéficiaire des Chèques Cadeaux sont régis par les conditions générales de vente. Chrono Carpe n'est pas responsable en cas de perte, de vol ou d'illisibilité des Chèques Cadeaux, ni en cas d'erreurs dans l'adresse émail du bénéficiaire. Pour être valide le Chèque Cadeau Chrono Carpe est identifié par un code informatique associé à une commande validée par un paiement du montant du chèque. La version imprimable n'est donnée qu'a titre indicatif, seul la saisie du code au moment de l'achat définie la validité et le montant du Chèque Cadeau Chronocarpe. De fait un Chèque Cadeau annulé pour défaut de paiement ne sera plus valide sur le site. En cas de fraude ou de tentative de fraude en rapport avec l'utilisation de Chèques Cadeaux Chronocarpe, nous nous réservons le droit de bloquer les comptes concernés et de réclamer le paiement par un autre moyen.
L'achat de chèque cadeau n'est pas assujetti aux frais de port et n'affecte pas les limites du franco de port. Par contre toute commande réglée avec des Chèques Cadeaux Chronocarpe fait l'objet de l'ajout des frais de port selon les conditions générales de vente et le barème valide au moment de la commande.

* L'activation est différée pour les paiements par PayPal, chèque, CB par téléphone et virement. La carte cadeau sera activée à la validation du paiement.
Customers who bought this item also bought :