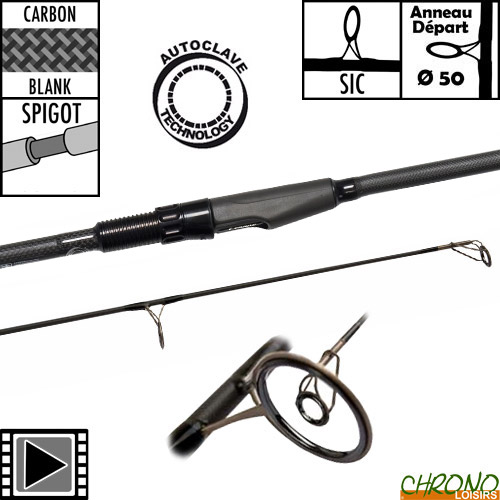 Century lives to push the boundaries of performance. Our rods are manufactured in a state of the art factory based in the UK that is equipped with the most up to date technology and machinery. We are in our fourth decade of investment in research and design purely focused on making the finest tackle.
CANNE CENTURY SP 50MM 13' 3.5LBS
155
€
00
CANNE CENTURY SP 50MM 13' 3.5LBS
Canne Century SP 50mm 13' 3.5lbs
La conception des cannes Century SP a progressivement évoluée suite aux divers records mondiaux réalisés avec cette série. Ces améliorations offrent désormais des avantages considérables aux détenteurs de ce modèle.
Au cours de la dernière décennie, plusieurs progrès techniques notables ont été réalisés dans le domaine de la technologie des composites à base de fibres, de matrices de résines et les meilleurs d'entre eux ont été utilisés pour concevoir la série SP.
Les patrons de carbone de cette série sont coupés à l'aide d'une machine CAO (Conception Assisté par Ordinateur) qui permet d'obtenir des feuilles de carbone découpées avec une précision chirurgicale afin que chaque canne possède exactement la même action et la même précision.
De plus, les SP sont soumis à notre procédé de polymérisation « Autoclave Technology » qui garantit d'obtenir une puissance similaire sur toutes les blanks.
La dernière génération de SP, bénéficie également de la technologie anti-torsion Century « ATT » qui consiste à enrouler de très fines couches de fibres de carbone pré-imprégnées sur certaines parties internes du blank, ce qui permet d'éviter la torsion et l'écrasement du carbone lors du lancer.
Cette technologie permet entre autre de générer les lancers plus longs, ce qui est souvent constaté lors de compétitions internationales de lancers.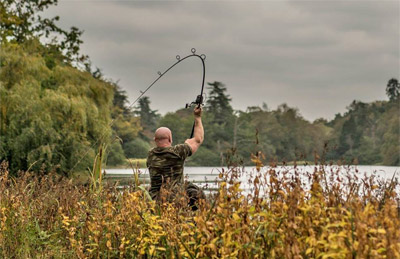 Century, à travers sa société sœur Komprex et ses relations de travail étroites avec les fournisseurs de fibres de carbone pré-imprégnés britanniques, a permis d'accéder à des technologies de pointes qui ont pu être facilement utilisées dans la conception des cannes à carpe.
La série SP a bénéficié des avancées technologiques au niveau des résines basses densités qui permettent de lier les fibres de carbone entre elles.
Cela permet d'optimiser la quantité de résine au niveau de la matrice, à la fois lors de l'étape d'imprégnation mais également durant le processus de durcissement en autoclave.
Les faibles teneurs en résine sont excellentes pour les cannes car elles permettent d'obtenir des cannes plus légères tout en conservant des capacités de lancers hors normes.
L'équilibre des cannes et le diamètre ont été améliorés grâce à l'utilisation d'un silicone PTFE qui protège la canne des égratignures et offre un look sensationnel propre à Century.
La série est équipée d'un porte moulinet Fuji DNPS avec bague de serrage en aluminium. Équipé d'un anneau de départ 50mm, le talon bénéficie d'une finition en carbone tissé jusqu'au premier anneau du scion.
IMPORTANT : Suite à un changement esthétique depuis 2017, la butée (boule d'acier inoxydable) présente sur les photos n'est plus montée sur les cannes, au même titre que le porte moulinet dont la partie inférieure est désormais de couleur noir (au lieu de la couleur aluminium).
TRANSFERT DE TECHNOLOGIE CENTURY
De la canne à carpe à la voiture de course… La série Century SP bénéficie désormais d'éléments et de fibres de carbone directement issus de la Formule 1 !
En effet, Century fabrique avec les mêmes composants que ceux utilisés dans la série SP, des pièces destinées à certaines grandes écuries de F1.
Ces fibres de carbone spéciales offrent une puissance sans équivalence.
Plusieurs des plus grandes équipes de voitures de course au monde utilisent la technologie développée par Century pour améliorer la performance et la sécurité de leurs véhicules.
Informations techniques

Longueur

Brins

Puissance

Anneaux

13' (390cm)

2

3.5lbs

Sic
Customers who bought this item also bought :