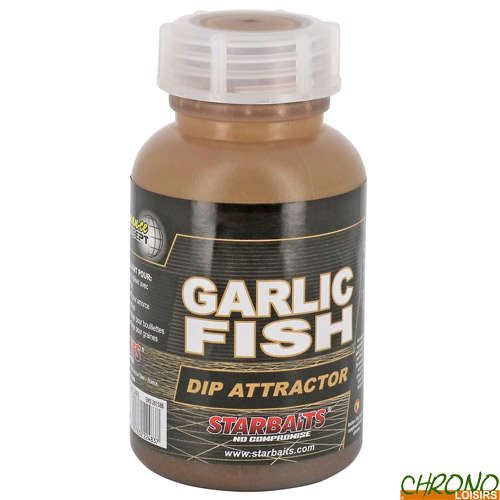 The development of new products still remains the spearhead of Starbaits, as required by its leadership position. Thanks to this "uncompromising" innovation in terms of labor and time, Starbaits products take the best podium places and pass the most demanding carpist tests all over Europe.
Booster Starbaits Perf Concept Garlic Fish 200ml
Booster Starbaits Perf Concept Garlic Fish 200ml
Nouvelle gamme d'appâts étudiée afin de vous proposer un ensemble de produits complémentaires et de répondre à toutes les situations susceptibles d'être rencontrées au bord de l'eau !
L'ensemble des éléments qui constituent cette nouvelle gamme : bouillettes longue conservation; bouillettes flottantes; hook baits ou encore trempage, pourront être utilisés indépendamment ou en association et ont été élaborés selon les mêmes principes attractifs pour chaque appât !
Booster Starbaits Perf Concept Garlic Fish 200ml
Reprenant les principes actifs de la bouillette Garlic Fish, cette solution de trempage formulée à partir de molécules naturelles sélectionnées pour leurs caractéristiques attractives se diffusera en halo autour de votre appât, facilitant ainsi la localisation par les carpes.
Le booster Garlic Fish pourra être utilisé pour doper vos bouillettes de pêche (dense ou flottante) ou incorporé dans l'eau de mouillage de votre Stick Mix ou Method Mix.
Composé d'éléments solubles et insolubles à l'eau afin d'optimiser la diffusion, il est conseillé de bien agiter le trempage avant emploi : ceci afin d'obtenir une homogénéisation parfaite du mélange.
Conditionné en flacon de 200ml.
Customers who bought this item also bought :